Arsenal are the biggest spenders this transfer window with a total of €165 million paid for newcomers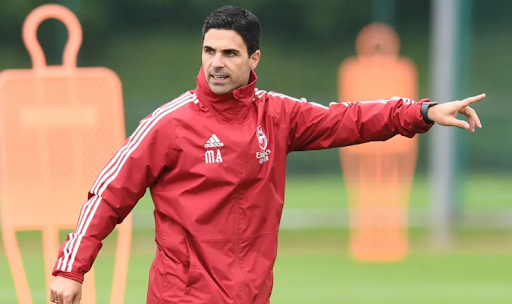 Mikel Arteta at the training session of his squad
Arsenal is in a rather difficult situation – for the first time in many years the team do not play in the European competitions. In order to change the situation, the London club has invested the highest amount of money during this summer's transfer window comparing to all top clubs. Who came and who left, and what does the head coach, Mikel Arteta, think about it?
The summer transfer window ended on August 31. The offseason was intense, there were many loud transfers, but Arsenal, which spent the most while not attracting top players, drew special attention.
First team newcomers:
Don`t miss out 💥: Young Real Madrid talent Martin Ødegaard joins Arsenal on a permanent deal
Ramsdale and White are the most senior signings at age of 23, which is indicative of a redefined philosophy in Arsenal's player selection in terms of building the future. There is a clear emphasis on long-term rebuilding and trust in talented young players, as was advocated by Arsène Wenger.
This decision for the current Arsenal brings a lot of skepticism, as the team have had terrible results year after year and the head coach is about to be fired.
Experienced players in their prime could fit here, but who would go to a club that is neither playing in the Champions League nor the Europa League?
First-team departures:
Don`t miss out 💥: Arsenal's Joe Willock joins Newcastle on the permanent deal for £25m
The most controversial according to the fans are the departures of Guendouzi and Saliba, the players are already showing a great performance in France, while the Spanish head coach did not even bring the players to the first squad.
In other respects, the London management have done a good job by sending many players out of form on loan. Particularly noteworthy was Willian, who saved the team 22 million euros by terminating the contract.
And here's what Mikel Arteta himself thinks, he gave a couple of comments after Thursday's win over Brentford in a friendly (4-0):
"It was a really complicated market. We had a lot of things to do, I think we had 16 or 17 transactions in total, which is a lot. The club has made a big effort, we had support from the owners to try to do it and we had to recruit in the terms that we could, and I am very pleased." 
"Yes, different experiences, some had experience in the league, so abroad, and some have been coached in other ways, but they are players we have followed for a long time that we knew could fit in the model we are trying to implement at the club. So we are pleased. Again, it is 16/17 changes to the squad – it is a lot. You have to blend them all together, some of them haven't even trained with us yet because they have still to come in the next week or so. As quick as possible. We have a good group, they will help them to adapt as quick as possible and get them to work with us and see when we can integrate all together."

he explained the selection of players that the club acquired.
Arsenal's latest purchase was Takehiro Tomiyasu, whom they unexpectedly announced on the Transfer Deadline Day.
Here's what Arteta said about the Japanese defender from Serie A, manager is confident he will be a big hit in the Premier League:
"Again, we followed him for a while. We needed a full back who could be very versatile, can play as a centre back, can play in a back three, Tomi has this capacity. He is 22 years old but he has some really good experience in Serie A and at the international level and with the qualities we are looking for."
There is a lot of pressure on the Arsenal head coach right now, the Londoners have failed to start the season losing 3 games in a row and not scoring a single goal. The next matches will be crucial for the Spaniard and only time will tell if the signings Arsenal made this summer are successful or not.
Mikel Arteta took charge of Arsenal in the winter of 2019. During his stay, Arsenal finished 8th twice (the worst result in the last 25 years), however, he also won two trophies: the FA Cup and the FA Super Cup.
Under Spaniard, the club has a win rate of 51.11% comparing to 55.1% under Unai Emery (previous coach).
Be sure to follow all the latest transfers in Europe and India on our website.