Will Messi and Ronaldo become teammates? PSG looks to put the plan into action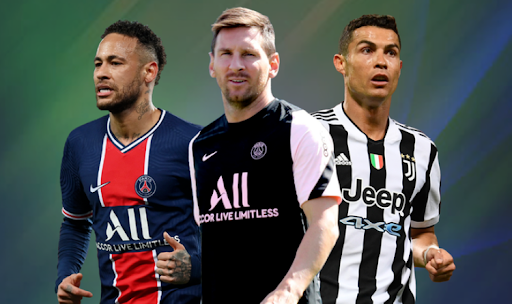 Imagine bringing together three of today's most recognisable and iconic footballers - Neymar Jr, Lionel Messi and Cristiano Ronaldo
After the no-fee transfers of Lionel Messi, Sergio Ramos, Gianluigi Donnarumma and Georginio Wijnaldum this summer, the Parisians plan to continue that strategy: they are targeting two more superstars.
According to one major newspaper, Paris Saint-Germain bosses are prepared to pay Paul Pogba 600,000 euros a week if he moves as a free agent in 2022. But the real scoop has come to light and it may make fans of the French club feel like they are in a dream: the club are also looking for a signing of Cristiano Ronaldo for free next summer.
The Portuguese's contract with Juventus ends in 2022 and both sides are ready to part ways now. The Turin side, which is feeling the pressure due to the coronation crisis, is already ready to ease the wage bill and get the money to buy new players. But Ronaldo and Juve have yet to receive offers that would be of interest to them.
Don`t miss out 💥: Juventus cannot afford to extend Ronaldo's contract
The Argentine's move has caused a sensation among all football fans. Now, do you believe that he and the Portuguese could end up in the same team?
Messi's former club has huge debts, read the story 💥: 'The letter is full of lies, with an effort to justify the unjustifiable' – Laporta on Bartomeu's open criticism letter
Ángel Di Maria, who has played with both Messi and Ronaldo, believes the Portuguese would like to move to Paris:
"Cristiano is probably dying to be here. The level of the current PSG players is unique. It doesn't happen very often, and the great ones always want to play with the best."
The arrival of Ronaldo could help convince Kylian Mbappe to stay at PSG, giving him the chance to play with the childhood idol. However, it is likely that 'El Bicho's' arrival will only be possible after Mbappe's departure. 
The Frenchman is in no hurry to renew his contract and is looking in the direction of Madrid. Still, the current transfer window is likely to convince the player to stay.
"I think everybody knows the future of Kylian, people from Paris and the players. He is a really competitive player. He wants to win, he wants to win trophies, he said it in public. He wanted a competitive team and I think we have got the most competitive in the world. So there is no excuse for him now. He can't do anything else but stay."

– Paris club president Al-Khelaifi recently said.
Mbappe had been looking to leave PSG before Lionel Messi joined the Argentine.
Kylian's contract expires next summer and he has rejected all offers to extend it. PSG risks losing the player for free.
The summer transfer window in Europe closes on 31 August.