'The letter is full of lies, with an effort to justify the unjustifiable' – Laporta on Bartomeu's open criticism letter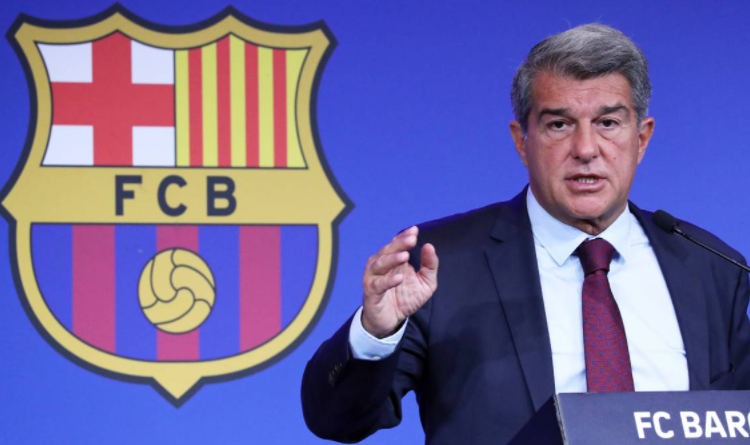 Joan Laporta speaks at a press conference
FC Barcelona president Joan Laporta has publicly responded to his predecessor Josep Maria Bartomeu's open criticism letter. At a special press conference, the current president denied all 10 points, accusing Bartomeu of lying.
You can read all the questions here:
Responding to the letter, Laporta revealed the full scale of his problems since becoming Barcelona president in March.
"Our salaries represent 103% of the club's total income. That's 20%-25% more than our competitors. The first thing we had to do when we arrived was to ask for a loan of €80m because, otherwise, we could not pay the salaries. The previous regime was full of lies. We found the wage policy in the form of an inverted pyramid – veterans on long contracts and youngsters on short deal. There were no wages cuts – lies."

– he said about players` salaries.
"We also found that we had to do some urgent repairs to the Camp Nou because otherwise it posed a risk to the attending fans. We also found out that the club had already received 50% of the TV rights fees in advance. We have found that disproportionate payments have been made to intermediaries, not even agents. Barcelona has a negative net worth of €451m – it is a terrible inheritance. What has been happening is very worrying."

– he went on to reveal the problems left by the previous management.
Despite a huge number of challenges, the current president said that the club had taken out a half-billion-euro loan to restructure the debt. Laporta has predicted that it will take several years for the club to return to a more stable financial basis.
"The situation is dramatic, but we have good news. Based on our credibility and experience, the strategic plan on the assets that Barça have makes this situation temporary. I think that in a couple of years, the club's economy will be healthy. We are not scared at all. We are highly motivated and positive and morale is high. It's a big challenge but we are capable of overcoming it. I'd like to call on all Barça fans and the entire club to be united. With football and unity, I'm convinced this era will be full of success."
You can watch the full conference here:
We should remind you that recently the Catalan club failed to re-sign their star player Lionel Messi, who subsequently joined PSG – this caused a huge storm of outrage.
The club's current debt is €1.35bn. The 2020/21 season has resulted in a record €487m loss to FC Barcelona.
Don`t miss out 💥:

Lionel Messi in tears as he confirms FC Barcelona exit: 'I never imagined having to say goodbye'
World will be 'shocked' by our revenues after we signed Messi – PSG president