Ronaldo wants to leave MU as he has no faith in the project. Revealing a thorough analysis of the possible scenarios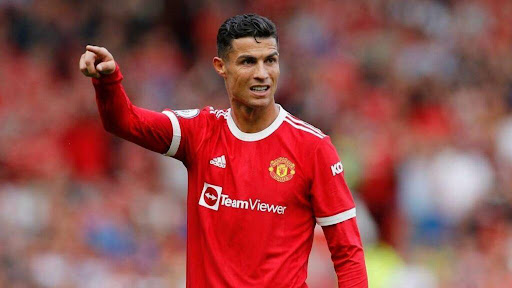 Manchester United's idol is frustrated with the situation at the club and has asked the club's management to let him go if an offer comes in. Here we give you all the details of what is happening and also analyse all the possible scenarios.
At the weekend, bosses and fans of the Red Devils were stunned by the news that Ronaldo had asked the club for a move, less than a year after he returned to them after a 12-year absence.
The club are determined to keep him, but Сrish is not the kind of player who will agree to stay if he wants to leave, and his age is unlikely to allow him to stick with the team for an extra year, as he did in 2008.
Let's break down how serious this story is and what Cristiano's options are.
These rumours first appeared in fairly reputable press, the tabloids just picked up the news and started hyping it up. What is really intriguing here is the identity of the author of the piece – Duncan Castles. The journalist is known for his close relationship with Jose Mourinho – the closest British reporter to him.
Castles is not so much regarded as a reliable source in general, but as a reliable source of the sentiments of specific people, and Mourinho is the main of his contacts. José and Ronaldo have the same agent – the legendary Jorge Mendes. If we assume that Cristiano's camp have decided to make a move, Castles (the most controlled and well-connected journalist for this party) in a highly respected and large publication is the only logical choice.
The journalist described Ronaldo's position (without the club's position) – his desire to leave and his motives (3-4 years until the end of his career, which he would like to spend playing in the Champions League). This information comes a week after news that new Chelsea owner Todd Boehly had a meeting with Mendes about CR7. The source at the time was David Ornstein – a leading English insider.
We have enough to believe that Ronaldo wants to leave Man Utd, with Mendes pulling strings in the market and in the media. According to some media outlets, United's position is that Cristiano is not for sale and has another year on his contract. It looks like the unfolding of one of the major summer sagas.
If Mendes does manage to settle with United, the question will arise as to which clubs are suitable for Ronaldo in terms of the game style. Especially since Cristiano Ronaldo has introduced a very handy primary filter from which to draw – the team must play in the Champions League. Let's look at his options based on the style and needs of the teams.
One of the biggest nuances at the moment is the Portuguese's weak defensive qualities.
Ronaldo is a great champion. For most of his career, his defensive deficiencies have been whispered about, if at all. And they certainly haven't prevented him from taking title after title. Why has it suddenly become so important now? A maximally reasonable question to sort out before choosing the best club for Cristiano.
Four factors have greatly transformed the equation involving Ronaldo, pressing and club:
1. It is often repeated about Cristiano that he has never been a pressing machine. This is true, but in recent years, even relative to his modest numbers, the Portuguese has slumped:
| | |
| --- | --- |
| Season | Pressing Actions per game |
| 2018/2019 | 9.40 |
| 2019/2020 | 7.65 |
| 2020/2021 | 7.23 |
| 2021/2022 | 6.67 |
Ronaldo's current stats make him the worst presser among strikers in European top-five leagues. The reason is clear – Cristiano is getting older. Nevertheless, the regression in this respect highlights a problem that used to be veiled.
Another important detail: Ronaldo now plays centre-forward when the team is without the ball. In most systems, not only does this player have a serious amount of pressing work to do, but also the choice of momentum to initiate pressure.
2. The next nuance is that the Portuguese has started to change teams more often. Madrid had a huge handicap over Ronaldo's future clubs – the opportunity to sort out the mechanisms of adaptation and building the right style while Cristiano is still young. By planning for him and experimenting, the most comfortable environment was formed.
Juve and Man Utd did not prepare the squad for Ronaldo's transition, and the Portuguese himself has had to work with five different coaches over the past four years. The lack of long-term planning and adaptations for Cristiano bulges the problem. It's not the player's fault, but it's impossible to ignore this aspect as it directly affects the strength of the team.
Don`t miss out 👉: Paul Pogba is one foot at Juventus as he has agreed all terms with Italians to complete the deal of returning to Turin
3. An important part of the equation used to be the amount of impactful action that Cristiano used to compensate for any privilege. Now he's amazingly productive for his age, but not relative to his rivals. Last season in the EPL, 15 players surpassed Cristiano's results (goals+passes-penalties) per 90 minutes. Each of them is working harder without the ball besides that.
When you are consistently in the top 3 (often top 1) in terms of scoring, talk of a plus-minus balance is ridiculous. When your performance is simply good, but not unique, and your level of defensive performance continues to regress, logical questions arise. It's important to address them not just to the player, but to the clubs that weren't ready for him, but it's clear that things have deteriorated for Cristiano in recent years in every respect – defensive privileges have increased, while goalproducing has only decreased.
4. The last factor is the least significant, but let's run through it too. Pressing has become an increasingly important element in modern football – this has contributed to it being discussed more often (even without reference to Ronaldo) and sometimes even contrasted with goals. This factor seems less important, as here it is still possible to build a team to Ronaldo's qualities – it's just that the range of teams willing to embark on this course has narrowed relative to the situation of 5-10 years ago.
At Man Utd, those problems were making themselves felt. All three Manchester coaches (including interim Michael Carrick) understood the problem and kept it in mind by experimenting with a squad without Cristiano.
Slamming the door, Ralf Rangnick articulated the claims publicly:
"Yes, Cristiano scored important goals – I don't blame him nearly, he was excellent in many games – but he is not a pressing monster. Even when he was younger, he wasn't really in charge of instant rebounds and cues to his partners. We had to make compromises – perhaps we had to make them too often. The balance was never found."
Of course, this should not be an easy excuse for coaches and an excuse for any poor result. The integration of Ronaldo could have been handled much better even at MU like this, but the task is really difficult. For some teams, perhaps impossible.
Alas, in modern football you can't defend without the involvement of attacking players. Even if a team completely relinquishes pressure (while no top team completely refuses to press), the opponent will still have an advantage – they will launch attacks without resistance, move the ball faster from flank to flank, the defensive players will be under more pressure and are more likely to make a mistake sooner or later.
Still, deploying Ronaldo in a less intense style is relatively easier. During one of the arguments with the Portuguese himself, Mourinho said it vividly:
"You complain about the team's defensive style, Chrish, but do you know the reason why we play like this? And the reason is You. You don't want to work in defence and cover the flanks, so I have to build a team with a low defensive block."
A team that is already playing in a less intense manner will lose less in the game without the ball when Ronaldo is integrated, while gaining his valuable pluses in attack. An indirect reflection of the intensity of the pressing is the PPDA – the number of passes the opposing team make per defensive action. The lower it is, the fewer passes the opponent has time to make before the ball is returned to the team. A high value, on the other hand, indicates a patient waiting strategy without the ball.
Let's build on this by analysing potential clubs for Cristiano. Among the top 5 leagues, Real Madrid, Bayer and Tottenham have the least intensive pressing. That said, even their result is better than United's last season. Globally, this only confirms the thesis that pressing is important to all the big teams to a greater or lesser extent:
| | |
| --- | --- |
| Team | PPDA |
| Man Utd (before Ronaldo) | 10.95 |
| Real Madrid | 11.61 |
| Bayer | 11.93 |
| Tottenham | 12.53 |
| Man Utd (with Ronaldo) | 12.84 |
These teams already tend to play in a less intense manner. Consequently, they could integrate Cristiano at a lower cost (while we're talking specifically about integration into the no-ball system – more on attack later). Let's go through each option.
Tottenham – this is a case where data needs context. Antonio Conte's Tottenham are unlikely to be a low-intensity team. The Italian has been working without a pre-season. Refreshing through transfers and full preparation for the season will tighten up the performance.
That said, even in Conte's wait-and-see mode, absolutely everyone is involved in defence. Another factor that is unlikely to please Ronaldo is the lack of freedom in attack. Almost all of Conte's manoeuvres are robotic. At the same time, following the transfer of Richarlison, the attacking line seems even overstaffed. There are no more places to go.
Bayer 04 – the financial aspect aside, a categorically interesting option. The team is very clever in baiting out opponents and playing through space. These luring mechanisms have been fine-tuned. Without the ball, the team is one of the most patient in the Bundesliga, and the centre-forward is freed up compared to the more active wingers. The problem: that striker is Patrick Schick, who recently had his contract extended.
Real Madrid – it's pretty telling that after four seasons of wandering around, Real Madrid are still by a margin the best club stylistically for Cristiano. Carlo Ancelotti employs only sporadic use of pressing and reasoning about how a low defence line by the standards of a top clubs helps Toni Kroos and Luka Modric to feel more comfortable defensively and Vinicius to run away on the counterattack.
In terms of play, Real Madrid seems to be the best environment for Cristiano. Perhaps he should have appreciated it more. Alas, right now, Ronaldo is not needed by Madrid. Firstly, it would mean a pause in the progress of Vinicius Júnior, who reached the elite level last season. Secondly, Karim Benzema has made no secret of the fact that one of the reasons for his transformation is Cristiano's departure. He is unlikely to be ready to return to his old role and it is unlikely that Real Madrid would be rational to sacrifice the form of the world's best player. Thirdly, the sporadic pressing that the team have been using under Carlo is very good – they wouldn't want to lose that quality.
Don`t miss out 👉: A third of Real Madrid players will leave in the offseason as Ancelotti aims to reshape squad
But what if Ronaldo is ready to be a super weapon in the rotation? That is, he plays less, presses more and is traditionally scary in the box. Some Messi-like metamorphosis, as the Argentinian has found a way to be useful in different ways.
In attack, the situation is the opposite: there are almost no teams in the world that will refuse Ronaldo's qualities. He is the best player in the history of football at moving inside the box. Possesses all types of attacking finishing. He is dangerous when opponents huddle up against him and give him space. He is not static but extremely mobile, darting into the box rather than being there all the time which makes covering him monstrously difficult.
The only downside is that the attack can become too sharpened up on him, but it's worth it. In terms of attack, there's no point in filtering clubs by style: Ronaldo is brilliant and versatile, it's realistic to integrate him into almost any top club. All we need to do is solve the pressing puzzle.
Let's try to make the assumption here that Ronaldo would accept an unusual role for himself, one that involves reducing the total number of matches (with an emphasis on the Champions League matches he cares so much about, for example) and a deal with the pressing coach (working harder than his usual standards, but with a lighter schedule). Important: it's not about substitute status, but an important role, with clear control over a player's freshness.
Given Cristiano's age (37), such an option does not seem fantastic. Unlike traditional veterans who become rotation players, the most important matches will be up for him. That said, there is good reason to believe that the Portuguese can squeeze more out of himself in pressing with the right motivation, strength and a clear set-up.
The first games after Rangnick's appointment are a case in point. Back then, Ronaldo produced 9-10 pressing actions (not space, but above average for him), and the German even said he hats off to him for his work without the ball. It was only later that the conflicts and compromises began.
So we widen the circle of teams – the most obsessed with pressing are still out of the circle. But the pressing ones, where there is room for a player with indulgences, will be considered. With this expansion, two more interesting options emerge – Chelsea and Atlético de Madrid. Those teams had Romelu Lukaku (10.7 pressing actions per 90) and Luis Suarez (8.6 pressing actions) in their ranks. Both were not key (and their unsatisfactory work without the ball is one reason), but both were getting plenty of time. That is to say, in matches of some type, these teams' systems cope with such partially liberated players.
In terms of attack, Ronaldo's arrival at Chelsea is exciting. Last season, Tuchel had a choice between an attacking formation with Lukaku or an option that involved constantly changing positions in the attacking five (attacking three + a couple of laterals), where even flank players could turn out to be forwards on occasion. 
Ronaldo can help combine the two approaches. He is mobile and can participate in this merry-go-round of position changes, with even more threat coming from him inside the box than from Lukaku. Yes, Cristiano will be required to go along with Tuchel – role changes are made within positional football and not through player freedom (discipline is required), but the Portuguese certainly has the qualities to play in this system.
We can call it the most interesting option just in terms of attacking interplay. But let's not forget that he was born through a significant caveat in terms of pressing and playing time. There is no guarantee that Ronaldo is thinking along the same lines.
Atletico is a powerfully provocative storyline. Perhaps even too much to consider. If it does happen, Ronaldo could be almost a direct upgrade on the late Suarez – defensive privileges in exchange for efficiency in the penalty box and a winning psychology. Diego Simeone has experience of introducing such a player.
And now a few words about the possible but extremely difficult variants.
Barcelona are a pressing machine under construction; the move will not be forgiven by Madrid fans as well; Barça themselves are targeting Robert Lewandowski as of now. However, the player's agent was seen in Barcelona on Monday, so even that option could be viable.
PSG. The club has staged a relaunch with a new sporting director precisely to manage the market rationally and build a more balanced team. Even assuming Paris's strategy remains unchanged, there are still too many attacking stars there now.
AC Milan and Monaco had phenomenal end-of-season performances in which pressing was the main feature.
Inter are still tactically a team with the basis of Conte's robo-football. The incompatibility is written about above.
RB Leipzig – the club is built and staffed according to Rangnick's outlines. Compatibility was tested empirically.
Napoli – would have been a powerful cinematic move in the spirit of Aurelio De Laurentiis, but has already been officially denied. In the case of Victor Osimhen's departure, the situation could change.
Frankfurt, Marseille, Sevilla – clearly no money and the status Ronaldo needs.
Don`t miss out 👉: Top 5 possible destinations for Federico Bernardeschi
The clubs in the top five have run out. Outside the top leagues, Cristiano can only be imagined in one place. Sporting, who could move sharply into the "why not?" category, but for now the Portuguese league and finances seem too obvious a barrier. Ronaldo should probably be expected here after 40.
What we have – all options are on the table with some caveats. The market is in a difficult state to arrange Cristiano's transfer. The main conclusion is that the option of Ronaldo staying at Man Utd, even if he wants to leave and with an agent like Mendes, is not ruled out at all.
In terms of creating ideal conditions for Cristiano, there is still no club in the world better than Real Madrid. Alas, they've come up with something better there without him. It's very difficult to justify why a move could be beneficial for Madrid.
Among the other options, Chelsea look the most interesting. A lot of things are coming together – they can afford it, they play in the UCL, there are clear pluses in terms of football (with a couple of nuances). New owner Boehley could use this as a way to show the ambition to the fans, albeit this transfer diverges from his core strategy (emphasis on analytics and Michael Edwards as a dream sporting director).
If it comes together, Thomas Tuchel gets a situational super-weapon, but Ronaldo must accept a diminished role.