A third of Real Madrid players will leave in the offseason as Ancelotti aims to reshape squad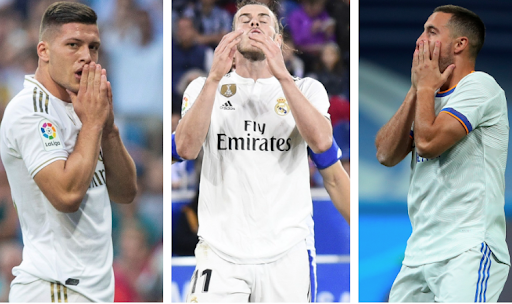 Real Madrid are preparing a massive squad reshuffle. Before the start of the season, Perez had already waived three 'high-cost' contracts: while Isco and Marcelo have yet to find new teams, Gareth Bale has already moved to the United States. The net annual wage of the players was around €33 million. Still, Madrid are not going to stop there.
Now Carlo Ancelotti looks to get rid of the rest of the players who are not part of his plans for the next season. This will open an opportunity to aquire new talents and give more chances to promising young players.
Vallejo's playing time will be reduced even further after Rüdiger's arrival. Jesus is not worried about that – he wouldn't mind spending another season on loan. Although according to the Spanish mdeia, Espanyol's new coach Diego Martinez plans to sign the player and is promising him a place in the starting line-up. They have already crossed paths at Granada – and made some noise in the UEL
Ancelotti has no problem keeping Ceballos, but if a good offer comes to the club, they will not hold on to the player. Spanish magazines are reporting that Betis are the only bidder for the 25-year-old midfielder who has yet to find himself in Madrid. Dani's contract expires next summer – a decision must be made now.
The "Japanese Messi" failed to show anything remarkable last season even at Mallorca – and now Real Madrid are ready to sell the player. Insider Ramon Alvarez reports that Sociedad want the Japanese and are pushing for a transfer. Real are pushing for a loan with the option to buy, but are ready to sell.
The midfielder spent the last two seasons on loan at Borussia Dortmund where he failed to find a place in the starting line-up. After that, he will definitely not stay in Madrid this summer. The same Alvarez has confirmed that AS Roma are interested in Reinier – José likes the lad. Benfica have expressed interest after Nunez departed but have not made any concrete offers. The player himself wants to go to Lisbon.
Despite Asensio having scored 10 goals in the previous season, the role of winger in Ancelotti's team is anchored by the young Brazilians Rodrygo and Vinicius. Does the Spaniard himself understand this? According to Marca, Asensio has asked for a hefty pay rise. His contract expires next summer but Ancelotti does not envisage Marco in the starting line-up at all. The best way out is to sell the player now. Asensio wants both an increase in money and playing time, so he will surely leave. Milan can't agree on the peronal terms, Liverpool are still thinking about the possibility.
The Serbian striker seems to be having trouble finding a foothold in Madrid. The player has been given chances as a substitute but he has only managed to score one goal this season. After all, the Spaniards have paid 63 million euros for the former Eintracht player – the player did not live up to expectations. Fiorentina are interested in the atacker. The Italians want to take Jovic on loan without an obligation to buy, but Gianluca Di Marzio claims that Real Madrid insist on that option and do not want the Serbian to return. The clubs are almost settled the deal.
Mariano has somehow outlasted Zinedine Zidane and even won the Champions League. For several years Perez and co. have been trying to sell the striker off, but this time the Dominican himself has asked the club to let him go. The relationship with the fans is also irrevocably damaged. Marca add that there are no bidders yet, but Mariano's story at Real Madrid will definitely end in the summer.
"Mariano doesn't live in Madrid, he lives in Barcelona. If he liked Madrid, he would already be living there. Mariano intends to leave when we find an option that satisfies him. We are in this situation, trying to find a team that he likes",

the player's agent stated provocatively.
The Ukrainian, who wants regular playing practice, also appears keen to leave the team. He has played just 390 minutes this season. Very little for a young talent. It is still unclear on what terms and to which club. The team could sign David Ospina from Napoli as a replacement. 18-year-old Chicago Fire American goalkeeper Gabriel Slonina is also under consideration.
Mayoral has spent four consecutive seasons on loan. First, he played two years at Levante, then one and a half at Roma and, in the last six months, he represented Getafe. With the latter he scored six goals in 18 games. Not much of an alternative to Benzema. Not much better than Jovic or Diaz. If any offer comes in, Real will definitely consider it.
The Real Madrid train hasn't left the station yet:
 "I still have a year left remaining on my contract with them but I've already established myself as a high level player and I've fulfilled many of my dreams. However, I still have a lot of dreams out there. I also have a lot of time left to prove some things. Playing for Real Madrid is one of those dreams and it could happen at some point. At times I've gotten annoyed that the club keeps sending me out on loan, though they've proven they won't let me leave on a permanent deal very easily."
It was reported at the beginning of June that Real Madrid's transfer budget for the off-season would be €407m. Things have finally gotten better financially, allowing the club to count on such colossal funds. Around a quarter of the total has already been spent on the signing of Aurélien Tchouaméni from Monaco. With some delays, but the transfer still took place in mid-June. It is already a very fundamental transfer with an eye on the future.
Madrid CF head coach Carlo Ancelotti wanted the remaining funds to be spent on a left-back and a striker, plus spot-fixing the depth of the squad. He said this, according to media reports, during a face-to-face meeting with president Florentino Perez and chief executive Jose Angel Sanchez shortly after winning the Champions League.
"There will be no more transfers for now. But then we'll see. The summer is very long," Perez said on the TV programme.
Spending more than €400m on transfers is indeed a dubious venture. There was a big risk of overpaying for average or even great, but over-hyped performers. The core of the team has been formed and key players will definitely be offered contract extensions. However, complete inaction in the current situation is playing with fire for Real Madrid.
Obviously, Ancelotti's team are in dire need of a second class striker to pair with Karim Benzema. Indeed, the Frenchman has scored 44 goals in a season and is 99% likely to win the Ballon d'Or. However, Benzema needs an alternative or equal assistant. Kylian Mbappe was seen in that role. It would be superfluous to rehash the details of the PSG striker's seemingly inevitable move to Madrid. Mbappe stayed in Paris. In fact, he took advantage of Real Madrid to get better terms at PSG. He had every right to do so, although from an ethical point of view it is probably not a proper thing to do. In any case, Mbappe is a thing of the past for Real Madrid. Unlike Benzema and other strikers.
Karim is already 34 years old. He's in great shape right now. But who knows if the striker will have another miracle season. There's also the risk of injury. There are no questions about Benzema himself. His place in the team is not in doubt. Real Madrid will soon renew his contract with the Frunze until the summer of 2024. However, what if something does not go according to plan? Real will have to rely on the fickle Majoral (who may leave) and Juanmi Latasa. The second one is just too raw for big football.
Los Blancos will definitely be waiting for a lucrative opportunity, but it may never come. And a panic purchase could result in a new player not fitting into Carlo's playing model.
As of now, Real missed out on Erling Haaland because of the faith in Mbappe's signing. Darwin Nunez left for Liverpool for €75m plus bonuses. Perhaps it's even good that Madrid didn't go into the fray for the Uruguayan. The fee is too big for such a young players. It is similarly inappropriate to pay €70-120m for Christopher Nkunku, Rafael Leao or Romelu Lukaku.
Lukaku is likely to join Inter on loan, while as for Leao, the 22-year-old has made a huge contribution to Milan's title run. Leão has scored 11 goals and given 10 assists in 34 Serie A games. Rafael's contract is backed by a €150m clause and the club bosses declared him untouchable following the Scudetto wining.
Don`t miss out 👉: Romelu Lukaku returns to Italy as Inter and Chelsea have reached a loan deal agreement. Revealing all information about the deal
Gabriel Jesus was also among the options, but Arsenal have already literally slotted the transfer, according to insider reports. The Brazilian will undergo a medicals in London next week and sign a five-year contract.
Robert Lewandowski appears to be the most feasible option right now. Barcelona are actively interested in the Pole and Bayern have already bought Sadio Mane as a particular alternative. A move to the Catalans could derail if they do not solve their financial problems. Real need to keep their fingers on the pulse and poach the player at a crucial time, the Germans are willing to let the player go for around 50 million euros.
Don`t miss out 👉: Sadio Mane after joining FC Bayern: "There was no doubt in my mind right from the start – this is the right time for this challenge"
Real Madrid's line-up for next season is already clearly evident. The team will not be any weaker, despite the failure to sign Kiliyan Mbappe. Tchouameni is seen as a potential midfield leader for the next decade. Vinicius and Rodrigo continue to progress with a steady trend. Modrić and Benzema are still good enough. Acquiring a top forward like Leão, Mane or Lewandowski (who has already explicitly stated his intention to leave Bayern) would make Real Madrid's potential ceiling even higher. The Los Blancos know how to win the Champions League more than once in a row. It will not be such a fantastic turn of events if a revamped and strengthened Ancelotti team do so next year as well.