Paul Pogba is one foot at Juventus as he has agreed all terms with Italians to complete the deal of returning to Turin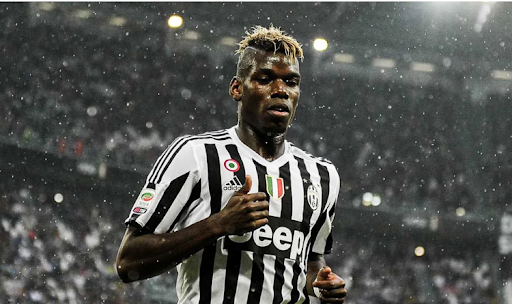 The Frenchman's performances during his stay in Italy were absolutely fascinating
Former Manchester United midfielder Paul Pogba will join Juventus as a free agent.
According to sources, the two sides have reached a principal agreement on the terms of the contract. The deal will be formalised in July. Pogba will arrive in Italy in a fortnight' time. The Frenchman is reportedly due to undergo a medical between 5 and 8 July. After that, a contract will be signed.
What is really fuelling interest in the player's career unfolding is the recent release of a documentary about his journey called The Pogmentary. In the trailer, the Frenchman says:
"My name is Paul Pogba. I play for Manchester United, one of the best clubs on the planet. I won the World Cup a few years ago with France. I want to be elite. One of the best. Today is a turning point in my career. I have important decisions to make that will determine my future and I have no right to make a mistake. I was born ready. And I am ready. To fall. To rise again. To fight. And win."
A rather curious dialogue was caught from the film: it sheds light on some of the details of what happened in Manchester. In fact, the filmmakers have revealed details of the negotiations – something that usually remains a mystery.
"Paul, you are in a very unique situation. You have no idea. You have no idea"

says the bygone Mino Raiola to his client.
"Has Manchester United made a second offer?"

asks Pogba.
"Yes. They really want you to stay. But I don't think the offer reflects that. I told them, 'If you want him to stay, you have to make another offer.' I let them know that if they really want you to stay, if they want to build a project around you, then this time they have to act differently and put money on the table."
"They're bluffing. How can you tell a player you really want them and not offer them anything? I've never seen such a thing."

asks Frenchman rhetorically.
There is another piece with Mino Raiola.
"What is best for you? What's best for your family, for your career? What's best economically? What's best for your brand? We have to try to make you feel as good as you do with the French national team. You are different with them. Do you understand? You're different Pogba at Manchester United. It's not normal. In the French national team you are the real Pogba, the Pogba of Juventus, the Pogba that everybody loves. Something is bothering you in Manchester."

the Italian persuaded the player.
In one of the penultimate scenes, Pogba says he wants to denounce the Red Devils' management:
"Manchester United made a mistake by delaying offering a new contract. I want to prove to other clubs that United made a mistake by not offering me a contract." 
But according to insiders, Manchester United have nevertheless made Pogba an offer. Even two, and both of them were more than the current package, on which the player receives £290k a week. The footballer, however, denies it.
At another point in the film, Raiola dismisses the possibility of Pogba returning to Juventus:
"No, no… Juventus can no longer afford you. I am here. I'm also meeting PSG and I've already had two meetings with Barça. The market is like the sea: up, down, up, down,"

Mino told his client.
But Barcelona's financial problems have kept the club out of the business, PSG also stepped back when Kylian Mbappe remained with the team – his new contract and bonuses are too heavy to consider another star player with such a big financial appetite. And now Juventus remain the only serious option for Paul to move to.
According to Italian media, Pogba has already agreed contract terms – £6.8m a year net and £1.7m in bonuses. A unique situation: in 2012, Juve took the player for free and then sold him to Manchester United for £90.5m; now the club are bringing the Frenchman back and paying nothing for him again.
Don`t miss out 👉: 5 biggest fixtures for Manchester United in the 2022-23 Premier League
The 29-year-old has played 177 games for the Turin side and scored 34 goals giving 40 assists. In the film, Pogba says it was Juventus that taught him to be a star.
And now he is as close as possible to returning to the club where he felt super-talented and great. However, he is unlikely to leave England in that status.
Former Juve striker Alessandro Del Piero has shared his views on the possible return of Romelu Lukaku and Paul Pogba to Serie A.
"It's a different sport at some points. It seems like in the Premier League you run more, you have more physicality, you are more spectacular. In Italy you have all that as well. There's certainly these things, and Italy is struggling at club level and national team level right now. Last season showed all that. Roma's victory in the UEFA Conference League is a good hope for their future in the European competitions. Therefore, Lukaku's moves to Inter and Pogba to Juventus could be a great move for Italian football to get stronger again and put up a fight against rivals in the Champions League."
Don`t miss out 👉: Romelu Lukaku returns to Italy as Inter and Chelsea have reached a loan deal agreement. Revealing all information about the deal
Last season, Pogba played in 27 matches in all competitions, in which he scored just one goal and provided nine assists. One of his worst seasons ever.
His best season came in 2018/19, when Pogba returned to United revitalised from France's World Cup win and scored 13 goals in 35 league games. He was named in that year's PFA team of the year.
The Frenchman now has a market value of £41.3m.
Paul Pogba's new documentary is declared the worst TV show or film with a score of just 1.1 out of 10 on IMDb. This is probably the way MU fans are expressing their fury towards the player.