CSK beats Mumbai by 20 runs to stand on top of the points table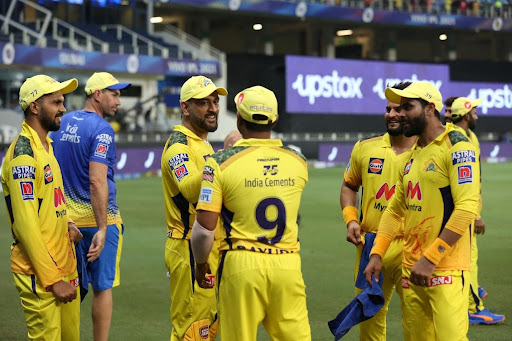 IPL/ Twitter
Ruturaj Gaikwad, Dwayne Bravo stars to get Chennai across the line after beating Mumbai by 20 runs at Dubai on Sunday. CSK firms their position at the top of the points table.
Earlier, Chennai Super Kings had won the toss and decided to bat first. Chennai Super Kings did not get the start they were looking for as they lost their first three wickets very early.
CSK batters look rusty against the pacers and lost so much ground early.
After the first powerplay, CSK went on 24-4 and was in total trouble. They were looking for a solid partnership to steady the ship.
Ruturaj Gaikwad and Jadeja made a great partnership and make it easy for their side to stand.
The pair put together 81 runs, the highest partnership of the innings but their innings couldn't go long when Bumrah sent out the Jadeja back to the pavilion.
Then, Bravo came out and plays the innings in his fearless way. Runs keep flowing for Chennai and they set a competitive total of 156-6 after 20 overs.
After a great performance by Chennai's batsmen, the bowlers also played their part quite sensibly.
The total just wasn't enough but defendable, even though Mumbai lost their first three wickets very early.
Mumbai Indians never settled from the start and they keep losing wickets one after the other. Pollard and Tiwary started with a couple of fine shots and both were looking in a good form.
Their partnership breaks down when pollard played Hazlewood down the wrong line and was trapped in an lbw.
But Tiwary was still on the pitch but there was no one, on the other hand, to stand with him to get the match across the line for their side and all the Mumbai hopes break down in the final over when Bravo sums up the equation to 136-8.
Mumbai Indians were restricted on 136-8 at the end of their innings and they lost the match 20 runs short.
"One of my top innings until now, given the pressure we were in. I had to grind it out, bat till 10-12 overs, give myself time and push for 120-130, and then slowly 140-150 was possible…Initially, there was seam and swing movement, but I had to take my chances against the spinners. Jaddu just came in so I had to take a chance and it came off well,"

said the player of the match, Ruturaj Gaikwad.
"At 30 for 4, you want to put up a respectable score, I felt Rutu and Bravo got us more than what we expected. We thought of 140, to get close to 160 was tremendous…Rayudu got injured, so it was tough to come back from there but we batted sensibly and finished superbly. It was sensible for one batter to bat right through to the end,"

said the winning skipper, MS Dhoni.
" Ruturaj batted well. In T20 cricket, if one person bats through he can hurt you. We didn't finish off well with the ball. Losing by 20 runs you know those were the extra runs we conceded…Losing three wickets was a cardinal sin for us. Given the circumstances, Saurabh batted well,"

said the losing skipper, Kieron Pollard.
Watch more: Updates on Indian Premier League