KL responds to the cheeky Tweet of Yuzvendra Chahal over PBK's new jersey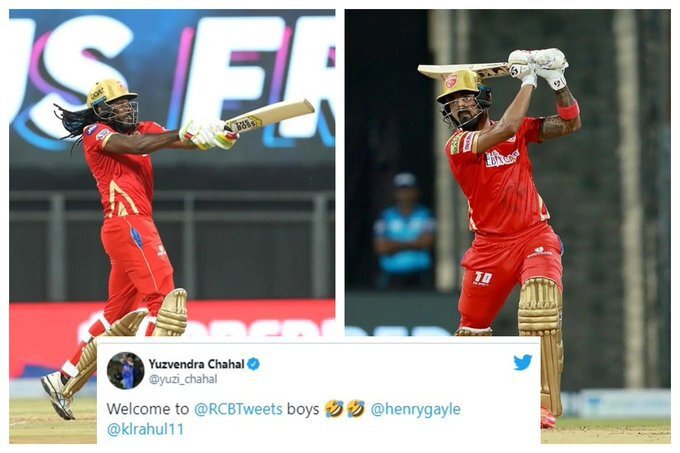 Cricket Next/ Twitter
RCB's leg-spinner, Yuzvendra Chahal hilariously responded to PBK's new jersey from which he gets the reply from PBK's skipper, KL Rahul in the same tone.
PBK's new jersey for IPL 2021 has opened up many discussions on social media. PBK's recently named KX1P has changed their name and jersey for this year's IPL edition. The jersey might be a new outfit for the players and might not have been new for others.
When PBK's player went onto the field wearing their brand new jersey on Monday, it took many other players by surprise. Their jersey had many similarities with the RCB's red and gold jersey.
This new outfit from PBK's got multiple reactions on social media and the most famous reaction was from RCB's, Yuzvendra Chahal who took it on Twitter to troll PBK players.
The leg-spinner went on Twitter and posted a video where Chris Gayle and KL Rahul were having a chat on the field donning their new jersey. The caption of the video includes
"Welcome to @RCBTweets boys @henrygayle @klrahul11"

along with laughter emojis.
KL Rahul and Chris Gayle have a history with Royal Challengers Bangalore's outfit.
Skipper's reaction
KL Rahul noted the cheeky post from Chahal but he made sure to react under the post. The 28 years old humorously asked Chahal to ensure RCB that they wear their away jersey on April 30th when they lock horns with PBK's.
"Wear your away jersey on the 30th,"

replied Rahul under the Tweet.
Meanwhile, RCB and PBK's had a decent start of their campaign in IPL 2021 as both the team won their opening matches against their respective sides.
RCB played against MI where they won the nail-biter with 2 wickets. However, PBK's played against RR where the match went to the final ball and Punjab Kings came out as a winning side.