UEFA asked players to stop moving sponsor bottles after it went viral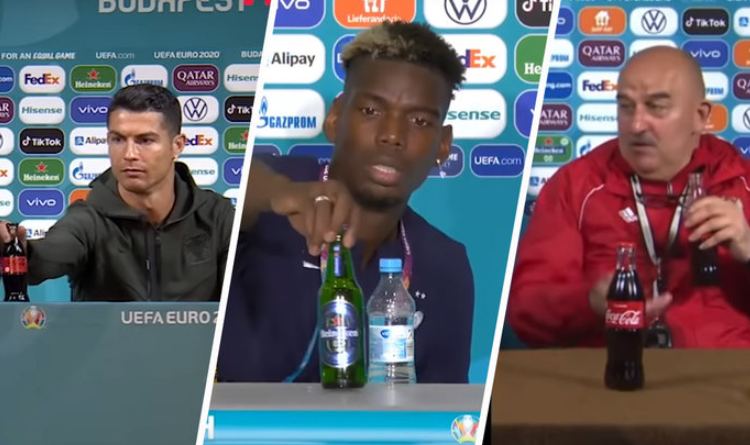 Pogba removed the bottle of sponsor beer because of his religion while Russia coach Cherchesov decided to demonstratively drink a Coke
One of the main trends of Euro 2020 is the removal of bottles at press conferences. Cristiano Ronaldo didn't want to be in the picture with a couple of Coca-Colas and said plain water is better. Pogba even put a bottle of beer under the table because of Islam's prohibition of alcohol. Now the products of Euro sponsors cannot be touched at press conferences. 
Cristiano Ronaldo started the Euros with two goals and launched the main flash mob of the tournament. First he and then Manuel Locatelli moved bottles of Coca-Cola away. This allegedly caused a loss of 4 billion dollars to the company.
Don`t miss out 💥: Cristiano Ronaldo's gesture caused Coca-Cola to lose around $4 billion
Then their `manoeuvre` was repeated by Paul Pogba, but this time with a brand of beer, which is also one of the sponsors of the tournament.
The explanation for the Portuguese's action is simple: Ronaldo has given up sugar almost completely and wants to set a good example for people. Paul's step, in turn, is a gesture of respect for religion.
Ukraine player Andriy Yarmolenko recalls Ronaldo and is ready to cooperate with sponsors:
Tournament director Martin Kallen said UEFA has "communicated with the teams" about the importance of sponsors and the contribution they make to the sport, after Ronaldo, Paul Pogba and Manuel Locatelli all removed branded bottles from the view of cameras.
Russia coach Stanislav Cherchesov decided in his turn to demonstratively support Coca-Cola:
The director of Euro 2020 Martin Kallen has a ratio: the values of individual sponsor deals are not published, but UEFA got 483 million euros in sponsor deals from 10 partners at Euro 2016 in France. Players also indirectly get money from Euro 2020 commercial income via their national federations and clubs. So discrediting sponsors in any way is clearly not a good way to do business.
As for the incidents at Euro 2020, UEFA will not punish Ronaldo and Pogba. It's up to the federations. At the same time, Kallen does not exclude that if the trend with the bottles continues and no one hears UEFA, penalties will follow.
"We have regulations signed by the federations involved. We have reminded them of their obligations, but of course, sanctions are always possible,"

he said.
Ex-Man Utd Patrice Evra went further and trolled all the participants of the flash mob:
Don`t miss out 💥: