Arsenal vs West Ham United. Prediction and Preview. Probable Lineups, Team News, Stats, and more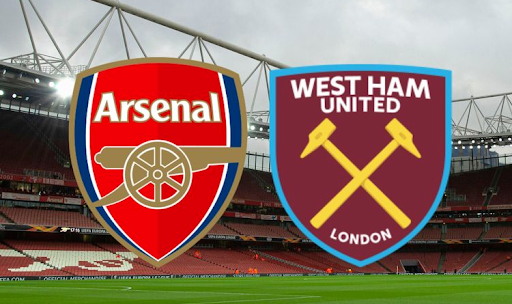 EPL welcomes us again, the leader will continue their way to the title in the London derby against West Ham
Arsenal will host West Ham in the English Premier League 17th-tour match at the Emirates Stadium. The fixture will take place on Tuesday, December 27, beginning at 01:30 IST.
The FIFA World Cup 2022, which was held for the first time in winter and, therefore, interrupted all the domestic championships, has come to an end. Now the national tournaments are slowly coming into the spotlight. A few matches of the EFL_Cup have been already played in England, having determined all the quarter-finalists there, and the 17th round of the EPL will begin 1 day after Catholic Christmas – on 26 December. A number of 7 games will be played in one day.
Arsenal, the number one team in the Premiership standings, will play with West Ham, a team which is having a crisis right now. A few years ago, the Hammers were fighting for the Eurocups, while in the 2022/23 season they face the challenge of not being relegated to the EFL Championship.
Will David Moyes and his lads have a chance to get away at least with one point against such a potent London rival? We'll see tomorrow. Parimatch News will tell you everything you need to know ahead of the upcoming match.
Arsenal News & Current Form:
Arsenal topped the Premier League table on Christmas Day for the first time since the 2007/08 season. The team had a fantastic start to the season ahead of the World Cup in Qatar, with the London club recording 12 wins and a draw in 14 rounds, equalling 37 points and a place at the top of the standings. Not to mention 33 goals scored, whilst conceding less than one goal on average.
Among all the top teams in the EPL, the Gunners were hardly affected by the aftermath of the World Cup. The club sent only 10 main squad players to the Mundial, but most of them received a limited workload. For example, defender Ben White never played at the World Cup and went home for personal reasons [reportedly because of a scandal with the England coaching staff].
Perhaps the only players who played a prominent role in Qatar were Granit Xhaka and Bukayo Saka.
The early departures of Switzerland (in the 1/8th final) and England (in the 1/4th final) gave them an opportunity to rest before the championship restart.
And 'Little Chilli' actually was recognized as one of the most prominent players of the Mundial 2022, while statistical resources now consider Saka as one of the most expensive players in the world. Bukayo was featured in the Most Valuable XI, as were Kylian Mbappe, Erling Haaland, Phil Foden, etc.
Don`t miss out 👉: 5 players Manchester City could target in the January transfer window
Arsenal are hoping for a very brisk re-start to the season, however, the job is seriously hampered by the frustrating injury of one of the team's biggest stars. Gabriel Jesus suffered a serious knee injury during the defeat of Brazil to Cameroon at the World Cup and had to undergo surgery right away. Mikel Arteta would not give a timeframe for the striker's recovery, but he is expected to be out for around three months.
The loss of Jesus will be made up for by the audacious Eddie Nketiah, whose skills seem good enough to beat West Ham. However, the player is still young and does not have as much functionality and utility as Gaby. Still, the Hale End academy product has had plenty of time to take an express upgrading course and prepare himself to become the first choice for the position. He has that ability in him, however his nerves can let the lad down, such pressure and the gaze of the fans around the world is not something that is easy to handle.
The confluence of circumstances has given many fans a reason to spin one very interesting idea in their heads — what if free agent Cristiano Ronaldo joins the Londoners for half a season on loan and proves to everyone what he can do at the right club? Now, that thought seems to remain very much one of fantasy. The transfer is very difficult to execute because of the huge wage appetites of the aged football star.
Mikel Arteta was personally interested in the transfer though. He saw the famous Portuguese as the ideal short-term replacement for the Brazilian. However, it soon became known that the former Manchester United forward had arrived in Saudi Arabia and is close to signing a contract with the local team Al Nassr in the near future. They have the ability to meet the salary requirement.
Except for Gabriel Jesus, also a few players are injured and will miss the game.
Emile Smith Rowe is in finishing his rehabilitation from groin surgery and could potentially make his comeback in the upcoming fixture, but the clash with Brighton & Hove Albion on New Year's Day is a more realistic and reasonable target.
Reiss Nelson came off in the first half of last weekend's loss to Juventus after getting a hamstring injury, and the English attacker will spend the next few weeks recovering and having rest.
The injury-plagued Oleksandr Zinchenko missed a recent friendly with Luton Town due to a minor calf problem, which has been bedeviling him throughout the winter, but the Ukrainian left-back will push to return on Monday.
Don`t miss out 👉: 5 players Arsenal could target in the January transfer window
West Ham News & Current Form:
West Ham United made it to the Eurocups last season, although only in the Conference League. However, it seems to have been something of a head-scratcher… In this campaign, the Hammers are finding it extremely difficult to simply stay afloat. At the moment, the Londoners are just one point away from relegation zone, 16th in the table, with David Moyes still retaining his coach position.
Amidst the club's failings, it was rumored that WHU bosses are giving last chance to Moyes – these re-start first matches will define his fate. According to some reports, there is even a tension between the coach and club co-chairman David Sullivan. How the situation will develop further remains to be seen. Something hints that there isn't much time left before Moyes is sacked.
Defensively, the team has been relatively reliable. The Hammers have conceded 17 goals. But the problem lies in the offensive part of the game, particularly in the goalscoring aspect. In 15 games, only 12 goals have been scored – one of the worst performances in the EPL.
The team's line-up is quite good and clearly worthy of being in the top ten of the table, but it all depends on the mentality of the squad – they just need to start scoring and win a couple of games now to regain confidence.
In this encounter, West Ham will obviously be trying to snatch a few points. Although, the last win over the Gunners happened almost four years ago.
Bad news is that Kurt Zouma, Michail Antonio, Gianluca Scamacca, Maxwel Cornet will be sidelined in the upcoming fixture due to injuries. Two of the absentees will be particularly missed as they are the profile strikers.
Coach Moyes said:
"Gianluca has got an ankle injury and Mick has a calf strain. We're hoping they both have a chance, but they are doubtful. I think every club is going to have issues with players returning after the World Cup".
Arsenal form guide: W-W-D-W-W-W
West Ham form guide: D-L-W-L-L-L
Arsenal vs West Ham: Head-To-Head Record:
| | | |
| --- | --- | --- |
| Arsenal | Draw | West Ham |
| 71 | 40 | 35 |
January 12, 2019: West Ham 1-0 Arsenal (Premier League);
December 9, 2019: West Ham 1-3 Arsenal (Premier League);
March 7, 2020: West Ham 0-1 Arsenal (Premier League);
September 19, 2020: West Ham 1-2 Arsenal (Premier League);
March 21, 2021: West Ham 3-3 Arsenal (Premier League);
December 15, 2021: West Ham 0-2 Arsenal (Premier League);
May 1, 2022: West Ham 1-2 Arsenal (Premier League).
Arsenal vs West Ham Predicted XI:
Arsenal's possible starting lineup (4-2-3-1): Ramsdale; White, Saliba, Gabriel, Tierney; Xhaka, Partey; Saka, Odegaard, Martinelli; Nketiah.
West Ham's possible starting lineup (4-2-3-1): Fabianski; Kehrer, Dawson, Ogbonna, Palmieri; Rice, Soucek; Fornals, Paqueta, Benrahma; Bowen.
Statistical preview of the match Arsenal vs West Ham:
Arsenal's First XI average age is 24.8 yrs.
West Ham's First XI average age is 28.4 yrs.
Arsenal leads the standings while West Ham sits in 16th place.
Total value of Arsenal's squad – $759 mln.
Total value of West Ham's squad – $459,5 mln.
Arsenal are unbeaten in their last 3 games in the Premier League.
West Ham are unbeaten in their last 3 games in the Premier League tournament.
Arsenal vs West Ham: Arsenal is unbeaten in their last 6 games against this opponent.
West Ham are scoring an average of 2.00 goals per game in their last 5 games.
West Ham are conceding an average of 1.60 goals per game in their last 5 games.
Arsenal are conceding an average of 1.20 goals per game in their last 5 games.
Arsenal are scoring an average of 1.60 goals per game in their last 5 games.
What has been said before the match:
West Ham's coach David Mayes said:
"We've looked to see what we can do better and how we can improve. The players have shown a great attitude, but it's not like we've always not played well".
"We need to be a little more clinical when we're trying to score and more ruthless defensively as well".
"I think the best time to face Arsenal was about three years ago, as since Mikel has come in he's done a brilliant job! They've gone against the grain a bit and they've built a very good team".
"As a manager, to get players into management and see them do well is a great thrill. Mikel is always someone who had his own mind, had a really good career, worked under Arsene Wenger and Pep Guardiola, who is arguably the best manager of this period, so he'll have picked up advice from them. He's a very smart boy and has had that little bit of time to get through that difficult period".
Arsenal's coach Mikel Arteta commented the upcoming match:
"West Ham team is very dangerous because I know for sure David has been working the team really, really hard. Since he took over he absolutely maximized the potential of that team and took the team to a different level".
"I am sure they have been working really hard, like we have all been, in this period and I am sure it will be a very difficult contest".
"Every manager gives you some marks and some moments that build the beliefs you have in what you want to do. David had a lot of weight on that for sure".
"He had a huge impact, so grateful first of all for the trust he showed in me and how much I learned from him on the field, off the field about building a team, about getting the right characters in the team to build what you want".
"He was extremely supportive all the time with everything we did together. I had incredible memories with him because we had a very successful time".
Arsenal vs West Ham Prediction:
The Gunners have many of the stars in the squad which can help mitigate the loss of Brazil's number 9. Saka was admirable at the WC for England and is sure to remain fit, Gabriel Martinelli has been a lively substitute for Brazil, while Martin Odegaard has had some encouraging friendlies and scored against AC Milan (2-1). Together, the lads have now scored 15 goals in the EPL (plus 10 assists).
West Ham have delighted their fans with two victories in friendlies, but the level of opposition in the league will be much higher than against Cambridge United and Udinese. The atmosphere in the Hammers' camp seems to be hotter than ever, and even a good holiday will not ease the friction. The visitors will once again fail to pick up points against a brisk and vibrant Arsenal at the Emirates.
However, Mikel Arteta's win is unlikely to be very high-scoring. The Hammers have conceded 17 goals in 15 rounds in the EPL, which is not much. Plus, the Red and Whites will find it harder without Jesus, who, although not having scored recently, has been a vital linking element in the attacking third of the pitch.
Parimatch News staff prediction:
We say: Arsenal to win and the match total less than 3.5 – Yes.
Don`t miss out 👉: NorthEast United finally opens the points tally by defeating ATK Mohun Bagan 1-0