The decision is on ICC to make about the pitch of Ahmedabad for the third Test match, says Joe Root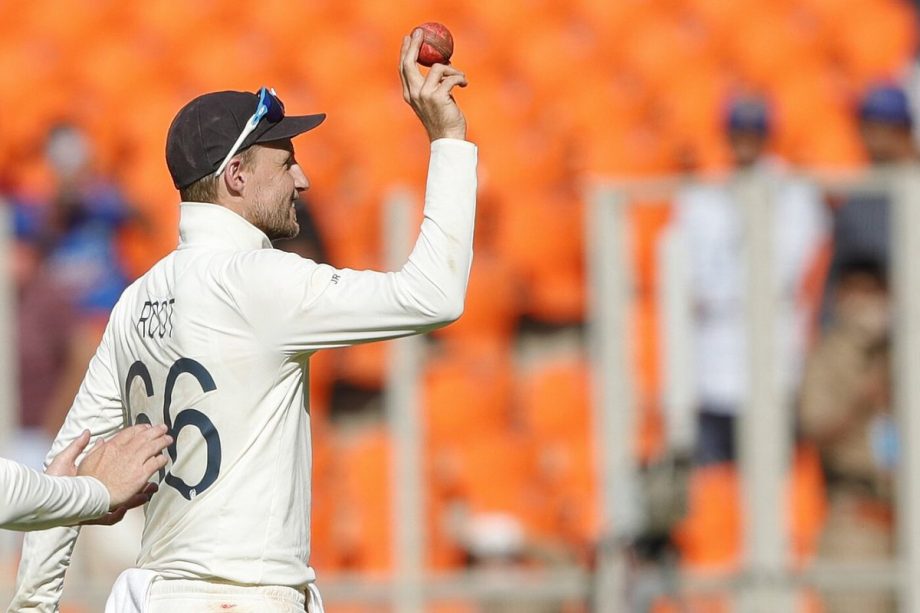 ESPNcricinfo/ Twitter
The third Test at Ahmedabad that ended within two days raised questions for the standard of Test cricket. England skipper, Joe Root gave his view that the home team should take advantage of the home surfaces but the decision is for ICC to make whether the pitch was up to the standard or not.
The third Test at the newly named Narendra Modi Stadium lasted just 140.2 overs and 17 wickets fell in the first two sessions of day 2 as the ball bounced and turned shockingly.
Root himself picked up the remarkable debut of the five-wicket haul at the cost of 8 runs only in the first innings of the hosts, who lost 8 wickets in 47 runs. England was bundled out for 81 inside 31 overs.
When asked about the standard of the Test wicket, Joe Root replied:
"That's a very good question and it's a tricky one to answer," he said. "I think that this surface is a very challenging one, a very difficult one to play on. It's not for players to decide if it's fit for purpose. That's up to the ICC. As players we have to try to counter it as best we can.
"It's a real shame because it's a fantastic stadium, 40,000 people have come to watch a brilliant, iconic Test match and I feel for them. They came to watch Virat Kohli face Jimmy Anderson, Stuart Broad, Jack Leach and Ravichandran Ashwin against our top batsmen like Ben Stokes. I almost feel like they've been robbed. Instead, they had to watch me get wickets on there which shouldn't be the case. That's a frustration for a lot of people. The fact is it was challenging for both teams and credit to India, they outplayed us on that wicket.
He further said that every team takes the advantage of home surfaces which is not bad because it is the beauty of Test cricket that you are in different parts of the world, play at different conditions and adapt yourself in a way that is being required.
Joe Root was looking in disappointment as the cricket lovers were being robbed with the real entertainment. He explained that there is a slight advantage of the home surface but it is not good when you see a lot of experienced and well-known players do not give any output in the Test match.
Ishant Sharma was playing his 100th Test match and he bowled the minimum overs. Players like Jasprit Bumrah, Stuart Broad, Jofra Archer, Jimmy Anderson are the best bowlers in the world but you had seen no input from them but instead I [Root] got five wickets which were disheartening for the fans.
He further said that most of the difficulties were faced due to the pink ball itself. The fact that the ball was coated with plastic, hitting hard on the surface to get pace off the wicket was a huge factor. A lot of wickets were gone from both sides due to the pace being beaten from the inside although the positions were right for the batsman.
The England skipper also admitted that the decision to play with three seamers and only one spinner was wrong. We looked to try our best in terms of utilizing the pink ball. Root also said that they thought the wicket would hold better than it did and it was seaming and swinging during the practice days and we thought that seamers would be a threatening option. Easy to select a different team but we played with seamers because they were our biggest strength.
Root and head coach Chris Silverwood spoke to the referee Javagal Srinath spoke to the third umpire about the process he was using for reviews on the first day. It was followed by two sessions when Shamshuddin gave Shubman Gill and Rohit Sharma not out for catch and stump respectively after viewing with just one angle.
"We wanted the process to be consistent. Not just for us for both teams. I just wanted the opportunity to look at more than one camera angle and we had seen in the previous game that things weren't checked for as long as they could have. We had a good conversation with the match ref at the end of the day. It was a good conversation and they took on board what we had to say and hopefully, that improves things moving forward."
England still has a chance to level the series in the final and fourth Test match starting from 4th March and Root wants his team to bounce back harder.
"It is challenging, it's been tough. You can see it's been tough for their guys as well and they're more used to these conditions. But we've got to keep trying to find a way, keep looking to explore and experiment. Not be shy and look forward to the challenge of it, embrace the surroundings we're in and see it as a way of developing as a player.
India playing 11: Rohit Sharma, Shubman Gill, Cheteshwar Pujara, Virat Kohli, Ajinkiya Rahane, Rishabh Pant, R Ashwin, Axar Patel, Kuldeep Yadav, Jasprit Bumrah, Ishant Sharma.
Bench: Hardik Pandya, KL Rahul, Shardul Thakur.
England playing 11: Dom Sibley, Zak Crawley, Jonny Bairstow, Joe Root, Ollie Pope, Ben Foakes, Ben Stokes, Stuart Broad, Jack Leach, Jofra Archer, James Anderson.
Bench: Ollie Stone, Chris Woakes.