ECB's Ian Watmore resigns from chairmanship amid increasing pressure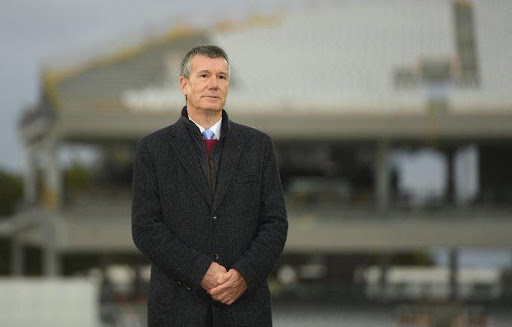 Twitter
Ian Watmore has stepped down from his duties as a chairman of ECB citing his well-being and also the decision has come after a few days of England pulling the tour of Pakistan.
Ian Watmore is to step down from his role as ECB chairman that the position has to take a 'personal troll' on him.
His departure comes after heavy criticism and lack of clarity on England pulling the white ball tour to Pakistan, which was scheduled for October. So he decided to quit the job to focus on his mental health.
He was appointed on December 1, 2020, and still had 4 years left in his contract. He replaces the previous chairman Colin Graves.
He is to step down from his position by citing his well-being and "that of the game which I love".  
Now, ECB deputy Chair, Barry O'Brien, will be appointed as interim chair.
"It is with regret that I step down as chair of the ECB, but I do so in mindfulness of my wellbeing and that of the game which I love,"

said Watmore. 
"I was appointed to the post in a pre-pandemic era, but Covid has meant the role and its demands on time are dramatically different to all our original expectations, which has taken a personal toll on me.
"Given this, the Board and I feel the ECB will be better served by a new Chair to take it forward post-pandemic. Leaving now, at the end of the season, gives the Board time to find a new Chair to support cricket through the challenges of the 2022 season and beyond.
"On a personal level, I also retired last month after five years at the Civil Service Commission and recently became a grandfather. I would now like to retire completely from work and enjoy our great game as a spectator."
The duty was going very difficult for Watmore after he pulled out from the Pakistan tour.
He was facing a lot of difficulties and was in total trouble.
One of the main works for the newly appointed ECB chairman will be to rebuild relations with Pakistan Cricket Board.
Now, ECB is in searching of a new professional coach as soon as possible, also the T20 World Cup is coming.
O'Brien said:  
"We will shortly begin a process to appoint a new Chair to lead the ECB, as the organization continues to deliver on its ambitions to grow the game and create an increasingly inclusive and welcoming sport for all."
Do not miss: Why Wasim Akram never coached Pakistan