'We have to get back together and transform the club again. Barça is more than a club' – Dani Alves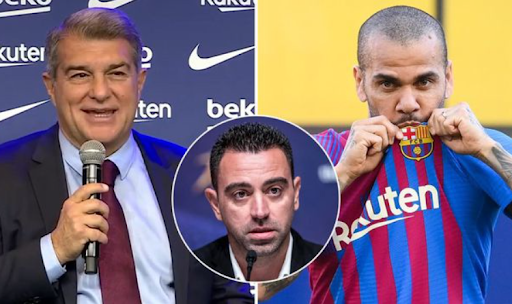 Josep Bartomeu, Xavi and Dani Alves
Dani Alves is officially back as a FC Barcelona player. The Brazilian signed the contract right at the Camp Nou, as did Xavi just a few days earlier. 12,000 spectators at the stadium chanted the Brazilian's name.
The 38-year-old defender has signed a deal until the end of the season. He has already started training with the Catalans but will only be able to play from January.
"I wasn't born to be second, I was always first. I'm here to fight, I'm not here to pass time or to live in Barcelona. I've come here to play and fight for a place in the team. It's not because I made history or because of my good relationship with Xavi. With my work I'm going to fight and try to contribute. Age is just a number. I just proved it at the Olympics. People will expect the best from me and I will respond as always."

– he commented.
Ironically, Alves came out to his presentation wearing flip-flops with a suit. It's all a tribute to the past, back in 2008 when he first joined Barcelona from Sevilla, Dani inexplicably walked in flip-flops.

Here's how he explained it:
Alves turned down bonuses for the sake of his comeback, and, apparently, the Barcelona money at all – for the club of his heart the Brazilian is ready to play almost for free, reportedly prescribed a token salary of 1 euro per week due to the difficult financial situation and many restrictions.
Don`t miss out 💥: FC Barcelona have officially unveiled Xavi as the new coach in front of thousands at Camp Nou
An experienced Brazilian explained the whole situation:
"I was very tough with the president and insisted that I wanted to come back. This club has given me everything I have. I didn't see myself under any kind of obligation, but I was happy to help… maybe that's why I passed the decision on to Xavi. He called me and told me he wants me to join. When you want something, you achieve it and it doesn't matter how much you earn, your salary… I need to support my family, the people I look after, but it wasn't the time to think about that, only about helping Barcelona. Everything else is secondary when you get a call from Barcelona." 
"It's a dream! I didn't care how, I wanted to be at Barça. For free if necessary, whatever. My goal is to bring joy & enthusiasm. Xavi's mission, my mission. We have to get back together and transform the club again. Barça is more than a club".

emotionally declared the footballer in awe.
League executives were outraged but, after talking to Laporta, did make concessions: the president promised to raise the Brazilian's official salary when he re-signed next summer, as Barça intend to relieve the wage bill by selling out.
The contract will have the option to extend it for another year. This was all agreed very quickly, literally in a matter of hours. The player is keen to help the club return to the top of football.
"I have time to impress until June and then everything can be talked about, it will depend on the results. If my grade is 4.5 out of 10 then I'm out… you have to have a high grade to stay. We have to show the youngsters that here we have specific standards – there is no margin for error. I'm sure we'll enjoy ourselves again. We are willing to do anything to see Barcelona at the top of the table, winning trophies…"

he commented.
The player took number 8, which he is very happy about.
"My humble tribute to you, Iniesta and Hristo Stoichkov. Thank you for allowing me to wear this winning and historic number. Ahhh, it was also my first number in Spain (Sevilla)"

he wrote on Instagram.
Meanwhile, the director of football Mateu Alemany said it will be difficult for the club to afford any more transfers in January. Barca's spending limit for the season set at €97 million by LaLiga.
"The reality is we can register Xavi and his coaching staff but beyond that we can't do anything else right now. We are working on different situations, but as of now it will not be possible to register new signings on Jan. 1. We will see if we can make room to remain within LaLiga's fair play regulations." 
Don`t miss out 💥: Serie A Referee Head: "We could soon make communications between referees public to remove any doubts"
Alves became a free agent because he left Brazilian São Paulo due to their debts. Dani simply did not go to the team's camp after the Tokyo Olympics and refused to negotiate in any way. The parties quickly broke the contract and the player was underpaid by around two million euros.
The 38-year-old Barça legend was called to MLS, Qatar and back to Brazil, but he took a break – there was no mistake as we see. Dani initially decided to wait until December, but the arrival of Xavi sped things up. Laporta is said to have met with the Brazilian and Barça were thinking of finding a place for Alves in the club's structure.