FC Barcelona have officially unveiled Xavi as the new coach in front of thousands at Camp Nou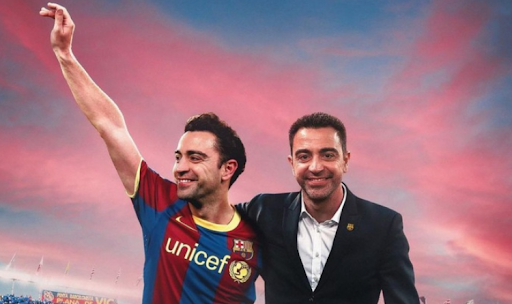 Former Barcelona captain is now сame to coach his beloved club
A few days ago, Barcelona officially announced the appointment of Xavi as head coach and have now unveiled him at the Camp Nou in front of thousands of fans. The 41-year-old's contract with the Blues will run until the end of the 2023/2024 season.
Xavi Hernández played for FC Barcelona's main team for 17 years and was an irreplaceable part of it making 767 appearances. The player left the club on a high note in 2015 after winning the treble (La Liga, the Champions League and the Spanish Cup in the same year).
Now he came to rescue the Catalans and try to rectify the situation as a head coach. Currently, Barcelona have 17 points from 12 games and sit ninth in the Spanish league table.
Don`t miss out 💥: Official: Ronald Koeman sacked after another embarrassing loss. Who will become the next coach of FC Barcelona?
The young professional immediately declared his ambitions:
"Thank you all. I don't want to get emotional but I am, I feel goosebumps. This is the biggest club in the world and I'm going to work hard to reach your expectations. Supporters, we need you now more than ever. Barcelona can't accept a draw or a defeat. We have to win all the games. I come prepared. My DNA didn't change. We need to take charge, have the ball, create opportunities, be intense. We have a mission to rescue many things that were lost." 

the new coach at Camp Nou started emotionally.
And that's how Xavi wants to change things, he explained his first steps at the press conference after the presentation:
"I think at first, it's important that we put rules in place and be more demanding with ourselves. After that, we can talk about values, about respect and attitude, because if we don't have values, we don't have a team. Then we can look at the model, how we play, how we attack, how we defend."
"At the end of the day, the idea is the same as Johan Cruyff's. My first defender is the striker and my first attacker is the goalkeeper. We have to work tactically, press high and dominate the ball. It's not about being tough, but having rules. I will try to help the players, personally and professionally. I know how taxing it is psychologically to play for this club."

said the Spaniard, assuring that he has a clear plan.
Don`t miss out 💥: Barcelona star Sergio Agüero may end his career because of recent heart problems
Xavi has left Qatari club Al Sadd, which he has managed since 2019. The move cost €5m: half of that amount was paid by Barcelona and the other half by the coach himself.
The Spaniard will officially host his first training session on November 9.