Tottenham Hotspur in advanced talks with Antonio Conte after sacking Nuno Espírito Santo as manager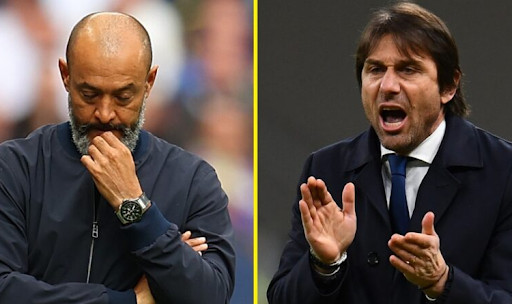 The Portuguese specialist dismissed after only 17 matches in charge
On Monday morning, Tottenham Hotspur officially announced the sacking of Nuno Espírito Santo. The Portuguese coach spent only four months at the club and played 17 games in all competitions.
The fatal moment for Nuno was the 0-3 trashing by Manchester United at home stadium, in that match the Londoners failed to even have a shot on target.
Don`t miss out 💥: Ronaldo, Cavani, and Rashford goals down Spurs in a 3-0 win for Manchester United
According to insiders, prior to that match, despite the poor results, the club's management had not seriously discussed the sacking of Espirito Santo. But what they saw and heard at the stadium on that day catalysed the process. Nuno horribly lost a tactical duel to Ole Gunnar Solskjær, who was also under immense pressure – the Norwegian is on the verge of being sacked and now has a 3-game credit to prove his worth. The stands and all the fans were simply devastated and it couldn't go on like this.
Tottenham president Daniel Levy and new managing director Fabio Paratici who came this summer held crisis discussions on Sunday: the outcome was the decision to relieve the 47-year-old and his entire coaching staff from their duties.
Fabio, Managing Sports Director of Spurs, said in official announcement:
"I know how much Nuno and his coaching staff wanted to succeed and I regret that we have had to take this decision. Nuno is a true gentleman and will always be welcome here. We should like to thank him and his coaching staff and wish them well for the future."
Read more 💥: New Tottenham managing director Fabio Paratici has the vision to improve Tottenham
Now, Spurs are only 8th in the English Premier League table with 15 points from 10 games. They have suffered 3 defeats in their last 4 games in all competitions and 5 losses in their last 7 games in the EPL, although the season started well with three wins.
During the summer, Tottenham had big problems with finding a new coach after impulsive sacking of Jose Mourinho – many were wary of coming to such a conflicted place..
Don`t miss out 💥: For the first time in Jose Mourinho's 1,008-match managerial career, his club has conceded 6+ goals
Nuno, who had previously worked at Wolverhampton, volunteered to help and he took charge of the club in June 2021. This appointment took a full 72 days.
It has been reported that Nuno could be replaced by his compatriots Sergio Conceição (Porto) or Paulo Fonseca (no club) and also by former Inter coach Antonio Conte. The Italian seems to be the closest to take over as coach thereby returning to England for a second time.
The situation escalated rather quickly as the former Inter coach and all his assistants are already in London, according to numerous media reports. It appears to be a matter of a one day, during which all the details of the contract and other nuances are clarified.
Antonio had previously worked with Paratici at Juventus many years ago. He is also seriously interested in continuing his career in England amid the uncertain coach situation at Manchester United – club representatives are known to have contacted the experienced coach, who is renowned for his anti-crisis management.
Don`t miss out 💥: Mino Raiola reveals 'no update' on Pogba contract: "You have to ask Man Utd"
Conte has worked in England with Chelsea before. In his first season (2016/17), the Italian won the league title with the Blues, but a disappointing second campaign resulted in his resignation.
This spring, 52-years-old led Inter Milano to their first Italian league title in 11 years, after that he quit the team over disagreements with management.
In addition to Manchester United, Antonio was also on the shortlist for a position at Newcastle United along with two other top coaches.