For the first time in Jose Mourinho's 1,008-match managerial career, his club has conceded 6+ goals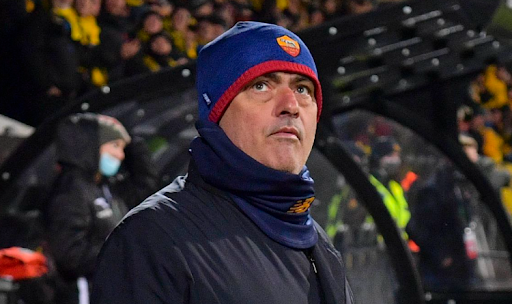 The Portuguese is clearly discouraged by the results of this match
A real show happened in the Conference League, it seems this new tournament is not so boring: AC Roma of Jose Mourinho was destroyed beyond the Arctic Circle. The few-known Norwegian club FC Bodo/Glimt thrashed the Italians with a score of 6-1.
In the first half, it was not so bad – only 1:2. Admittedly, Roma came out with a reserve squad – true, in the second half, for some reason they performed even worse when the core players took the field. Shomurodov, Cristante, Mkhitaryan, Abraham and Pellegrini couldn't help much: after the break, Bodo/Glimt ignited and netted four unanswered goals!
Don`t miss out 💥: Mourinho was ecstatic in his celebration run after Roma snatched a last-minute win in his 1,000th match as coach
Goals: 1:0 – 8′ Botheim, 2:0 – 20′ Berg, 2:1 – 28′ Carles Perez, 3:1 – 52′ Botheim, 4:1 – 71′ Solbakken, 5:1 – 78′ Pellegrino, 6:1 – 80′ Solbakken.
Bodø is a small town (45 thousand people in the entire commune) above the Arctic Circle – 67 degrees north latitude. Bodo/Glimt is the reigning champion of Norway. Last year the club won the title for the first time and became the most northern champion in the history of football.
The players are very happy with such a big win:
That's how the experienced Portuguese specialist explained this defeat and the choice of the lineup, taking all the blame:
"I decided to play with this team – the responsibility is mine. Obviously, I had done it with a good intention: on the one hand, to give an opportunity to play to lads who work a lot and don't play as much, on the other hand, given our roster and all the games we have to play, to rest give a rest to the players who play all the time. On an artificial field, and in these weather conditions, I had decided to rest a lot of guys." 
"Then, we lost to a team that has more quality than us. It's as simple as that. Bodo's main team is better than ours that started the game"  

he complimented the Norwegian team.
José was reminded that this defeat was the worst of his career:
"Yes, I know, but my feelings are not the problem. A loss like that with 6 goals conceded hurts me not as much as it hurts the guys. We talked in the locker room. I'll try to keep what I said private and I won't take it to the public."
Don`t miss out 💥: Leicester's Patson Daka scores poker in epic Europa League comeback
A Norwegian side has scored 4+ goals against an Italian team for the very first time in European competitions – the previous record was back in the 1994/95 Cup Winners' Cup, with a 3-2 win for Bodø/Glimt against Sampdoria.
A Norwegian side has won a European competition match against an Italian team for the first time since December 1996: a Rosenborg Champions League win against AC Milan.
AC Roma are in fourth place in Serie A with 15 points, on Sunday they will meet Napoli, which occupies first place.