The full story of Cristiano Ronaldo's summer transfer saga has been revealed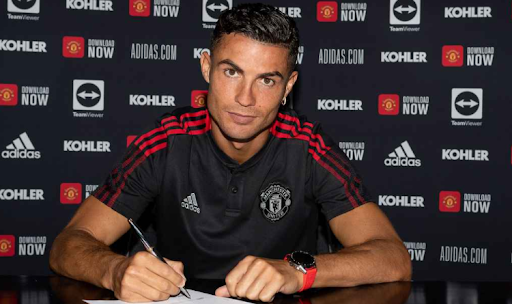 CR7 signing his contract
Сristiano Ronaldo was willing to go to Man City, but the club did not have time to sell anyone. The forward agreed to return to Man Utd because of his strong desire to leave Juve no matter what.
According to an insider, the Portuguese's agent Jorge Mendes and the player himself were engaged in talks with the Citizens and preferred a move to City over other options.
Juventus, in turn, were happy to let Ronaldo go to City, as they had been looking for a buyer for the striker for two seasons, although club representatives denied it in the press. This issue has long been discussed with various sports directors of European clubs and, finally, the Turin side was able to find certain options.
Don`t miss out 💥: Ronaldo has broken the international goal record as he snatched a victory for Portugal vs Ireland
Man City head coach Pep Guardiola was confident Ronaldo would score more than 40 goals in a season for his team, given how many chances City create.
However, City had to sell some of their attacking players to bring Ronaldo over. FC Barcelona tried to negotiate the transfer of Raheem Sterling, Gabriel Jesus or Bernardo Silva with City, but negotiations quickly collapsed due to the difficult financial situation of the Spanish club.
Ronaldo and his agent were waiting for the blue side of Manchester to solve their problems but began working on a backup plan as the Citizens failed to sell anyone down the line. Back then, United did not even think about the possible signing of Cristiano, but after discovering that he was available, they decided that the Portuguese must return to the club at all costs, as his move to a rival camp would have seriously damaged their reputation.
United offered Ronaldo a higher salary than Man City (but it was still less than what Cristiano had at Juventus) and agreed to pay the 15+8 million euros that Italians were asking for.
Don`t miss out 💥: Revealing details of Ronaldo's transfer to Manchester United: contract, wage, when he will be able to play
However, Cristiano wasn't sure a return to Old Trafford would be a sound option but agreed because he desperately wished to leave Juve. When it became clear that City did not have time to sell anyone, Mendes told the Citizens' management that the forward would accept United's offer.
Ronaldo played for Manchester United from 2003 to 2009. From there he moved to Real Madrid (2009-2018) and then to Juventus.
With MU, Cristiano won the Premier League three times, twice the English League Cup and once the FA Cup. In 2008, together with United, the Portuguese won the Champions League and the Club World Cup.
The player recently signed the contract, as well as had his first training session with the squad.