Ronaldo has broken the international goal record as he snatched a victory for Portugal vs Ireland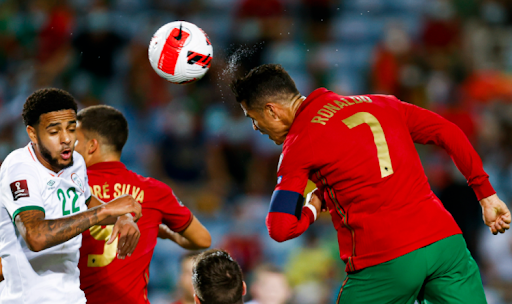 Ronaldo match-winning header in the added time
The Portuguese national team beat Ireland (2-1) at home in a World Cup 2022 qualifying match. Cristiano Ronaldo managed to make a comeback by scoring two goals.
In the first half, the hosts' forward Cristiano failed to convert a penalty as goalkeeper Gavin Bazunu saved it.
In the 89th minute, Manchester United's attacker scored after a pass from midfielder Gonçalo Guedes. And then, in the 6th minute added to the second half, CR7 became the author of the winning goal, responding to a pass from midfielder Joao Mario with a great header.
Thus, the 36-year-old brought the number of goals for the national team to 111 and set a world record, surpassing former Iranian striker Ali Daei (109).
Before that, El Bicho equaled Iranian in goals at Euro 2020.
The story 👉: Ali Daei and Brazilian football legend Pele congratulated Cristiano Ronaldo on his recent achievement
Cristiano Ronaldo, Portugal captain, spoke after the match:
"The important thing is always the team, I believed until the end and that's why, with 10 minutes before the end of the game, I called for the support of the fans. We are playing at home and when we, the players, are not connecting on the pitch, the supporters' help is essential. They gave us strength. I'm happy to help with the victory and break the record, but the most important thing is the team."
"This record is mine and it is unique. I'm extremely happy and it's another one for my career. The motivation comes from the desire I have to continue playing football, also from this last contract I made at Manchester United, in which I was happy to return home. If we get up every day with the ambition to do better, to make the fans and our children happy, that is essential." he commented on breaking the all-time international goals record.
"It's part of the game, part of the business. Sometimes you score, sometimes you make a mistake."

he said on the missed penalty.
Don`t miss out 💥: Revealing details of Ronaldo's transfer to Manchester United: contract, wage, when he will be able to play
Also, Cristiano Ronaldo has made his 180th Portugal appearance to match the European record for men's senior caps held by Sergio Ramos. Third place, by comparison, is taken by Gianluigi Buffon with 176 appearances for Italy.
The all-time record is currently held by Malaysian player Soh Chin Ann – 195 for the national team.
Ireland became the 45th national team the 36-year-old has scored against during his career.