Ronaldo to Manchester City? The parties are trying to find a compromise to settle the deal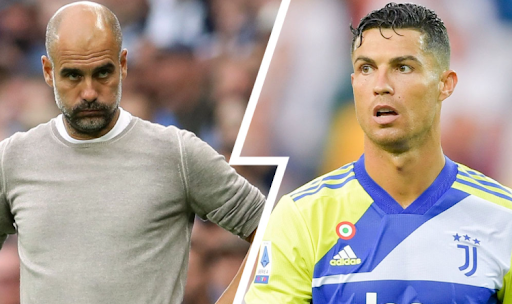 The transfer of the Portuguese will have a great effect on the image of Manchester City
Ronaldo's agent arrived for negotiations in Turin, Man City are willing to sign Ronaldo for free, Juve want 25 million euros, the clubs are trying to find a compromise.
Jorge Mendes, the agent and compatriot Cristiano Ronaldo, is trying to bring his client to the camp of the Premier League champion. The Italians are setting very strict demands on the potential deal, and Mendes is offering to release the 36-year-old striker fee-free or much cheaper than the €25 million Juventus want.
Ronaldo himself is ready to switch, and City is a realistic option for him, this move is more feasible than to Paris Saint-Germain.
Don`t miss out 💥: Will Messi and Ronaldo become teammates? PSG looks to put the plan into action
Manchester United's current coach, Ole Gunnar Solskjær, hinted that the player really shouldn't move to a club that is a rival to the team he once played for:
It is known that Pep Guardiola has given up his dreams of Harry Kane and is left with one forward, Gabriel Jesus. So Spaniard and the Sheikhs have turned to a backup plan and are looking for another forward – and here is where Cristiano has just appeared on the market. The only confusion is that Ronaldo can't be described as a Kane-type center-forward, but perhaps the superstar is set to experiment and a new challenge.
The Citizens are ready to offer Cristiano a two-year contract for 15 million euros per year, half as much as the current one at Juventus.
A reputable Portuguese journalist claims that the parties came to an agreement.
He also reports that Ronaldo has already personally communicated with the coach of the Manchester club.
Another source confirmed that negotiations had begun:
This passage may be eclipsed by an even more shocking deal this summer 👉: Arsenal legend Thierry Henry believes Mbappe will stay at PSG
Previously, it was reported that Juventus faced a huge problem with the 36-year-old superforward's salary due to the financial situation caused by the pandemic. The management is trying in every way to get rid of such a large financial liability.
The Premier League champions have already acquired the Englishman Jack Grealish for the record 117 million euros, in addition, the Citizens definitely have enough money to buy the forward (they previously offered 150 million euros for Harry Kane).
Pep Guardiola recently suggested that he might leave Manchester City in 2023.