Messi's Seven Wonders: Lewandowski leaves without Ballon d'Or again, Lionel sets a new record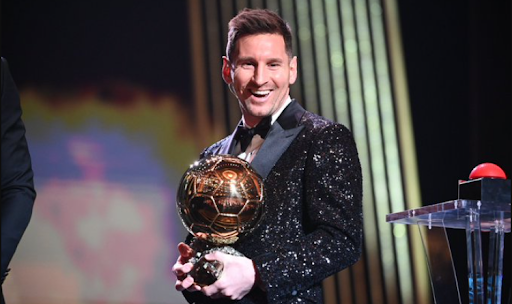 The world star with his another award on stage
Lionel Messi is king again. The Argentine has been awarded his seventh Ballon d'Or, which is an outstanding and well-deserved record for sure. But this time the voting was particularly scandalous.
A year ago, Robert Lewandowski was 'swept' past the main individual prize of every year – France Football simply cancelled the ceremony because of the pandemic and championship calendars disruption. And it seemed to many that the Pole, who has retained his top form, should be given his due. But Messi won again.
Lionel, who prevailed in a vote of 176 journalists, said he agrees with the journalists' and fans' position that Robert had the award stolen from him back then:
"I think you deserved the award last year. Everyone will agree that you should have taken the award last year."

Leo told Robert from the stage, calling it "an honour" to oppose him for the top award in 2021.
It has become known how many points the players in the Ballon d'Or voting received.
Paris Saint-Germain forward Lionel Messi, who won the award for the seventh time, scored 613 points. Bayern Munich's prolific forward Robert Lewandowski was really close with a total of 580 likes received.
| | |
| --- | --- |
| Lionel Messi | 613 |
| Robert Lewandowski | 580 |
| Jorginho | 460 |
| Karim Benzema | 239 |
| Ngolo Kante | 186 |
In the FIFA era, when the award was presented by the international federation, the competition was at its busiest in 2013. Cristiano Ronaldo then received 27.99% of the vote – Messi had 24.72% and Franck Ribery 23.36%. Leo's last two awards were also struggling – just over 30 upvotes over Lewandowski in 2021 and just seven votes ahead of Virgil van Dijk in 2019.
The closest awards were in 1966, when MU icon Bobby Charlton received 81 likes and legendary Benfica forward Eusebio got just one point less claiming the second place… Another case of drama: in 1996, Matthias Sammer beat Ronaldo by just one point too, 144 to 143.
The 33-year-old Robert ended up winning just the Top Scorer of the Year award. He might not have such a monstrous chance of winning a prestigious award again, the years may take their toll, which is what makes his second place so sad for many people in the football community.
Mauricio Pochettino, his current coach, commented on the recent achievement:

"Messi absolutely deservedly won the Ballon d'Or and there is nothing to argue about. Of course, players from other countries may not agree with that. But Messi deserved the Ballon d'Or, that's for sure" 
Don`t miss out 👉: Man United appoint Ralf Rangnick as interim manager until June: see what the community think
Real Madrid head coach Carlo Ancelotti has spoken out:
"We have to give the Ballon d'Or ranking the value it deserves. Messi won it and he remains a great player. The individual awards are important for the players and they're a motivation, but it doesn't matter if they don't win."
"I hope that a Madrid player wins it next year. Benzema has had an excellent season, he finished fourth and will now have the motivation to play and train well to win it. I'm from Real Madrid and am not going to vote for a player who doesn't play for Madrid. If I was able to choose the best player, I'd have chosen Benzema."

shared the Italian, praising his French charge.
This was the most successful vote of his career for Karim Benzema. Despite his many years of success at Real Madrid, he had never even been in the top 15 until this year, and now he is in fourth place. Another recognition of the striker's renaissance – which, however, was not a reason for Benzema to attend the ceremony.
For Toni Kroos, if it was the way he wanted it, Leo wouldn't even be in the top three. In his opinion, Lewa should have been at least second and Jorginho third.
"First of all, I must say that I am not interested in individual awards at all. However, if there are [such awards], they should be fair. In my opinion, this is not the case at all. For me, Benzema should have been No.1 if you were really picking the best individual player from last year, because I see closely how exceptional he is. There is no doubt that Messi stands next to Cristiano Ronaldo as the best player of this decade and has qualities that others will never have. The biggest mistake in the award was [regarding] first place."

the German shared on his podcast.
Iker Casillas is outraged:
"It is getting harder and harder for me to believe in football awards. For me, Messi is one of the top five players in football history, but it's time to learn how to determine the best player at the end of the season. It's not so bloody difficult!"
Even Pep Guardiola didn't risk stepping in heavily for Leo:
"Don't ask me about that, it is what it is."

he stated.
"We can never say it's unfair that Leo Messi wins the Ballon d'Or. Too much good about the performances. Come on, it's a show, a nice business to make football more entertainment. A big compliment to Alexia, Pedri, Leo and all the awards. If he deserves it or no, I'm not the guy to say. Never would be unfair if he wins it. Lewa this season and last, with Hansi Flick and now Nagelsmann, the amount of goals and his quality he has, it would be fair, but at that level all the incredible seasons with the clubs and teams if they are there they deserve it." 
Lionel will present his seventh Ballon d'Or to the fans. The presentation will take place on 31 November, ahead of the Ligue 1 Matchday 16 game between PSG and Nice.
The last time a representative of the championship of France received the "Golden Ball" in 1991.