Lionel Messi nets twice to snatch victory against RB Leipzig in tense UCL clash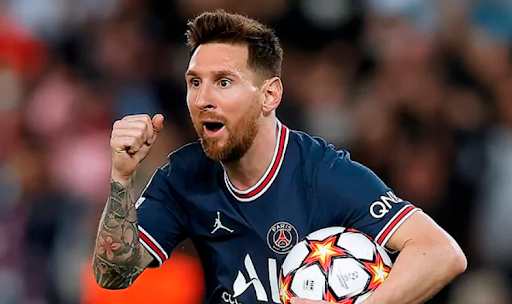 Messi сarries the ball to the centre of the pitch after equalising as he wants to score more
Paris Saint-Germain clinched a late win against RB Leipzig in the third leg of the Champions League group stage. The meeting took place at the Parc de Prince in Paris and ended with a final score of 3-2.
Things were bad for PSG by the 57th minute against RB Leipzig: 1-2 on the scoreboard, Neymar unready in the stands, Mauro Icardi suffering at home, Messi not very visible on the pitch and increasingly outcry to sack Mauricio Pochettino on Twitter.
But suddenly the main contender for the Ballon d'Or pulled himself together and did embark on his main task in Paris: to make the difference in Champions League games, exactly as he used to do at Barcelona FC.
On the 67th minute, Messi's coordinated attack with Mbappe saw him score on his second attempt. The finishing shot was not so difficult – Leo just rolled the ball in while the goalkeeper and defender collided.
Don`t miss out 💥: Kylian Mbappé about playing with Messi: 'I am savouring every moment alongside him'
The second effort to rescue the match didn't look like a super challenge either. Mohamed Simakan slammed Kylian Mbappe in the box and Parisians earned a penalty. Leo, of course, was called to the spot. An elegant Panenka kick – and the winning ball in the net! 
In the end, it looked so simple that when Achraf Hakimi earned another penalty in the added time, Mbappe volunteered to shoot – only to find himself failing to score and thereby spoil his evening a little.
"We don't need to say anything more about the quality of Kylian and Leo. In games when you are struggling to find solutions as a team, that is why you need players of their class"

– said Pochettino after the game.
Lionel Messi thus has his first double for PSG, which marked an impressive three goals in three Champions League games. All while zero goals in Ligue 1.
Don`t miss out 💥: Messi scored his first goal for PSG: a record 17th Champions League campaign in which he managed to сonvert
After this game, PSG tops Group A with seven points under the belt while RB Leipzig is in the bottom with 0 points.
Leo is still as dangerous as he was in Barcelona. He made 7 successful dribbles in a match – more than anyone else on the pitch.
It was also the 34th time he scored more than one goal in a single Champions League match.