Kylian Mbappé about playing with Messi: 'I am savouring every moment alongside him'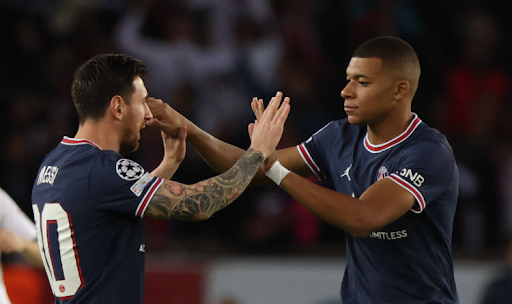 Two super-stars of different generations celebrate the goal
In a recent interview with a French newspaper, the PSG striker reflected on how he feels playing shoulder-to-shoulder with one of the greatest footballers in the world – Lionel Messi.
The French striker explained that now, after the massive summer transfer by Paris Saint-Germain, he has a great opportunity to play in one team with big names like Sergio Ramos, Gianluigi Donnaruma, Gini Wijnaldum or Achraf Hakimi. But the Argentinian is the special one for sure.
"I never imagined him coming here! He's one of the rare players who I put in the "impossible-for-me-to-play-with" category. For me, he was never going to leave Barcelona. I am savouring every moment alongside him. You can't forget that it remains a privilege. He's someone who loves football. He speaks with everyone, he's trying to integrate in his own way, even if he is a bit shy. But he's not shy on the pitch [laughs]."

– The Frenchman described.
Kylian Mbappe was asked if he had felt this kind of excitement for anyone before:
"Neymar, a bit, when he arrived. He was really extraordinary. But Messi is something else. It's amazing to think that the only other club shirt he's worn, other than Barcelona, is PSG. We have to realise that this is something extraordinary."
The 22-year-old world champion was asked about the specifics of the playstyle and personal objectives when playing with Messi in the line-up:
"When you have Messi in your team, you know that he has to do a bit less in order to have some fuel left in the tank to be more clear-headed to score. So if you have to go back, that's what you do. It's not an issue, there's an established hierarchy. I'm happy to run when Messi's walking, it's not an issue! Come on, it's Messi [smiles]!"
Don`t miss out 💥: My position was clear, I said at the end of July that I wanted to leave – Kylian Mbappe