Laporta may borrow funds from the bank to complete the transfer of Haaland to Barcelona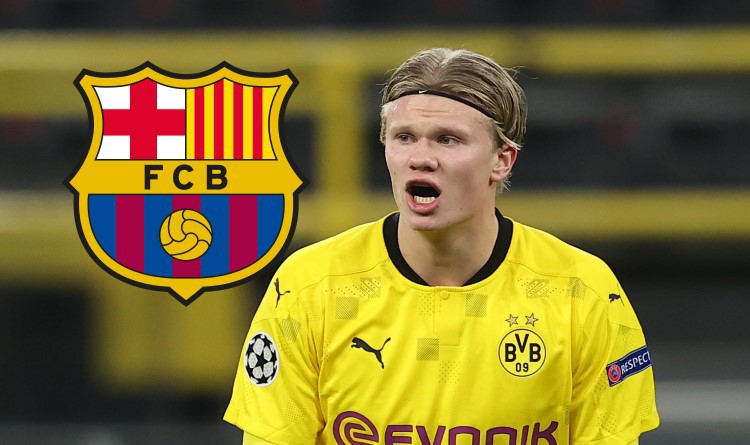 Rumors of a Norwegian transfer to the Catalan club are gaining momentum on social media
Barcelona representatives negotiated the transfer of Borussia Dortmund striker Erling Haaland.
According to major sports media, the meeting, which was attended by agent Mino Raiola, the player's father Alf-Inge Haaland, Barcelona president Joan Laporta and Catalans director Mateu Alemany, lasted two and a half hours. Borussia knew that the player's representatives were planning to negotiate with all the clubs that were interested in the forward.
"Mino Raiola is in Barcelona right now, true and 100% confirmed as Sport reported. He's landed today after meeting with BVB in Dortmund in the last days to talk about Erling Haaland's future. The race is open with many clubs involved, Barça too. Work in progress."

posted famous journalist Fabrizio Romano on Twitter.
Borussia sporting director Zorc remains relaxed though:
"No problem when Alfie and Mino want to take a sunbathe on the Mediterranean Sea. I am relaxed because I know what we want."
Barcelona is exploring the option of taking out a bank loan to buy Haaland. This is what the club already did when they bought striker Antoine Griezmann from Atletico Madrid in 2019 for 120 million euros.
It is also known that Barcelona are considering an option to sign Agüero, whose contract expires this summer. Such a deal looks more realistic.
Don`t miss out 💥:  Man City record top-scorer Aguero to leave, will be honored with a statue
Laporta is confident that the signing of the Norwegian will be a significant event for the club. The president of Barça is convinced that such stars as Erling will define the team's game in the next 10 years, so Catalans will do as much as they can to make it a reality. Laporta also does not want to allow the 20-year-old forward to move to their rivals Real Madrid, who are also interested in executing the deal.
Fazrizion is stating that 'Mino Raiola is in Madrid right now':
In addition, it is believed that the signing of Haaland will make Barcelona's ambitions clear and help convince the club's legend Lionel Messi to sign a new deal.
Don`t miss out 💥: Can Rajasthan Royals pick Lionel Messi for next season?
It is also known that Borussia Dortmund are not going to let forward Erling Haaland leave in this summer transfer window. The German club wants the Norwegian to spend another season with them.
Michael Zork stated to his agent Raiola that they will not sell the 20-year-old player for less than €150 million.
Mino Raiola is one of the most respected football agents of our time, he represents the most famous players and makes deals for outrageous amounts. FIFA recently announced that they want to regulate the activity of football agents, as they are causing too much confusion in player transfers.
Erling Haaland scored 21 goals in 21 games this season so far.