Sergio Ramos joins Paris Saint-Germain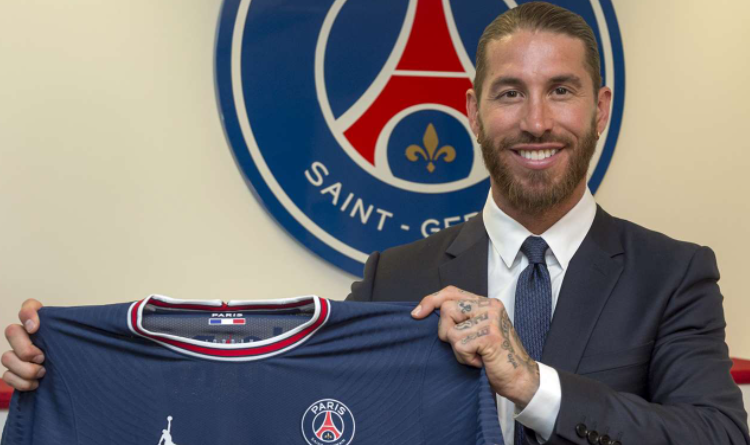 35-year-old center-back with PSG home jersey
Defender Sergio Ramos joins PSG as a free agent and will earn around 12 million euros a year. The Spaniard, who left Real Madrid at the end of June, is contracted until 2023.
The management were able to convince Sergio to move to France although he had offers from other European and world championships.
"I am very happy to join Paris Saint-Germain, Sergio Ramos revealed after signing his contract. This is a big change in my life, a new challenge and it's a day I will never forget. I am very proud to be a part of this ambitious project, to be a part of this squad with so many great players. Paris Saint-Germain is a club that has already proven itself at the highest level. I want to continue to grow and improve at Paris and help the team to win as many trophies as possible."

-the player said.
After moving from Sevilla, he has played for the Real Madrid club since 2005. Ramos has won five Spanish titles, two national Cups and four Supercups, four UEFA Champions League titles, three UEFA Supercups and four Club World Cup titles.
Don`t miss out 💥: The end of an Era: After 16 incredibly successful years, Sergio Ramos is leaving Real Madrid
This is the fourth major signing by the French club in this transfer window.
It seems the Parisian bosses want to convince their star player Kylian Mbappe, who has yet to renew his contract with the club, that there is a brighter future for him with such an ambitious project here.
Don`t miss out 💥: Former Chelsea and Spurs coach Andre Villas-Boas believes Mbappe's departure to Real Madrid is inevitable
Ramos appeared in 15 league games last season, scoring two goals in all competitions.
The player's transfer value is estimated at €10m