Cristiano Ronaldo is keen to see Zinedine Zidane as Manchester United's next gaffer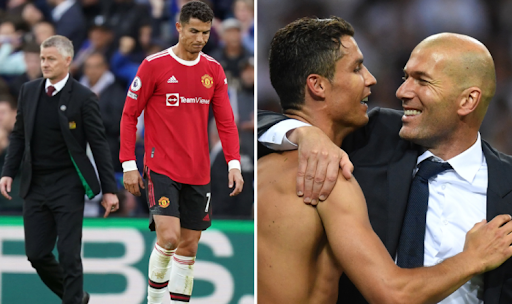 Crish and Zizou had a successful run together during their time at Real Madrid
Manchester United are considering prospects for the next coach. Zinedine Zidane is now in the shortlist of the most probable candidates in case Ole Gunnar Solskjaer, who was recently given a 'last chance', is sacked.
Since Antonio Conte joined Tottenham Hotspur, the Frenchman is the best option out of the available specialists, he has literally everything to succeed in England. Zidane's experience is particularly buoyant: he knows how to win trophies and excels at clubs with big ambitions, as well as getting on well with the big stars like Ronaldo.

Don`t miss out 💥: Official: Antonio Conte is a new Tottenham Hotspur head coach
The manager is out of a job after stepping down as Real Madrid coach for the second time in May this year due to a сonstant fights with Florentino Perez, the Los Blancos` president.
It is known that Man United star forward Cristiano Ronaldo has already had a word with the club that he is eager to work with Zidane, with whom they have won three consecutive Champions League titles. And the management are hoping that having his former charges Cristiano Ronaldo and Raphael Varane in the squad can help to convince the Frenchman.
"The confidence that a player needs doesn't only come from himself but also from the players around him and the coach, You need to feel like you are an important part of the group and Zidane made me feel special."

CR7 on Zidane.
It seems fans would have been happy with this appointment too:
However, Zidane himself is unsure whether he should take the Manchester United job – he is not convinced that the project, presented by the board of directors, is right for him. Moreover, the Frenchman wanted to rest properly before starting something new.
It is reported that only two offers could seriously sway Zidane's plans – PSG and the French national team. Should Mauricio Pochettino leave PSG, Zinedine would be the first option the Parisians would turn to. The Spaniard, in turn, will also be a great option for the Mancunians.
According to some media outlets, Brendan Rodgers of Leicester is another candidate for Manchester United's managerial job.

Former Liverpool and Real Madrid midfielder Steve McManaman has pondered on the current situation:
"Pressure remains on Manchester United manager Ole Gunnar Solskjaer after Saturday's 2-0 defeat to Manchester City. Zinedine Zidane and Brendan Rodgers have been heavily touted to replace Solskjaer but neither is probably the right choice."

he began to talk about possible developments.
"I can't see Brendan going there. I think he's got the credentials, yes, but I think his history with Liverpool would be too much for everybody. I haven't spoken to Zizou in a while but I don't think he speaks English and I don't know whether it's a job that would appeal to him. He leads a lovely lifestyle in Madrid and uprooting and coming to Manchester would be a big ask for him and his family. I think managing in France, in Paris, or at Juventus would be more in tune to Zizou. Brendan and Zizou are more than capable and they've got better CV's than Ole Gunnar Solskjaer. But Ole knows Man Utd and it looks as if the club are going to stick with him, certainly for the foreseeable future."
He went on to make an interesting point, saying that the former Tottenham coach is worth paying attention to:
"It wouldn't surprise me if Manchester United went back and got Mauricio Pochettino. Anyone who works at Paris Saint-Germain for a couple of years has normally had enough of it! And Poch would probably be the man because of his knowledge and experience of England and the Premier League."
Whether United will ultimately succeed in their attempts to lure the 49-year-old to the club remains to be seen, but the club will continue to push for the former Los Blancos coach.

Don`t miss out 💥: FC Barcelona have officially unveiled Xavi as the new coach in front of thousands at Camp Nou