Chelsea vs Manchester United. Prediction and Preview. Probable Lineups, Team News, Stats and more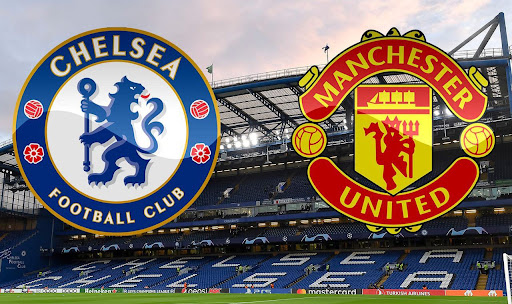 Chelsea will host Manchester United in the English Premier League 13th-tour match at Stamford Bridge. The fixture will take place on October 22, beginning at 22:00 IST.
This Saturday brings us a heated encounter between the top teams which are storming into the UCL zone at the moment. Both squads are in good form ahead of the crucial clash, which will make the atmosphere even more electrifying. The home side are unbeaten in seven games (four of them in the EPL), while the Mancunians have not lost in five consecutive meetings (including three in the league) since their dramatic derby defeat to Manchester City.
Chelsea's recent point loss against Brentford has helped United get closer – the teams are now separated by just one point. Considering that Man Utd started the season with two embarrassing defeats and also got six goals in the principle derby in early October, the Red Devils' current position is quite remarkable and provides an excellent springboard to climb up the table. And what is more notable is that after the frustrating fiasco versus Guardiola's team, the Red Devils have not fallen into a crisis but have managed to get back on the winning ways by securing two straight victories, followed by three consecutive clean sheet games.
Now in the upcoming match the stakes are certainly high for both teams, so who will prevail and consolidate into the top 4? Parimatchnews will tell you everything you need to know ahead of the upcoming match.
Chelsea News & Current Form:
A coaching reshuffle has rejuvenated the Chelsea side. In the first month of the current campaign, the Pensioners under Thomas Tuchel have had diametrically opposite results compared to those now under Graham Potter.
At the moment, Chelsea's unbeaten streak continues, however, the winning streak ended in the last match against Brentford. This time, the English specialist felt tempted to experiment and was punished by losing two points. The Blues are failing to get any closer to the top spot, and now Man Utd are getting on their heels, creating a lot of pressure ahead of a head-to-head contest.
Of course, a draw against the Bees could be described as a failure for Chelsea, but there is something to celebrate even in this match. For the fifth game in a row, the Blues kept their goal locked. Kepa Arrizabalaga has fitted in perfectly and has repeatedly made big saves, which comes in handy against the backdrop of a seriously declining Édouard Mendy. The Spaniard made 12 saves in the last two games. After this, talk of him traveling to the World Cup 2022 with the national team no longer seems ridiculous.
Overall, the team has improved in terms of ball control (61.5%) and also slightly increased the efficiency of their offensive play. Players are taking 12.5 shots per game, 4.2 of which are on target (median). They have scored 15 goals, seven of them in the last four rounds of the EPL.
Considering the last six matches in the EPL and taking a look at the teams' form, the Pensioners have lost only to Arsenal in terms of points scored during this stretch. There are some tough matches ahead, and those stats are likely to take a tumble. However, it is possible that the London club will become even stronger this winter, with the transfer target being attacking players. The position of ST is particularly urgent, as a worthy top-level player to replace Romelu Lukaku and Timo Werner was not found in the summer.
Don`t miss out 👉: Mumbai City vs Jamshedpur: Preview and Prediction
Manchester United News & Current Form:
Erik ten Hag has also managed to stabilize his side's results over time and make them more resilient. To mention a few words, the Red Devils quickly recovered from their heavy 3-6 defeat in the Manchester derby with a five-match unbeaten run (four wins and one draw) with a combined score of 8-3.
The players are fairly active near the opponents' box, taking 14.2 shots per match (including 5.2 on target) – fifth and seventh best results in the league. This was converted into 15 goals (1.5 per match).
However, something of a scandal has erupted around Manchester United. The club had played Tottenham in their last match and by the 47th minute were leading by a good 2-0 margin. Erik ten Hag was willing to field Cristiano Ronaldo closer to the end, but for some unknown reason he simply refused to go on the pitch. Moreover, the Portuguese star went to the backroom, packed up his belongings and left the stadium before the end of the match.
It did not take long for the decision to be made and the head coach, having agreed it with the club's management, suspended the 37-year-old striker with a huge ego from the match against Chelsea. According to reports, the Portuguese will not train with Man Utd for at least three days. Speculation is even rife that the sides might even terminate the contract at all.
The situation is similar to the conflict between Mikel Arteta and Pierre-Emerick Aubameyang, who, by the way, joined Chelsea this summer. Back in the 21/22 season, the Spaniard took the decisive action after continuous disciplinary misconduct on the part of the team captain. The Gabonian was also left out of the squad and the case was only resolved at the last minute of the winter transfer window when the London club's highest-paid player agreed to terminate his contract with Arsenal and join FC Barcelona as a free agent. We will probably see a similar resolution this time too.
It's definitely heartbreaking to see such a twist to his career, as last season CR7 scored 18 goals and provided three assists, the third highest efficiency rating and sixth highest goal+pass tally in the EPL. However, the weaknesses in the Portuguese's profile have begun to outweigh his strengths in recent times, with the head coach apparently deciding to finally get rid of the five-time Ballon d'Or winner.
"I think it will have a reflection, for him, but also for everyone else. I set a warning at the start of the season, and the next time there will be consequences, otherwise when you are living together, when you are playing together – and football is a team sport – you have to fulfill certain standards. And I have to control it."

says the gaffer.
And, despite the scandals, the Red Devils have been transformed by the crisis, with some of the forwards like Anthony Martial exploiting the Ronaldo situation and finding some decent form (not taking into account the fact that the Frenchman has recently suffered an injury).
What remains to be done is to sharpen the goalscoring aspect, which is far outnumbered by the chances created. The Red Devils' constructive ability in the middle, and especially the art of passing, clearly overshadows all other areas, which is hardly surprising, considering that Bruno Fernandes and Christian Eriksen are arguably among the best ball distributors in the world. This was evident in recent games against Omonia and Newcastle United.
This time, it will be easier for MU, as Chelsea will probably avoid playing such defensively as ten Hag's previous opponents have done. It will be easier to score while the Red Devils have also demonstrated their excellence in playing second best against Liverpool and Arsenal this season.
However, there are some losses in the squad ahead of the fixture. Although Chelsea have retained important players, Man Utd will have to play without two important strikers at once – Ronaldo and Martial. The absence of these athletes could potentially undermine the outcome of the encounter. The Dutch coach is hoping that the remaining cadres in this position will not flop.
Chelsea form guide: W-W-W-W-W-D
Manchester United form guide: L-W-W-W-D-W
Chelsea vs Manchester United Head-To-Head Record:
| | | |
| --- | --- | --- |
| Chelsea | Draw | Manchester United |
| 55 | 60 | 81 |
What is interesting is that the matches between Chelsea and Manchester United both last season and the season before last in the EPL have ended in a draw. Twice they drew 0-0, twice they drew 1-1. Of course, both teams have changed coaches since then and have partly reorganised, but still, we should expect a cautious game and tactical battle rather than a goal-scoring extravaganza in London. Moreover, given the principal nature of the encounter, hardly anyone wants to give away points to their direct rival.
Chelsea vs Manchester United Predicted XI:
Chelsea possible starting lineup (3-4-2-1): Kepa; Azpilicueta, Silva, Chalobah; Loftus-Cheek, Jorginho, Kovacic, Chilwell; Sterling, Mount; Aubameyang.
Manchester United possible starting lineup (4-1-2-1): De Gea; Dalot, Varane, Martinez, Malacia; Casemiro, McTominay; Antony, Fernandes, Sancho; Rashford.
Statistical preview of the match Chelsea vs Manchester United:
Chelsea have won 5 of their past 6 matches in the EPL.
Chelsea have scored and conceded in 6 of the last 7 Premier League home games.
The past 4 away games of MU have seen a match total of more than 2.5.
Manchester United have not lost in their past 5 away games at Stamford Bridge.
Manchester United have not lost in 7 of the last 8 Premier League games.
Chelsea have not lost in 8 of the last 9 Premier League home games against Manchester United.
Chelsea have scored less than 1.5 goals in each of their last 7 Premier League games against Manchester United.
Manchester United have scored less than 1.5 goals in each of their last 5 games against Chelsea.
Chelsea have scored less than 2.5 goals in 11 of the last 12 Premier League games.
Chelsea have scored in each of their last 20 Premier League home games.
Manchester United have scored in each of their last 6 away games.
Manchester United have scored less than 2.5 goals in 10 of the last 12 Premier League games.
Chelsea have scored less than 2.5 goals in 11 of the last 12 Premier League games.
What has been said before the match:
Graham Potter, the Chelsea gaffer:
"A lot has changed [since that Brighton victory]. I have huge respect for Erik Ten Hag, the job he's done in his career, and his quality as a coach. You can see people adapt and adjust as they go into the competition faze. So they have done well. Obviously, it wasn't a great start from their perspective but they've battled back, got points and played well. It's going to be a tough game."
"They've changed a little in how they build-up, they are a little bit more direct. At the same time, they have the same quality. They have the threats of Marcus Rashford, Anthony, Jadon Sancho and Bruno Fernandes playing a key role for them. So there are a lot of similarities but they seem to have adapted to the competition, adapted to each other, learned more about each other. It's a normal process really. I'd been at Brighton for three years when we played them and Erik had been at Manchester United six weeks if that, so there is a lot of learning you need to do and a process that you need to go through. That's normal. He has the quality and naturally, they will get better and better as time goes on."
"It's a game of football and it's always the same. You have to analyze the opponent and think of a way you can play yourself. But Manchester United are Manchester United, they have got top players and are galvanizing into an impressive team. It's a tough game, an exciting game, a fantastic game to be involved in. We're looking forward to it."
Erik ten Hag, the Manchester United gaffer:
"We have a big game to play, so all my focus is on that game, all the focus from the staff is on that game and all the focus from the players is on that game. We have to win that game, and we have to do everything we can, so we need full concentration to prepare for that game and to play our best."
"For me it's never an issue, away or at home, because the pitch is even big. it's 11 against 11, there's a ref, so it's all the same. And, also away we always have a lot of support from our fans, so we are really happy with that. We feel strong and we are looking forward to that game tomorrow… It's fabulous to play at Old Trafford, with our fans in our back. So, a great experience, every time again. And I think opponents don't like to play at Old Trafford. But at the same time, I like to play away games because the stadiums in the Premier League are fantastic. So I am really looking forward to Stamford Bridge. Already I have that experience playing there, so I know how the atmosphere is there, so it's fantastic."
"Now it's a different game, different team. Yes, some different players, we are further in the process so I don't take – of course, I know more about him and the first time he knew maybe more about me. And that is maybe an advantage because he may know more about Manchester United in the first game, so now I'm longer in the UK – in the Premier League – so tomorrow, good fight. But it is not a fight between managers, it is a fight between teams: Chelsea, Manchester United."

he said about their next meeting with Potter, who had already beaten MU when he was Brighton's coach.
Chelsea vs Manchester United Prediction:
In a meeting between two aspirants for the UEFA Champions League, the stakes are high. With Liverpool coming up from behind and a resurgent Newcastle side on the back foot, no one is going to risk losing to a direct rival here. United were better than Chelsea in the last round, but we have to keep in mind that this game will be played at Stamford Bridge. Yet, the chances of the teams seem almost equal.
More interesting is the fact that Ten Hag has been outstanding against the big teams in England so far. MU have won four of them and lost only one, when neighbors Manchester City demolished the Red Devils without a chance. But it is the Mancunians who have so far become the only team to inflict a defeat on the table leader, Arsenal. And looking back at that time, the team's form was far worse. There is a chance that ten Hag will be able to successfully neutralize their opponents here as well, and the noisy Blue stands will not hinder his boys.
Don`t miss out 👉: ICC Men's T20 World Cup 2022 Super 12: All you need to know – Dates, Venues, and Format Explainer
Parimatch News staff prediction:
We say: Manchester United will not lose and the match total less than 4.5 – Yes.