Boxing Day surprise: Arsenal made a Christmas present for themselves by beating Chelsea in the derby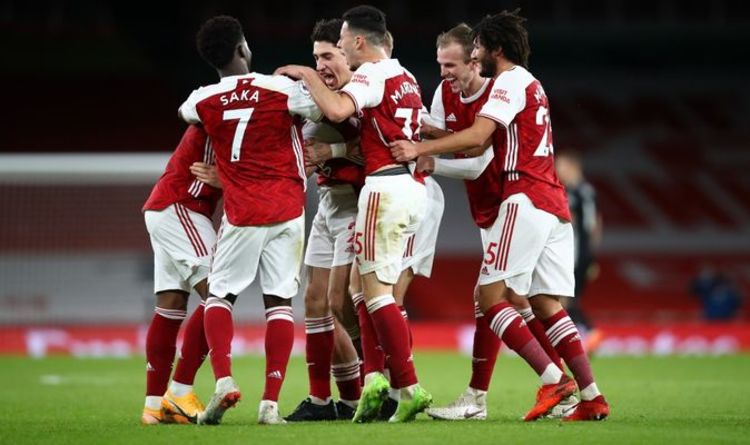 Arsenal lads are celebrating goal at Emirates Stadium
Arsenal beat Chelsea at a crucial moment: a derby defeat could have sunk the team very deeply – insights about faith in the young coach and locker room support might not have been helpful. But Mikel Arteta pulled it off, with concrete steps visible.
After the defeat to Manchester City in the League Cup, he switched to a 4-2-3-1 formation and started some youngsters who are more accustomed to the formation. For example, Emil Smith-Rowe and Gabriel Martinelli, who recently returned from injury, were included in the starting line-up, while Nicolas Pepe and Pierre-Emerick Aubameyang remained in reserve.
The equal starting half-hour ended in Arsenal's favour thanks to a Reece James foul on Kieran Tierney and Alexandre Lacazette's confident 11-metre effort. He hadn't scored since September but has now become the club's top scorer of the season – although we're only talking about four goals.
Some facts about current Arsenal`s form:
After 10 minutes, Granit Xhaka converted a perfect free-kick and reminded everyone that he wasn't just kept in the squad to be sent off at the most crucial moment.
"Actions speak louder than words. Proud of our team tonight"

– he said on his Twitter after the game.
Next up, Saka elegantly flicked over the keeper, who incidentally had one of the worst games of his career, a 6.1 rating. And the intrigue after several missed home chances came suddenly, with Abraham making it 3-1 in the 86th and Chelsea kicking a penalty – but Bernd Leno made a fine save on Jorginho's leaping shot from 11 metres.
An emphatic Arsenal victory ends their winless run in the Premier League. Final score 3-1.
Arteta comments the match results:
"It was a really good mixture of senior players, experienced players, and young talent that we have.They have been showing us in the last few weeks that they are capable of starting games and I had no doubt they would respond today. I think they were really, really good!"
Man of the match: Bakayo Saka.
Something has gone wrong for Chelsea. In their opening 11 fixtures, Lampard's side have lost only once – to Liverpool. And in the last four games, three defeats have come against Wolverhampton, Everton and now Arsenal.
Moreover, on Monday Chelsea stagnated by taking just one point against a solid Aston Villa side (1-1).
Former Arsenal player, Olivier Giroud scored with a header but the team from Birmingham managed to equalise. By the way, Villans have kept more clean sheets than any other Premier League side this season – 8.
Chelsea's problems probably stem from their strikers. Timo Werner hasn't been able to score in 10 games, Timo hasn't had silence like that since 2016 (then there were 12 consecutive goalless games).
Chelsea is under rebuilding now. Hopefully the team's results will improve and the game won't be so predictable. Frank has a lot of work to do, let's hope he can handle the pressure.
Arsenal will face Brighton this Tuesday, 18.00 London time.
Man of the match: Bakayo Saka
It was Arsenal's first goal against Chelsea from a free-kick in 16 years (the previous was by Henry) – it ended up being the winning goal.
Arsenal had previously failed to win seven games in a row and are now in 14th place.
Gabriel Martinelli made more shots in 80 minutes than Willian for his whole season 20\21.
Since his Premier League debut in August 2012, Olivier Giroud has scored more headed goals than any other player in the competition (32).