Fnatic Defeats Team Liquid to Win the VCT Stage 2 Challengers 2 EU Title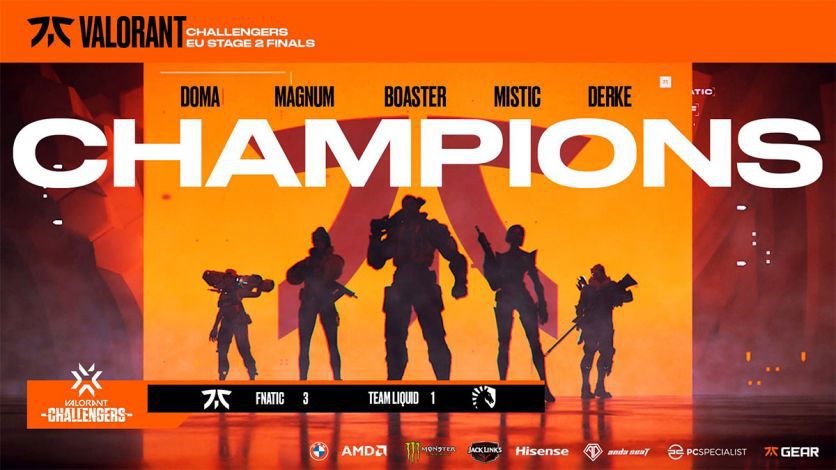 Valorant is completely new waters for the popular European eSports organization, Fnatic, as their brand new Valorant roster had played only 10 days together before the final of the VCT 2 Challengers 2 yesterday. But the talented roster came out on top, as they defeated the ever-dangerous Team Liquid quite convincingly in the final with a 3-1 scoreline.
Team Liquid was not a pullover, by any means, especially in the first two maps of the series. They constantly prompted the defenses of the Fnatic lineup and reached double-digit rounds, but eventually fell 13-10 in the first map. They made a brief comeback in the second map, Ascent. They leveled the series by securing their own 13-10 scoreline in that map. The stage was set for an epic battle in the last three games, but Liquid's performances were underwhelming in those two games, to say the least. They mustered only 10 rounds over the two subsequent maps, and had to stay happy with the runner-up tag.
After only entering the fray with a brand new roster, Fnatic went through a major reshuffle within its Valorant roster this month. They lured in the likes of Nikita "Derke" Sirmitev and Martin "MAGNUM" Peňkov, who were phenomenal throughout the VCT 2 Challengers 2 EU tournament. They were also influencial in defeating a rampant and super-talented Liquid roster in the final.
MAGNUM scored a mindblowing ace at the end of Split, the last map of the series. That can be depicted as the most thrilling moment of the whole series. That helped the team breal the will of Team Liquid and propelled the fangs of Fnatic towards glory.
MAGNUM only had a single hit point in his pocket when he outplayed a Cypher. Right then, he used his remaining Lockdown to lure out the last Liquid player standing. The Liquid roster just had to sneeze on MAGNUM to terminate him and his threat, but it was MAGNUM that kept on going and came out with a perfect ace.
There were 8 stellar teams from throughout Europe who participated in the tournament. As a complete newcomer in the Valorant arena, Fnatic was least expected to make an impact on this tournament. But their tournament victory only points towards one direction – they have the best recruitment policies in the market. They have proved that before as well.
With this championship, Fnatic has also qualified for the upcoming VCT Challengers Final. Team Liquid has also qualified for the tournament, which is scheduled for later this year. Though Fnatic were the better side this time around, it is perfectly clear to everyone that Team Liquid, too, possesses the strength and stability to win big tournaments, defeating any team in the whole world. Another epic battle awaits us in the form of the Challengers Finals!