Evil Geniuses Lures in Michu to Its CS:GO Roster Replacing Tarik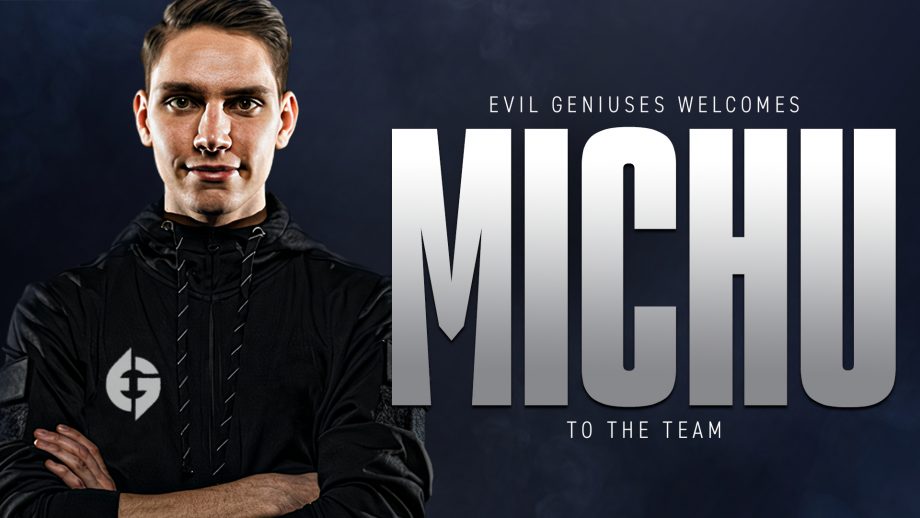 One of the most prominent eSports sides in the world, Evil Geniuses, has replaced its long-serving star CS:GO player, Tarik "⁠tarik⁠" Celik, in the starting lineup with a young and refreshing Polish rifler, Michał "⁠MICHU⁠" Müller. According to reports, the decision was taken mutually, and Tarik placed himself on the bench, on his own will.
The CS:GO wing of Evil Geniuses, placed on the 15th position in the world rankings at present, has been going through a rough patch recently, with no notable tournament wins in months. Its win count has gone down to only 3 in the last 10 matches. In this tough period, the team has also sloped to a lowly finish in the Intel Extreme Masters Season XV, as well as crashing out of the ESL Pro League Season 13, finishing at the bottom of Group D.
Tarik later spoke about his decision in a press release. He stated:
"Our results as a team have been lackluster and led to the decision of me benching myself. By no means do I think I was playing well throughout the hardships but I believe that even with our new lineup that underlying issues had still existed. Ultimately, I had a different approach to our issues however the team didn't agree with my views. I respect their decision but came to the conclusion that I shouldn't be a part of a project which I had lost faith in."
For Michu, who has been dubbed highly as the "Polish wonderboy", this is not the first-ever experience of playing in a top global organization. After starting his career with his native (Polish) CS:GO teams, such as CSGL, ESC, G2, and Kinguin (with whom he spent five long years from 2014 to 2018), he entered the big leagues with Virtus,pro, where he teamed up with the likes of Janusz "⁠Snax⁠" Pogorzelski. But his time at Virtus was not as fruitful, as, at the time, the team was in complete turmoil due to internal issues. Then, in the latter part of 2019, Michu joined Team Envy, where he had a very good time.
Director of Esports at Evil Geniuses, Greg Kim, was overjoyed at the prospect of Michu joining the team. He told the media:
"We look forward to seeing him integrate with the team and for our CS:GO team's continued growth and success. Michu is a player who is hungry to compete against the best teams in the world."
The Evil Geniuses CS:GO roster (starting lineup) currently looks like this:
Vincent "⁠Brehze⁠" Cayonte
Tsvetelin "⁠CeRq⁠" Dimitrov
Peter "⁠stanislaw⁠" Jarguz
Owen "⁠oBo⁠" Schlatter
Michał "⁠Michu⁠" Müller
Thanking the EG CS:GO roster and all its fans worldwide, Tarik also stated in the release:
"Thanks to anyone who has supported me on this crazy journey. Been through a lot but I'm forever grateful for everyone's support and couldn't have done any of this without you all. Let's see what's next on the road for us."
Evil Geniuses will still be holding their breath, as they are in dire need of some spark in their gameplay. They will be hoping that Michu can provide that. No matter what transpires from this signing, it is make-or-break time for Evil Geniuses.