Virtus.pro Renews Partnership with Betting Giants Parimatch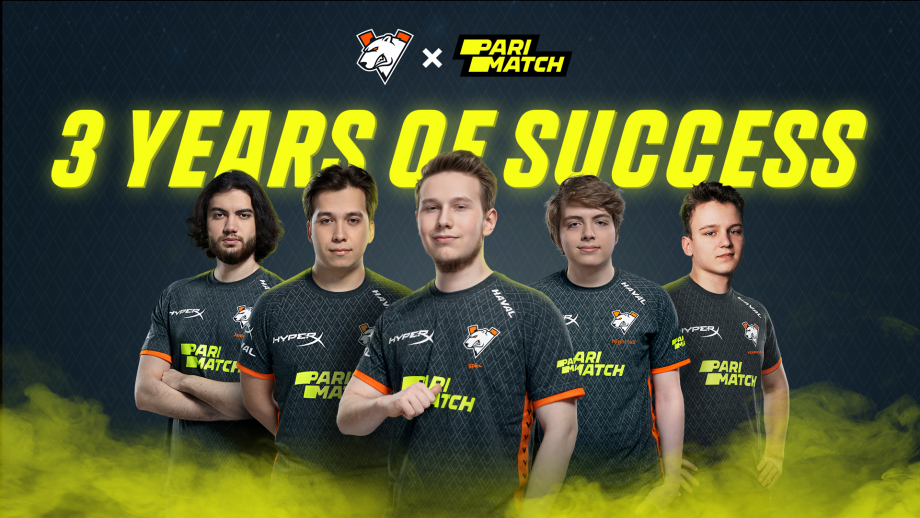 Parimatch, the worldwide betting giant, has renewed its huge partnership deal with Virtus.pro, the ultimate eSports team from Russia. The duo has now passed three tremendously successful years together. What does the future hold for them? The records point towards an even better fourth year. 
The lucrative partnership renewal will see Parimatch become title sponsors of Virtus.pro's Dota 2 and CS:GO rosters. The yellow and black Parimatch logo will keep on shining bright on these players' jerseys.
Virtus.pro's CEO, Sergey Glamazda, expressed his sheer delight after the confirmation of the partnership renewal, by stating in a release: 
"This year marks three years of our cooperation with Parimatch, and we are glad that all this time we have been walking hand in hand with such a reliable partner."
The initial deal between the two humongous organizations was inked in August 2018. Parimatch has continuously utilized the extra exposure it got from the deal with the eSports kings of Russia. The betting masters will be hoping to continue in that path of success. The new deal will now open new doors as well The duo is now looking to emerge on joint collaborations as well, in terms of organizing new eSports events.
Glamazda continued with his statement:
"We have already implemented many joint projects, and there will be even more in the future. We appreciate Parimatch supports the club's development and is confident that together we can achieve our goals."
Virtus.pro is a very progressive eSports side and is famous for joining forces with the best brands in the world. The partnership extension with Parimatch is not the only big deal they have been a part of this year. They also extended its already-existing sponsorship deal with HyperX, the world-famous PC and gaming accessories manufacturer company.
Parimatch's Head of Esports, Stepan Shulga, also talked to the media about the long-going partnership. He said:
"Virtus.pro is a unique team for us. We have been together from the very beginning when the esports concept was a wonder for the betting industry. Since that time, the teams have entirely renewed: imagine, we signed contracts when there were other rosters. It is both valuable and exciting that, having survived a complete reincarnation, VP is again on the first lines of the world rankings in Dota 2 and CS: GO. So go, go, VP!"
It's been a marvelous journey for both Parimatch and Virtus.pro. Under the sponsorship of the famous bookmaker company, Virtus.pro has tasted continued success and has gone from being a regional powerhouse to being a global force to be reckoned with. The partnership looks to be going on for a while in the future, and that can only be a good sign for the global eSports industry.
Get the latest news and updates regarding Virtus.pro on the Parimatch News website.