The Indian team "Looked Clueless" in the game against the Black Caps – Shoaib Akhtar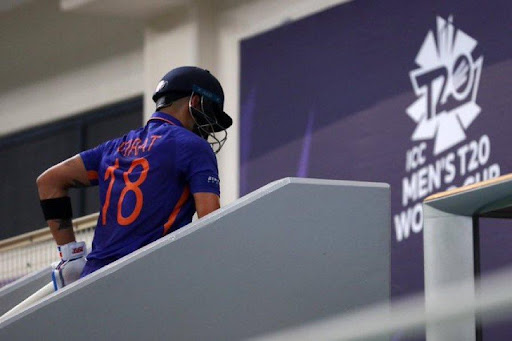 Twitter
Former Pakistan pacer Shoaib Akhtar said that he struggled to understand India's plan in their match against New Zealand on Sunday and why they were trying to do some experiments on their batting positions.
Former Pakistan legend Shoaib Akhtar felt that Indian players were in total trouble during the crucial T20 World Cup game against Black Caps on Sunday.
India suffered a second consecutive loss in the competition against Kiwis after the 10-wicket defeat they suffered against Pakistan in the event last Sunday.
Former Pakistani Pacer Shoaib Akhtar said that the Indian team "Looked Clueless" in the match against New Zealand.
He further said that he didn't understand why Rohit Sharma and Virat Kohli had changed their batting position
The former pacer, in a video posted on Twitter, said that apart from Jasprit Bumrah, the Indian bowling is "Ordinary".
"Why did they send Ishan Kishan. Hardik Pandya bowled towards the end, should have been brought on earlier. I couldn't understand what gameplan India played with — have no idea whatsoever. It was a complete lost squad. No planning, everyone pressed the panic button. Virat Kohli and Rohit Sharma did not bat in their usual positions. A new kid (Ishan Kishan) was brought in.
Read full article: England keeps their winning streak alive in World Cup
India looked like a very ordinary team to me. Aside from Bumrah, Varun Chakravarthy is ok, rest of the bowlers looked very ordinary,"

Shoaib Akhtar said in a video he posted on Twitter.
India was just able to put 110 runs on the board and their top-four order could only manage to score 48 runs together. Shoaib Akhtar said that if they are not able to connect, at least play out 20 overs as batsmen.
New Zealand star opener Martin Guptil hit several fine boundaries before falling to Bumrah.
Daryl Mitchell played some watchful innings and scored 49 off 35 balls helps to stand the Black Caps on the winning side. Then, he also lost his wicket to Jasprit Bumrah.
After that, Kane Williamson and Devon Conway took the responsibility and chased the target before the 33 balls.
With these two defeats, India is in the fifth position at the point of the table. India now has a game against Afghanistan, Scotland, and Namibia. Indian team is now in a very difficult situation to qualify for the semi-final.