Chris Jordan stars as England shocked Australia by 8 wickets in a crucial game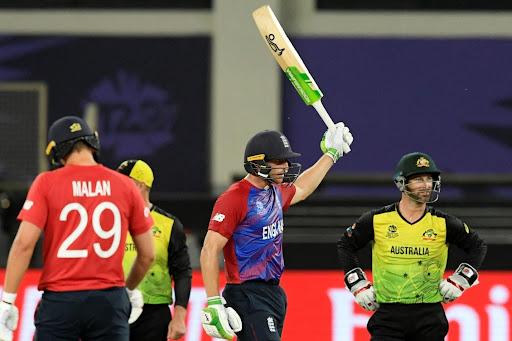 Twitter
England won the match by 8 wickets with the help of Chris Jordan who provided a great performance with the ball to guide England in registering their third win in the ICC T20 World Cup.
England had won the toss and decided to bowl first. Australia didn't start the innings very well.
Australian batters look rusty against pacers and lost so much ground early that they couldn't make much of a mark against spinners either.
After the Powerplay, Australia went on 21-3 and was in total trouble.
Australia wanted someone to provide them a solid innings and took them out of that trouble.
Aaron Finch and Mathew Wade took that responsibility and tried to put a competitive score on the table but their innings break down when Livingstone sent the wade to the pavilion.
But Finch was still on the pitch and he tried to hit boundaries but Australian hopes broke down when he also lost his wicket. Then, Australia kept losting the wickets.
Australia had set a total of 125-10 after 20 overs.
England openers were in good touch and they were on a fire. They hit several fine boundaries and set a great 66 runs partnership.
But their innings couldn't go long, Zampa came to bowl and took the first wicket for Australia.
After the first wicket, Jos Buttler played some watchful innings. By his bat runs kept flowing for England and he England at the winnings side.
England had easily chased this score at the 12th over of the innings and won this match by 8 wickets.
"When we lost a few wickets in the Powerplay we had to hang in there, get to a total we thought would be defendable if we got it right with the ball. Woakes is a brilliant exponent when there's seam early. We had to bowl them out, no issues there, but Buttler played a hell of an innings. We got off to a poor start, but a couple of days off to recharge, but we'll dust ourselves off and come back for Bangladesh."

Said the losing captain Aaron Finch.
"The challenge for us is adapting to conditions away from home, we did that well in the first two games then a big test against a really strong Australian side. Relentless with our lengths and our plans and the bowlers came up trumps. Depending on how the wicket plays you have to have one or two guys to go to, and they came up trumps. The openers look in really good form, Roy MoM against Bangladesh and Buttler following suit. They are all hard ones, we treat everyone with the same respect, it's a tough competition, we go from here to Sharjah for two games in five days."

Said the winning captain Eoin Morgan.
"Great bowling effort from the boys, Woakesy and Rash set the tone. Trying to keep it simple, go with the rhythm of the game, hold our length, be nice and straight, and the way the boys batted was unbelievable. I backed my yorkers, stick your strengths and keep improving your game. So many players trying to make the team, but let everything else take care of itself."

Said the player of the match Chris Jordan.