Virat Kohli: We were not brave enough with our body language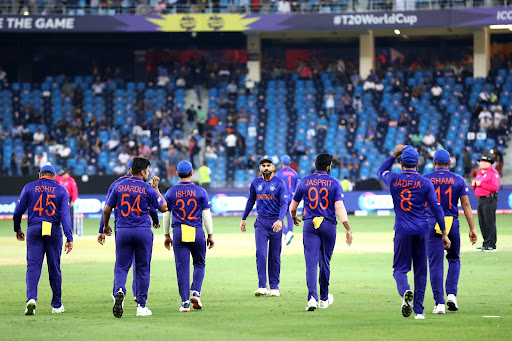 Virat Kohli leading his team out against New Zealand
New Zealand bagged their first points of the 2021 ICC T20 World Cup campaign as they defeated India by 8 wickets courtesy of a splendid bowling performance in the first innings.
India went in with a new opening pair in KL Rahul and Ishan Kishan but the southpaw was dismissed early into the innings by his Mumbai Indians teammate Ishan Kishan paving way for the MI skipper Rohit Sharma.
Both Rahul and Sharma wasted good starts and went back to the pavilion followed by the struggling duo of Virat Kohli and Rishabh Pant giving away their wickets to the excellent Kiwi bowling set-up.
Hardik Pandya and Ravindra Jadeja put on 23 runs and 26 runs on the board to help India post a total in three figures as Kane Williamson's side had to chase a target of 110 runs on a tricky Dubai pitch.
Boult starred with the ball in hand as he took three wickets whilst Ish Sodhi removed both Sharma and Kohli from the crease with Adam Milne and Tim Southee taking one wicket each.
Chasing a target of 110 runs, Martin Guptill gave a good start to the Kiwis as he scored 20 runs off 17 balls before giving away his wicket to Jasprit Bumrah.
Skipper Williamson and Daryl Mitchell put on a 72-run partnership in 9 overs to help New Zealand wrap up the match with a lot of overs in the bag. Mitchell scored 49 runs off 35 balls smacking 4 boundaries and 3 maximums before becoming Bumrah's second victim on the evening.
Also read: Quinton de Kock apologizes for refusing to take a knee before the match against West Indies
At the post-match presentation, 'Man of the Match' Sodhi explained his mindset before a match and compared the Sharjah ground and the Dubai ground.
He said,
"I am usually big on pre-match prep, with this bubble life we haven't been able to see the ground until the day we come to the ground. The wicket here was one we had to adapt to pretty quickly. It was very different from what we played in Sharjah. The boundary sizes were very different."
Sodhi also talked about how the spinners play a crucial role in the Kiwis bowling set-up whilst praising Southee for taking the prized wicket of Rahul inside the powerplay.
He continued,
"A big part of our game is using the spin bowlers in the middle. It was set up by the powerplay bowlers. Tim Southee getting that wicket late in the powerplay was massive for us and allowed us to do our job through the middle."
Losing skipper Kohli discussed what went wrong for the Indian team and how their body language wasn't 'brave' enough on the evening.
He said,
"To be brutal and upfront, I don't think we were brave enough with bat/ball. We obviously didn't have much to play with the ball. We were just not brave enough in our body language when we entered the field and NZ had better intensity, body language. Every time we took a chance, we lost a wicket. It's most often a result of hesitation of whether you should go for a shot or not."
The 32-year old also talked about how the expectations prove to be too much for the players at times and stressed the importance of focus in big tournaments like a T20 World Cup.
He continued,
"When you play for India, there are loads of expectations. We are watched, people come to the stadium and everyone who plays for India needs to embrace that and cope with it. We haven't done that in these two games, and that's why we haven't won. We have to be optimistic and positive and take calculated risks. We have to disconnect from the pressure, continue with our process, and play a positive brand of cricket. There's a lot of cricket to play in the tournament."
Winning skipper Williamson was delighted with the performance of his team and reserved special praise for the spinners and the opening batsmen.
He said,
"This was a great performance against a side that puts up a fight. The surface wasn't easy to find the rhythm on, and the way the openers came out really set things up for the chase. It's just about adapting to the conditions as well as we could. The way the spinners kept applying pressure was commendable and it was a complete performance. We play against strong teams all the time, and there are match-winners in every side, and we commit to our brand of cricket and today was a good example of that."