Ravindra Jadeja hands the captaincy back to the former CSK skipper MS Dhoni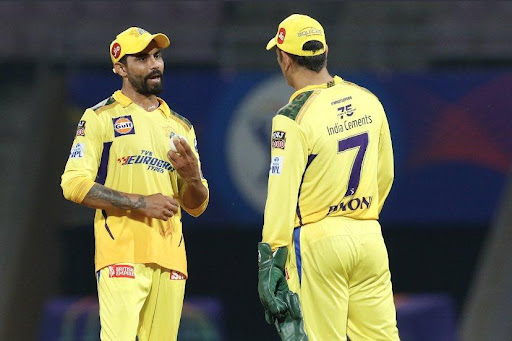 MS Dhoni takes the role of captaincy back from Ravindra Jadeja
Former skipper MS Dhoni to lead Chennai Super Kings after Ravindra Jadeja stepped down from the role halfway through the season.
Chennai Super Kings announced on Saturday that MS Dhoni will take the reins from Ravindra Jadeja as the all-rounder stepped down from the role halfway through the season to focus on his game.
Jadeja was given the role of captaincy two days before the start of the season with the skipper MS Dhoni handing over the duties to the 33-year-old. The franchise did not swallow the decision as they could only win two out of their eight games.
"Ravindra Jadeja has decided to relinquish captaincy to focus and concentrate more on his game and has requested MS Dhoni to lead CSK,"

the franchise said in an official statement.
"MS Dhoni has accepted to lead CSK in the larger interest and to allow Jadeja to focus on his game,"

the statement further read.
Jadeja himself was seen out of the color this season both with the bat and ball and the experts think that the role of captaincy might have taken the best out of him.
So far in the eight games, the left-hander has managed only 112 runs with an average of 22.40 and a strike rate of 121.74. With the balls, he picked up only five wickets in the eight matches at an economy rate of 8.19 RPO.
"Jadeja is clearly struggling with the bat, which is not a good sign. He needs to perform with the willow because, if he keeps failing in the same manner, things will get extremely tough for the Chennai Super Kings. The pressure of captaincy is clearly showing on him,"

former India opener Aakash Chopra had said on his YouTube channel.
Previously, Dhoni had led the franchise since the start of IPL in 2008 and took them for four titles with the latest one coming last year.
CSK are currently at the ninth spot of the points table with just four points in their account and they will next lock horns with SRH, which will be a crucial chance for them to stay in the playoffs race.
Chennai Super Kings CEO Kasi Viswanathan on Saturday spoke to an Indian TV channel and said that it was the team management's decision and the process will be "smooth".
"It will always be a smooth process. After all, the decision has been taken by the team management. We do not interfere in that. This is a decision they would have taken themselves. They would have talked and taken the decision,"

CSK CEO told on the channel.