Liton Das to be backed as an opener for Bangladesh in T20I's, Ashwell Prince confirms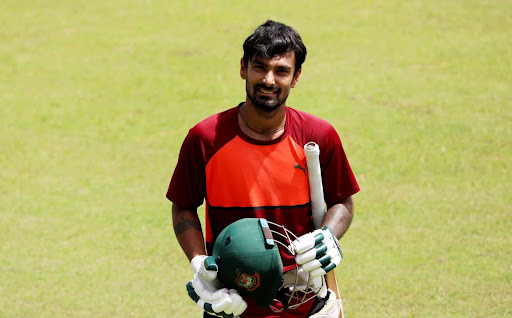 Liton Das/Twitter
Bangladesh's newly batting coach Ashwell Prince expects that Liton Das will be used as an opener in the T20 series against New Zealand to ease some of the opening concerns.
Bangladesh batting coach, Ashwell Prince expects Mushfiqur Rahim and Liton Das will help the batting unit fare better against New Zealand when they face each other in the upcoming T20I series.
Both the most experienced batsman of Bangladesh were unavailable in the recent series against Zimbabwe and Australia due to personal reasons but now they are tasked with doing the heavy lifting with the bat in the coming series.
"I am expecting similar conditions against New Zealand. The batsmen from the Australia series had a nice discussion yesterday, sharing with guys like Liton Das and Mushfiqur (Rahim) who didn't play in that series. These are experienced guys but they shared what worked and what we would like to improve on from the Australia series, taking it into the New Zealand series coming up," Prince said after the second day's practice session on Saturday.
Bangladesh openers in Soumya Sarkar and Mohammad Naim had struggled in the series against Australia. Batting coach Prince intimated that the returning of Das will be very helpful for the top of the order alongside the oout of form Soumya to edge some of the opening upset.
Shakib al Hasan, who also returns for the series, is likely to be picked up the No 3 place.
"I am not concerned about the opening batsmen. I think we had one or two good partnerships in Zimbabwe but conditions were tough against Australia. It is not easy to score boundaries frequently as you would in pitches where the ball is coming on,"

Prince said.
Opener, Tamim Iqbal was ruled out from the series due to a knee injury and he will also miss the upcoming series against New Zealand. On the other side, Liton has opened in 23 out of 33 T20Is for Bangladesh and in Tamim's absence, Bangladesh will use Das as an opener.
"Adapting to the conditions is important. Partnerships would be important. I think we have a strong competition in the opening position. I am sure Liton Das will get an opportunity in this position (opening position) as well."
Prince said he expects New Zealand to be a tougher challenge in the expansion to the T20 World Cup.
"I think we can expect New Zealand to analyze and plan well, using the recent Australia series to learn from. They are a street-wise team who would plan meticulously against every batsmen, bowler, and pitch. They will use every bit of information to help them,"

Prince said.
Also read about: Uncapped Kiwi player talks about Bangladesh series