In T20I cricket, KL Rahul is first-choice opener, Virat Kohli is third: Rohit Sharma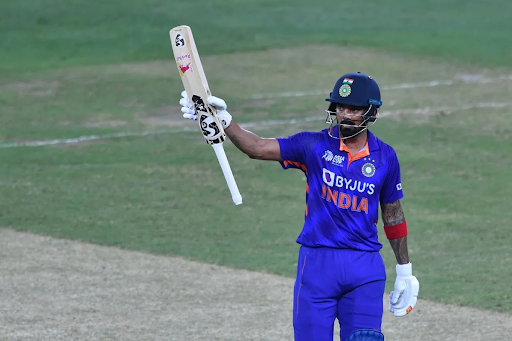 KL Rahul's style of play has been a point of criticism for a long time now
India captain Rohit Sharma has made it clear that KL Rahul will remain the team's first choice opener in the T20 format as the team looks to build momentum and finalise plans before travelling to Australia for the ICC T20 World Cup 2022 starting on October 16.
In order to bolster their preparations for the mega event in which the Indian team will be under tremendous pressure to do better than what they did last time around — first round exit — they will be facing off against Australia in a three-match T20I series starting on Tuesday, September 20 in Mohali.
India's batsmen came under tremendous pressure and criticism from all corners after their mixed performances saw them failing to make the final of the Asia Cup 2022.
A lot of the criticism has particularly been directed towards KL Rahul, who did not have a very successful Asia Cup 2022, whereas Virat Kohli, opening the innings in absence of Rohit Sharma in the final and inconsequential match against Afghanistan, cracked his maiden hundred in the format.
Virat Kohli not only recorded the highest individual total for any Indian in T20 internationals by scoring 122 not out from just 61 balls, but his knock also ignited the debate whether he should be opening the innings on a permanent basis and if KL Rahul is still the batsmen that he was a few seasons ago.
KL Rahul has been struggling with his strike rate in International cricket and even in the Indian Premier League (IPL), something that has been a bone of contention for all Indian fans.
On Sunday, during his mandatory media meet ahead of the series against Australia, Rohit Sharma said,
"It's always nice to have options available to you. It is very important when you go in a tournament like a World Cup. You want the flexibility. We only talk about it, but this is actually what it means. You want your players to be in their best shape, batting in any position and so on.
He said,
"KL Rahul, according to me, will play the World Cup, and open. His performances for India tend to go unnoticed. He is a very important player for India. If you look at his record over the last two-three years, it is very good." 
"For us, when we try and do something new, it doesn't mean that is permanent. We understand the quality of all the players and what they bring to us. We do understand that, but yeah it is an option for us. We will keep that in mind that since we haven't taken a third opener, he can obviously open. He opens for his franchise and has done really well. It is a definite option for us."
Rohit Sharma said Virat Kohli will be opening in a few of the six matches — three each against Australia and South Africa — ahead of the T20 World Cup.
"I have had a chat with Rahul bhai [Dravid, the coach] that we will have to open with Virat in some matches because he is our third opener. We saw that in the last match, and we are quite happy with what we saw. I don't think we will experiment for that position a lot,"

Rohit Sharma said.