"I think we could have done better," Shakib Al Hasan on 1st Test loss against West Indies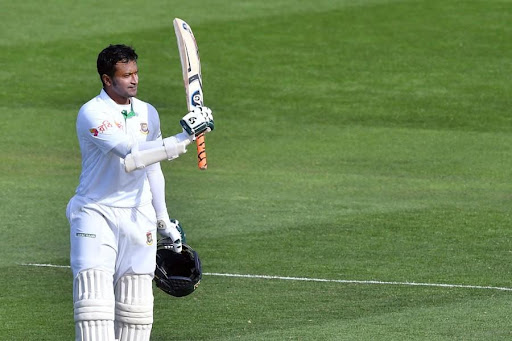 "Batting we all know is the area to improve but there is no point saying the same thing," Shakib Al Hassan
Bangladesh Test skipper Shakib Al Hasan feels that their batting was always the problem and it was the main cause of their 1st Test defeat against West Indies says the technical issues need to be solved to survive in Test cricket.
Bangladesh lost the Test match series opener against West Indies by seven wickets due to a terrible batting failure as they only managed 103 runs in the first innings including six ducks.
They did no different in the second innings after reeling on 109/6 at one stage before Shakib and Nurul Hasan added a much-needed 123 runs stand for the seventh wicket to get a lead of 84 runs for their side.
Bangladesh Test skipper Shakib Al Hasan feels that their batting was always the problem and it was the main cause of their 1st Test defeat against West Indies says the technical issues need to be solved in order to survive in Test cricket.
"I think we could have done better," Shakib said after the loss.
"The thing is that we were always in the recovery mode from the first session of the opening day and we were always behind and we could never go in front in the match and that is regretful.
"Batting we all know is the area to improve but there is no point saying the same thing.
"I think there are technical problems as well. I don't think we have many technically-sound players. Everyone has technical problems but they will have to find a way out by themselves – about how to stay at the wicket and score runs."
Shakib also made clear that he had no intentions of donning the coach's hat.
"It's not a matter of discussion for me (to sort out other batters' problems) – it's for the coach. If I am coaching and captaining the side too then it's a problem for me.
"I think it's better if I am doing the job that I am responsible for. I will try to do my duty according to my responsibility. If the rest do their job accordingly from their positions, then the task will be easier for everyone."
The skipper added that still they can get some positives from the loss and he hopes that if the batting unit clicks they can make their position clear at St Lucia, scheduled to host the second and final Test.
"I haven't looked at the Saint Lucia wicket yet so it's difficult to say (on any change in plans for the next game). The one thing is that we will be able to take some positives from the end of Day 2 and then Day 3. If you look closely if we had scored 150 more runs and the two innings together had produced 500 or 550 runs, how competitive it would have been.
"Our two innings together produced something like 350 and we have to score 150 more runs to be competitive. It's not a lot of runs. No one scored runs in the first innings and in the second innings most of our batters didn't score and still, we scored 350. If some batters contribute, then we can score those runs. With the bowling attack we have, we will be able to fight against Windies."
Shakib said that he will talk with Mominul Haque who is having some rough days with the bat and if the batter needs some break, he is ready to allow him for that.
Mominul quit the Test captaincy recently to focus on his batting but he has failed to get succeed in that process yet. The former skipper could only make the figures of 0 and 4 in his appearance in the first Test.
His form is continuously a major concern for the team and management, considering how he has failed to enter the double-figure digits in his last nine appearances for Bangladesh in Test matches.
"It's difficult for me to say (if Mominul needs a break),"

Shakib said.
"I am always talking with him and will talk again. If he feels that he needs a break then… but to think like this after the end of one game is not good. We have a break and after going to St Lucia we will think about what will be better for our team and you cannot guarantee success by making a lot of changes."
However, the skipper is happy with the bowling unit and says he is pleased with how their bowling unit is forming a shape and also Taskin Ahmed being the leader of the group.
"The pace bowlers have been bowling well for the last several days and they are giving a lot of effort; I think it is the most needed thing. They believe that they can bring a change lot. So, they have this belief and I think they try their best. They do plan a lot. They are trying to do something by planning together and that is why they are actually being so successful.
"A big credit goes to Taskin. Taskin has shown in the last two or three years how a pace bowler can actually grow or move forward and can improve grammatically. I think many people follow him. Our pace bowlers are doing well, it is a big reason.
"Perhaps, no one has done such hard work before; bowled matches after matches, thirty or forty overs with a continuous pace. It didn't actually happen much before until Taskin did it. Perhaps, someone did it time by time or part by part, but not like this. Taskin deserves a lot of credit, I think he has a big role to change this thinking,"

Shakib concluded.