Got the rewards for being fearless and confident – Virat Kohli after beating RR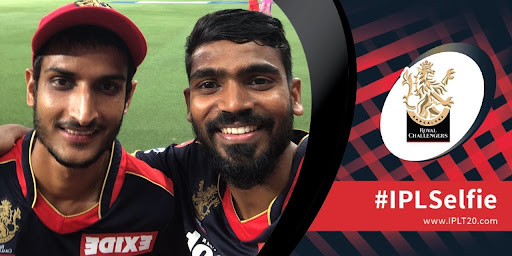 IPL/ Twitter
A combined effort and Glenn Maxwell's half-century was the key to victory as Royal Challengers Bangalore (RCB) beat Rajasthan Royals (RR) by seven wickets in Match 43 of the VIVO Indian Premier League (IPL) 2021 in Dubai on Wednesday.
A brilliant performance with the ball from Yuzvendra Chahal and Glenn Maxwell's half-century was the highlights as Royal Challengers Bangalore (RCB) beat Rajasthan Royals (RR) by seven wickets in Match 43 of Indian Premier League (IPL) in Dubai on Wednesday.
The Virat Kohli-led RCB chased the target of 150 runs in 17.1 overs with 7 wickets in hand to stand third on the points table after bagging two more points.
Virat Kohli, the winning skipper (RCB): 
"We have come back strongly in two games back-to-back with the ball. Which is a great sign. We know if you can hold your nerve with the ball you're going in the right direction. In both games, the opponents were 56/0 in the powerplay, but in both games, we took wickets to ensure the opposition does not getaway. We knew that with the kind of bowling attack we have, things can open up when we take wickets. As batters you can't take too many risks when you're searching for two points too, so we went to look for mistakes from their batters…We were blown away in game 1. That defeat gave us confidence though. In the second game, we were not quite there either, left 25-30 out there with the bat. But last two games we are going in the right direction. Slowly but surely we are getting in the groove."
Yuzvendra Chahal, player of the match (RCB):
"(On starting spell late) Two left-handers were batting, so Virat said let's go with the medium pacer. He told me I will come when Lewis gets out, but I came on since Lewis was still going good. (Bowling style) I wanted them to play over covers since it's wider there. Wanted to also blow slower. In the first half of IPL, I didn't bowl well in 3-4 games. Then I spoke to players and families about what I'm doing wrong. And then I regained confidence in Sri Lanka. Confidence is key in bowling, so I am using that here."
Glenn Maxwell, brilliantly combined half-century (RCB): 
We played really well, they got off to a flier but to bring it back in the last 10 was outstanding. I felt good from the moment I've come here, got into a nice routine at training, it's clicking for me nicely as well. I suppose, don't think RCB is different from any other franchise. Nice to be able to have a bunch of guys doing different things, instead of aligning with just one particular player. KS Bharat is a genuine top-class batter, won't call him batting at No. 3 as an experiment. It's working beautifully for us at the moment.
Sanju Samson, the losing skipper (RR): 
We got a great start, couldn't capitalize. Middle-order needs some confidence. We went in with intent, the wicket was two-paced and our batters kept mistiming it. To be honest, it's been a hard one week for us, we need to put in a fight as a franchise. Happy with the effort and intent with the bowling. We don't have anything to lose. That kind of mindset brings a lot of freedom, have seen some funny things happen. Need to keep on believing and fighting till the last match. 
Brief Scores: Royal Challengers Bangalore 153/3 (Glenn Maxwell 50*; KS Bharat 44; Mustafizur Rahman 2) beat Rajasthan Royals 149/9 (Evin Lewis 58, Yashasvi Jaiswal 31; Harshal Patel 3.34) by 7 wickets.