French championship isn't the best in the world, but it's my responsibility, as a flagship player, to help the league grow ー Mbappé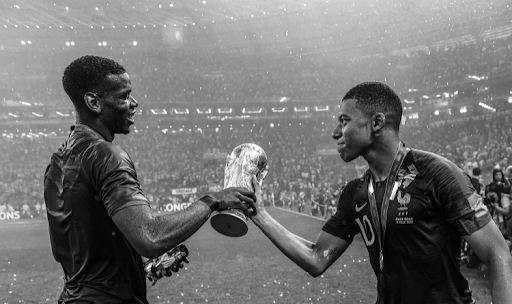 Mbappe passes the World Cup to his Les Bleus teammate Paul Pogba
Amid rumors of difficulties with the PSG contract extension, Kylian Mbappé said in a recent interview that Ligue 1 is not the best championship in the world, but he feels it is his duty to make it better. He also talked about his relationship with the team and his ambitions.
In a recent big interview, where the player talked about his childhood and key stages of his career, Kylian responded to the question that he is 'probably already too big a player for Ligue 1':
"France isn't the best championship in the world, but it's my responsibility, as a flagship player, to help the league grow."
Speaking of the triumph at the World Cup, he pointed out that throughout the tournament, it was a team of friends on the field:
"We were lucky to have a young squad. We were totally carefree, just a group of mates."
When asked about team unity in football, the player replied that players on the same team actually don't have to be friends to win:
"No, just like the baker doesn't get on with all bakers. You don't have to eat with your teammates every evening to win."
The player was also asked about whether he feels himself a 'superstar' and his attitude toward it:
"I think so. If your face is everywhere in the city, everywhere in the world, that's for sure. Being a star is a status, but it doesn't make me a better person than others."
The Frenchman shared how he sees the competition, admitting that he knows he's not the best footballer in the world, giving respect and admiration to the two main idols of modern times – Messi and Ronaldo:
"It's not only me who knows that,"

he laughs.
"Everyone knows it. If you tell yourself that you'll do better than them, it's beyond ego or determination — it's lack of awareness. Those players are incomparable. They have broken all laws of statistics. They have had 10 extraordinary years, 15."
He went on talking about how healthy competition and pressure makes you get better:
"You do always compare yourself with the best in your sport, just as the baker compares himself with the best bakers around him. Who makes the best croissant, the best pain au chocolat? I watch matches of other great players to see what they're doing. 'I know how to do this, but can the other guy do it too?' I think other players watch me, too. I think that pushes players to raise their game, just as Messi was good for Ronaldo and Ronaldo was good for Messi."
Meanwhile, amidst the insider information that the player rejected another PSG 5-year offer, rumors that the World Cup winner may leave this summer have gained momentum: it is reported that Real Madrid has yet to make an offer with an unnamed club from England is seriously interested in the player as well.
It is noteworthy that the 22-year-old talent has no agent or representative, only lawyers. So one of the most important decisions the player will have to make with his family.
Don`t miss out 💥: Will Messi and Ronaldo become teammates? PSG looks to put the plan into action
Paris Saint-Germain signed Mbappe for 180 million euros in 2017.
Real Madrid did not buy new players for the last two seasons and sold players for more than 150 million euros.