"A collective performance is missing," says Rohit Sharma after MI's fourth IPL defeat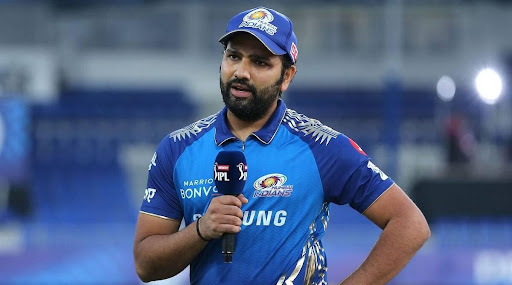 That is one thing we are looking at, if we get runs on the board, there's something for the bowlers to do
It is a difficult situation when the skipper could not point a finger at the non-performing department on his side after being called for an immediate address. Fingers started to point on Rohit Sharma soon after Mumbai Indians (MI) lost their fourth consecutive IPL match.
Things start to bring controversies when the skipper could not point a finger at the non-performing department on his side after being called for an immediate address.
Soon after Mumbai Indians (MI) lost the fourth consecutive IPL match of their 2022 campaign, the questions were raised to the skipper Rohit Sharma who answered that his team was missing a collective effort in both the batting and bowling department.
Courtesy to Suryakumar Yadav, who took his side to a respective total after being pushed against the wall by their opponents. MI came under severe pressure in a Pune-based wicket that will prompt introspection.
The top-order collapsed terribly after being 50 for no-loss to the point where they were 62/5. Similar to the top-order, the middle-order of MI also disappointed and they were never on the track until Suryakumar put up a one-man fight.
"Lot of areas actually [to address], we want some of our batters to bat as deep as possible,"

Rohit said.
"That is one thing we are looking at, if we get runs on the board, there's something for the bowlers to do. In the last two games, we were not able to do that. Last game, we got 160, this game we got 150-odd, on a pitch like that, and it's not enough. 
"I wanted to bat as long as possible, but unfortunately I got out at the wrong time. We were hitting that partnership, we just got off to a 50-run partnership, got out at the wrong time, that is something that's hurting us a little bit. Definitely not a 150 pitch, Surya showed us if you bat sensibly, you can get more than what you got. A lot of credit to Surya at least to get us to 150, but we knew that it wasn't going to be enough. I have always spoken of collective performance both from bat and ball that seems to be missing at the moment. Once that comes through, I think we should be good."
The assessments made by Rohit Sharma before the game were true, Mumbai's playing XI changes going into this RCB game were more towards balancing their batting strength, interestingly at the cost of their bowling.
Punjab power-hitting all-rounder Ramandeep Singh came into the middle-order for Daniel Sams while Tymal Mills made way for Jaydev Unadkat.
Mills' absence, in the game against RCB, was surprising, AS he was the only bowler to have taken something out from the Power Play in each of Mumbai's three previous games.
Mumbai's bowling attack went heavily reliant on Jasprit Bumrah and effectively left Kieron Pollard to share his shoulder for a load of being the first-choice fifth-bowler despite being used for just 34.1 overs from 30 games in the last two seasons.
"It was just the combination that we felt would be ideal on certain pitches and certain opposition. We wanted to strengthen our batting, unfortunately, we had few overseas guys who were unavailable, so we wanted to get the best from whatever we had," Rohit said without disclosing the reason for the absentees."
Four straight defeats may seem too steep a mountain to climb but Mumbai Indians can look back at their history for inspiration. In 2015 they came out to win the title from the same position. Director of Cricket Zaheer Khan said it was all about getting that first win.
"There are still 10 league matches to go. So we gotta get on a roll,"

Zaheer said. 
"You've seen in this tournament teams get on a roll, either losing or winning. It's just a matter of the first win. There are times you get tight as well, you will start doubting yourselves in situations where the pressure is highest. So that is something which we have to be aware of. And look for that spark in the group. Not every day is going to be your day, but the individuals who are having a good day will need to carry the team and get us that win which is going to be very important."