Tyson vs. Jones: will Iron Mike beat Captain Hook?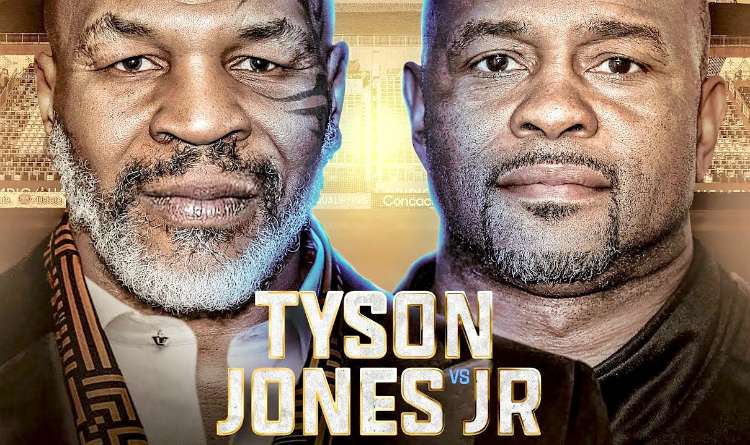 lasentinel.net
Mike Tyson is set to face Roy Jones Jr. in an exhibition bout for the WBC Frontline Battle Belt scheduled on November 28. Will Iron Mike beat Captain Hook?
Mike Tyson stats
Tyson hung up the gloves in 2005 after compiling an outstanding record of 50-6, 2 no contests. Mike began competing as a pro in 1985. During his boxing career, Tyson won the WBC, WBA, and IBF titles. He was an undisputed heavyweight champion for 3 years and lost his belts to Buster Douglas in 1990. Iron Mike was defeated twice by Evander Holyfield in fights for the WBA gold in 1996 and 1997. However, he redeemed himself and got a title shot against Lennox Lewis in 2002 but dropped a KO. Mike was knocked out by Danny Williams in 2004 and lost to Kevin McBride by corner stoppage in his last contest in 2005. BoxRec ranks Tyson 14th in the list of the best heavyweight boxers.
Roy Jones Jr. stats
Jones started his professional career in 1989 and amassed a whopping record of 66-9. Roy earned titles in 4 weight divisions: middleweight, super middleweight, light heavyweight, and heavyweight. In 1999, Captain Hook unified the WBA, WBC, and IBF titles and was deemed the undisputed light heavyweight champion. From 2004 to 2011, Roy was riding on a 3-fight losing streak twice. Nevertheless, Jones rebooted his career and won 12 of 13 clashes in 2011-2018. He retired from boxing, holding the WBU German version and WBF Foundation titles. Roy takes fourth place in the ranking of the greatest light-heavyweights of all time.
Matchup stats
Tyson hits harder and has a better ability to take shots. However, Jones faced opponents with higher strike resistance and slightly lower punching power.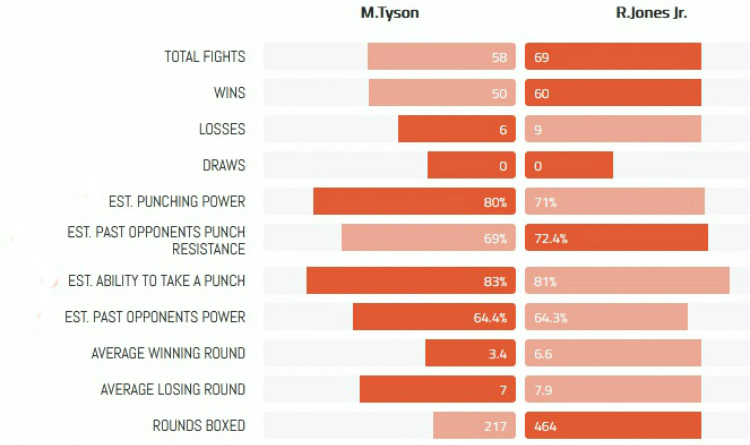 According to the results of the sportsmen's 2 last contests, Mike outperforms Roy on attacking stats. He landed 14 blows per round (versus Jones' 10) with an accuracy of 37% (versus Roy's 32%). However, Jones has a better defense. Captain Hook and Iron Mike took the same number of punches – 22 per heat, but Roy absorbed 35% of strikes, Mike evaded only 50% of blows.
Tyson vs. Jones preview
Both contestants have their strengths and weaknesses. Mike has an advantage in striking, while Roy defends himself much better. Besides, Captain Hook is a more experienced athlete because he has boxed almost twice as many rounds (464 versus 217). Jones retired only 2 years ago, and Tyson's hiatus from sport lasted 15 years. In light of these factors, Jones has a better chance to win the bout.
Boxing legends are in their 50s; therefore, very stringent rules apply to the contest. They will fight for 8 2-minute rounds wearing 12-ounce gloves. The showdown is to be stopped in case anyone gets a cut. Considering Tyson's and Jones' punching power, rules and the athletes' age, the bout will unlikely reach the time limit. Mike's winning round is third, Roy's – sixth. Thus, the contest is supposed to be finished before the seventh heat.
The most probable fight results
Roy Jones Jr. to win (8/5);
Total rounds under 6.5 (1/1).
Disclaimer: Fight analysis is not a betting tip or a gambling advice of any sort. Our experts determine the most likely outcome of a sporting event based on statistics and personal views. Therefore, the actual result of a competition may differ from the predicted.