World will be 'shocked' by our revenues after we signed Messi – PSG president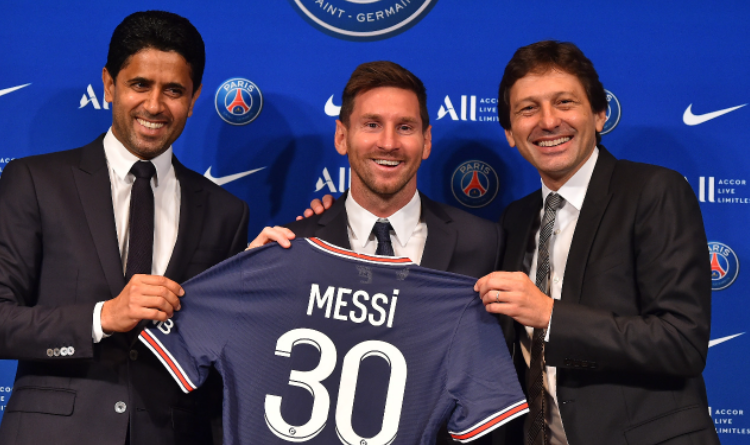 Paris Saint-Germain's Qatari President Nasser Al-Khelaifi, Lionel Messi with his no.30 shirt and Paris Saint-Germain's Sporting Director Leonardo Nascimento de Araujo
Today, one of the best players of our time, Lionel Messi, officially became a player of Paris Saint-Germain. We will give you all the details.
Messi has reportedly signed a two-year contract with PSG, with the option to extend for one more. His annual salary will be €35m including bonuses plus a signing fee of around €25m.
Lionel will be playing in the no. 30 jersey, the number under which he made his Barcelona debut 17 years ago. Neymar offered him a number ten, but Messi decided to reject his former team-mate's offer.
Today, a conference was held with the player, and he also met the fans, who were just euphoric about his arrival.
What and atmosphere:
"I'm really looking forward to being on the pitch and my hopes of winning remain intact, and that's why I'm here, I want to win another Champions League and I think I'm in the right place to do it."

– Messi said as he was unveiled as a PSG player.
Don`t miss out 💥: Sergio Ramos could miss 2 months to fully recover from injury
Nasser Al-Khelaïfi, the PSG president, suggested the club release specific figures that relate to the transfer a little later, he also said that everyone would be "honestly shocked by the figures we have and expect in revenues".
"I just hope Messi won't ask for more pay,"

– he joked.
He also talked about the club ambitions, stating that they want to win every single match:
"I'm very happy and proud to present Lionel Messi as a new Paris Saint-Germain player. It's an incredible and historic moment for the club and for world football. Our objective is known to everybody, we want to win every match we play, and we play in order to win as many trophies as possible. Leo's arrival could help us achieve these objectives. In order to win, you need to have the mentality of a competitor, and be disciplined. That is what we are constructing in Paris."
Messi scored a record 672 goals in 778 games for Barca, the club he joined as a 13-year-old. This season saw 33 goals and 14 assists, will he continue playing at such a level at PSG?