Lionel Messi in tears as he confirms FC Barcelona exit: 'I never imagined having to say goodbye'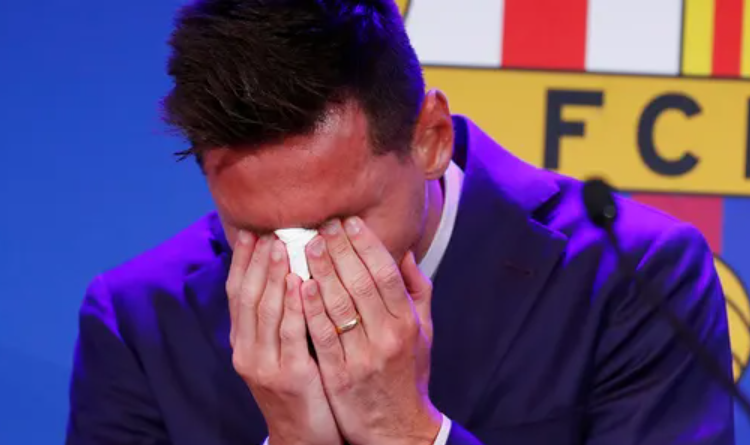 An emotional Lionel Messi at his press conference
Lionel Messi held a press conference at the Camp Nou stadium in Catalonia on Sunday in connection with his departure from Barcelona. He explained many points of interest to the public and said his goodbyes to the club, expressing his desire to return one day in the future.
The club and the 34-year-old have been unable to renew the contract due to La Liga regulations, as it was revealed earlier this week.
Official: Lionel Messi is leaving Barcelona
Before starting his farewell press conference, the Argentinian did not hold back tears.
Here are some quotes from Lionel:
"It's time to say goodbye to Barça. It has been a long time, all my life. I can't be more proud of what I have done and experienced in the city and I know that after a few years away I will be back – that I have promised to my kids also."

– Messi said, adding that he would accept any role at the club to help it in the future.
"It's really difficult to leave after so many years. After spending most of my life here, I was convinced I could continue here at home. I was not prepared. Last year I was, I was convinced about leaving but this year no."

– Said Leo, reflecting back on the hardships of the past year.
"I want to thank all my teammates. I have always tried to behave with humility and respect and I hope that is what stays here with people, as well as everything I had the fortune to give to the Club."

– The former team skipper spoke to his colleagues.
"I would also like to thank the people's affection towards me, I would have liked to say goodbye in a different way. To be able to do it out there on the field, hear my last ovation, have them close, hear the cheering…I leave the Club without having seen them for a year and a half. I have always been up front with the members and fans, what was important for me was to tell the truth to the people who gave me so much, as I did for them. We have grown up and had fun together."

– Number 10 addressed the fans, thanking them for their love and unconditional support.
He also refuted the rumours that have been circulating around:

"I offered to reduce my contract by 50% and they didn't ask for anything more. A lot of things people are saying are not true. Like I said, I did everything."
Watch all the highlights here:
Insiders report that rumours of a possible move to PSG could be confirmed, with the player's father, Jorge Messi, already receiving a pending contract, Lionel is ready to sign when all the final formalities are settled.