Ronaldo accidentally knocked down a steward in the warm-up before a Champions League match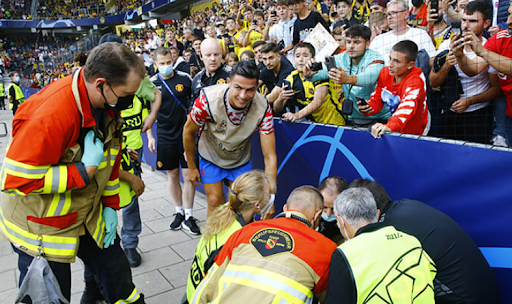 Cristiano surrounded by fans and medics trying to kelp injured steward
Ronaldo knocked down a steward with a wayward shot during the pre-match warm-up, he was very worried and even gave her the jersey after the match despite his bad mood after the loss.
During the pre-match warm-up, Сristiano Ronaldo accidentally hit a steward standing on the sideline with a ball. She immediately fell down, her colleagues and medics ran up to her to make sure everything was okay, as well as the Portuguese himself.
The woman seemed to be hit pretty hard – fortunately, it all ended well. She woke up and by the end of the match was already smiling. You bet because Cristiano gave her his jersey, despite the bad mood after the match…
The striker returned beautifully to Manchester United: three goals in his first two matches, one of them in his Champions League debut against the Young Boys. 
However, the English club sensationally lost. It started brightly, with Man United scoring first as Ronaldo received a brilliant pass from Bruno Fernandes into the penalty area and flicked the ball past the goalkeeper.
But after that, the Swiss club switched on and showed quite good football, moreover, in the 35th minute Aaron Wan-Bissaka was given a direct red card after the strange foul.
In the second half, David Wagner's club took the ball (80% possession) and, as a result, managed to equalize. They made 19 shots in total this game comparing to
And then when the teams seemed to have already agreed on a draw, the substitute Jesse Lingard made a terrible pass in the direction of his goal, which was intercepted by the fast-footed Theoson-Jordan Siebatcheu who snatched the victory the Swiss side in extra time netting past David De Gea.
The whole team rushed to the corner flag to celebrate in euphoria, while United's players hit the turf in despair.
Don`t miss out 💥: Ronaldo has broken the international goal record as he snatched a victory for Portugal vs Ireland
Ronaldo has no intention of getting upset, already mentally preparing for the next game:
Stay tuned for the latest cricket news from the Parimatch News team.