Real Sociedad vs Manchester United. Prediction and Preview. Probable Lineups, Team News, Stats and more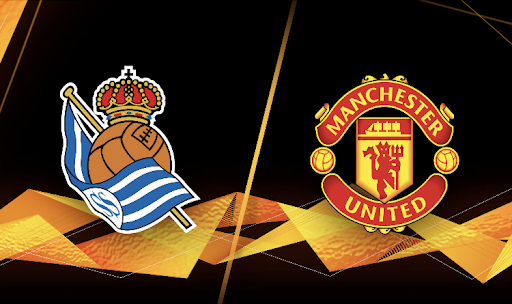 Real Sociedad will host Manchester United in the UEFA Europa League 6th group-stage at the Anoeta Stadium. The fixture will take place on November 4, beginning at 00:15 IST.
The UEFA Champions League group stage is over, but this is not the time to say goodbye to the European competitions, as the spectacle of the Europa League kicks off on the night of 3rd-4th November with a staggering 16 matches. In one of them, Real Sociedad is set to take on Manchester United.
Both teams have secured a place in the Europa League play-offs, so a head-to-head encounter in the last leg might at first glance seem insignificant. In reality, however, the relevance of the match lies in trying to avoid taking part in two extra games of the 1/16 final. The group winner goes straight into the last-16, while the runners-up have to face the underdogs of the Champions League in the spring. And the caliber of potential opponents in these matches is daunting: Barcelona, Ajax, Bayer Leverkusen and others. This will not be an easy walk. Is it really necessary for MU to play 2 energy-intensive matches in an already busy February schedule? The question is rhetorical.
Given current circumstances, the Mancunians endeavor to snatch a win in the closing UEL matchday in order to secure the top spot. The Red Devils need to win by a margin of more than one goal, which seems to be a tough task. That's because the rivals here is the resurgent Real Sociedad, which have won their five group stage games to date, conceding just one goal. What's more, the White and Blues managed to win at the monstrous Old Trafford in the first leg, although they were barely in their optimum condition at the time. It will be extremely challenging for the boys from Manchester in the return leg in Spain as well.
Will Erik ten Hag's men be able to make things easier for themselves in the spring and save resources to fight in the English Premier League? Parimatchnews will tell you everything you need to know ahead of the upcoming match.
Real Sociedad News & Current Form:
Real Sociedad are going to arrange the 'warm welcome' to the Brits to complete their ideal group stage run with the 6th victory out of 6. Now, the Basques, who recorded 9 victories in the last 11 games in all competitions, occupy 5th place in La Liga. Since the first third of September, the Spaniards have managed to shake things up and produce a winning streak of 8 matches, which, however, was interrupted in the last two rounds of La Liga. The club from San Sebastian lost to Valladolid 1-0 and Real Betis 0-2. Such news might have encouraged the Mancunians to seize on the moment of weakness for the Blues and Whites, but it is worth pointing out that the results of the unsuccessful matches cannot be called logical. Real outclassed their opponents in many key metrics, including possession and shots, but it was not enough for Imanol Alguacil's men to secure the points and continue their victorious march up the Spanish Primera.
In the meantime, Real Sociedad have been impressive in the Europa League so far, posting a phenomenal five-game winning streak. Besides Manchester United, they also managed to beat Omonia (2-1 and 2-0) and Sheriff (2-0 and 3-0). In order to qualify for the 1/8 finals, the Blues and Whites only need to avoid losing the upcoming game, which is more than realistic given the home-field factor. In fact, the Basques, who have lost only 2 of their 8 games at the Anoeta Stadium in this campaign, could be satisfied with a draw. Such a scenario, considering that Real Sociedad have conceded only 1 goal in this Eurocampaign, takes the pressure off and makes the task quite feasible.
"I'm sure there will be a great atmosphere and we want to show the best version of ourselves to be able to score or win against one of the best teams in the world. It seems incredible that, with 15 points, we are not classified as finishing first in the group." says Real Sociedad midfielder Mikel Merino.
However, the injury blow that struck the Ryals' camp introduces a new twist into the mix. The news says seven players are expected to be missing: Ander Barrenetxea, Mikel Oyarzabal, Aichen Munoz, Umar Sadiq, Momo Cho, Takefusa Kubo and David Silva. The latter is the only one who has a fair chance of returning to action against the 20-time English champions.
Don`t miss out 👉: East Bengal vs Chennaiyin: Preview and Prediction
Manchester United News & Current Form:
The Mancunians now present a much greater threat than in the first game. Now, the team is adapted to the new coach, and the Dutchman seems well integrated into the club's system, installing his own football, which so far has only been visible at times.
"After being in football for quite a while even though I'm only 30, his obsession for winning is what surprised me the most. I think he's got many strengths, we all know it's a process and we're growing together. We want to win and he is obsessed with teaching us and making us better to the millimeter. That obsession with winning is something I've only seen with very few managers."

Casemiro describes his coach.
After a dreadful start in August, the Red Devils have now regained their composure, having played in 15 games in which they have achieved 11 victories, 7 of which by just one goal margin. The only big win occurred at home against Sheriff (3:0). In the away games, it is even more complicated: only one of eight meetings this season has seen Ronaldo and his teammates prevail by two goals or more.
Last month alone, the Merseysiders suffered only one defeat — against the monstrous Manchester City — with two draws, against a strengthened Newcastle United (0-0) and Chelsea (1-1). In all other encounters, victories have been recorded, including games against Tottenham (2-0) and West Ham (1-0). As a result, Man Utd now sit fifth in the EPL, eight points behind leading Arsenal.
It was Marcus Rashford, the MUFC academy product, who decided the outcome of the last game. The striker, who has finally managed to pick up good form since a frustrating 21/22 campaign, netted the winning goal in the 38th minute. It was his 100th goal for the Red Devils and 7th in the current campaign. Curiously, Rashford is the first Manchester City player since 2009 to reach this mark. Previously, it was Wayne Rooney who produced the same result.
"We need to go there and win by two goals to top the group so we're going to try and do that. It was our mission, our objective when we started the campaign, to top the group and that still stands."

says Marcus ahead of the encounter.
Yet, Manchester United currently have another player who can boast this achievement – Cristiano Ronaldo. However, this is all just an echo of the Portuguese's past, his youth at Old Trafford. This season, though, the Portuguese star has so far been remembered only for the negativity surrounding him. Every now and then he gets involved in scandals and surprises the public with his behavior. The media have been contributing their share too, rattling the nerves of the 37 year old attacker, blowing clickbait headlines out of thin air in the hope of garnering as much attention as possible.
Nevertheless, the five-time Ballon d'Or winner has managed to resolve his recent conflict with Eric ten Hag. So the press has calmed down. In his last two matches in all competitions, the striker has played all 90 minutes on the pitch and scored one goal.
CR7, who scored 24 goals in all competitions (including 6 in the UCL) during the 21/22 season, will be hoping to continue to earn playing time in order to contribute to the team's victories and to add to his tally. The Europa League is the perfect venue for that, with the player having a staggering list of regalia on the European stage. His experience could prove to be instrumental for the North West England team in their efforts to achieve victory against the stalwart Spaniards.
Defenders Aaron van Bissaka, Victor Lindelöf and Raphael Varane, winger Antony and striker Anthony Martial will not play for Man Utd due to injuries.
Real Sociedad form guide: W-W-W-L-W-L
Manchester United form guide: W-D-W-D-W-W
Real Sociedad vs Manchester United Head-To-Head Record:
| | | |
| --- | --- | --- |
| Real Sociedad | Draw | Manchester United |
| 1 | 2 | 2 |
Real Sociedad vs Manchester United Predicted XI:
Real Sociedad possible starting lineup: Remiro; Gorosabel, Zubeldia, Pacheco, Rico; Merino, Zubimendi, Guevara; Mendez; Sorloth, Fernandez.
Manchester United possible starting lineup: De Gea; Dalot, Martinez, Maguire, Shaw; Casemiro, Eriksen; Antony, Fernandes, Rashford; Ronaldo.
Statistical preview of the match Real Sociedad vs Manchester United:
Real Sociedad have scored less than 1.5 goals in each of their last 5 games against Manchester United.
Real Sociedad have not scored in 4 of the last 5 games against Manchester United.
Real Sociedad have scored less than 2.5 goals in 6 of the last 7 Europa League games.
Real Sociedad have scored in each of their last 13 Europa League games.
Real Sociedad have not lost in 7 of the last 8 Europa League games.
Manchester United have scored in 9 of the last 10 games.
Manchester United have scored less than 2.5 goals in 6 of the last 7 games.
Manchester United have not lost in each of their last 8 games.
Manchester United have won in 5 of the last 6 Europa League away games.
Manchester United have not conceded in 5 of the last 6 games.
What has been said before the match:
Imanol Alguacil, the Real Sociedad gaffer:
"There are many fans who think that tomorrow we can win the game. The fact that the team is missing a lot of players and that we are thinking that we nevertheless can beat Manchester and be first, it's fantastic."
"We're looking for first place and that's what we want now having done a lot already. When the draw was made, we all signed up to go through and try to win every game, even at Old Trafford."
"The night we're going to have tomorrow is something nobody can take away from us and the players have earned it. We're going to do everything we can to stay top, we'll have to play a great game and score at least two goals, because Manchester are going to attack no matter what. We have to go out with the right mentality because if we don't, we won't be able to secure 6 victories and say that we are first, something we really desire."
Erik ten Hag, the Manchester United gaffer:
"It's six weeks or so since the 1st leg and it's a different team. Not all of the players who were on the pitch [then] are with us. I think we've been growing in the last games, we develop, we make some good progress so we are confident. We know it's difficult to win games here. But we like the challenge and we know we have to win with two goals difference. So we have a plan for that and we'll do everything to get that done."
"I think their coach likes proactive football. Their coach has a philosophy I like, they want to play, and I think they will stick to that. We have to read, if he has a different approach, then we have to adapt as well. But we know what to do."
Real Sociedad vs Manchester United Prediction:
Real Sociedad are relatively good defensively, having conceded just once in five games in the Europa League. Although the statistics in La Liga at first glance look a little alarming (15 conceded goals in 12 games), half of them came in the match against league-dominator FC Barcelona (1-4) and in the shoot-out with Girona (5-3). Looking for defeats by a margin of two goals, however, there have only been two in 16 games.
Meanwhile, Man Utd have not looked prolific in attack lately, even against the modest Omonia and Sheriff. In England, the Mancunians took just three shots on goal in the last game, narrowly beating West Ham, currently occupying the lower half of the Premier League table. Of course, the Brits can rely on Ronaldo's zeal to score and prove his worth, but the Portuguese is having a hard time finding his form. Only his in-depth knowledge of Spanish football, combined with his experience of scoring goals in San Sebastian, can help offset the player's frustrative stance. But most likely, anything the Mancunians can squeeze out will be a one goal margin victory or a draw.
Don`t miss out 👉: Matchday 24: Preview and Prediction
Parimatch News staff prediction:
We say: Manchester United will not lose and the match total less than 3.5 – Yes.