Portugal vs Switzerland. Prediction and Preview. Probable Lineups, Team News, Stats, and more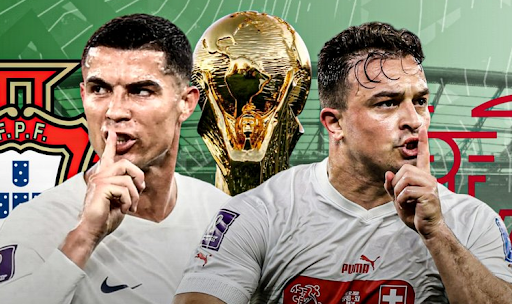 Ronaldo and Shakiri
Portugal will meet with Switzerland in the FIFA World Cup 2022 last-16 match at the Lusail Stadium. The fixture will take place on Wednesday, December 7, beginning at 00:30 IST.
The last pair of play-offs were made up of teams with the same number of points picked in the group stage. While the Portuguese topped the table with six points, the Swiss slotted second, with their final game of the season being the decisive one. By the way, the Swiss team could have pulled off a huge surprise, had they scored the fourth goal of the game on the counterattack. Then first place would have gone to Murat Yakin's team, and thus the "European Brazilians" would have played against the real Brazilians. Eventually, the Red Crosses failed to improve the Goal Difference to secure victory in the group and now a match against Cristiano Ronaldo and company lies ahead.
Who will emerge victorious from this intriguing battle? Will there be a lively game with plenty of goals scored? Parimatchnews will tell you everything you need to know ahead of the upcoming match.
Portugal News & Current Form:
The Portuguese, after finishing fourth in 2006, failed twice to get past the 1/8 finals (2010 and 2018) and failed to qualify from the group stage once (2014). At the 2018 World Cup, they lost the crucial game to Uruguay, and what warmed the hearts of fans is that Seleção das Quinas have already managed to take revenge on them in the group stage in Qatar. Now, having seen La Celeste knocked out of the tournament, the Red and Green have a reasonable prospect of competing for anything big in this edition of the tournament.
The Portuguese, who have long been called the "European Brazilians", needed just two rounds of the group stage to guarantee a play-off place. They successfully solved the problem of getting out of the group stage early, demonstrating well-coordinated, cohesive performances. The coaching personnel under Fernando Santos managed to harmoniously combine a selfish attacking pattern exploited by the main team's stars like Crish, Félix and Leao with a positional style of offensive build-ups. The victories against Ghana (3-2) and Uruguay (2-0) revealed to the football world an unfamiliar team from the west of Europe. They refused to play defensively and tried to dominate their opponents through ball control as much as they could.
The 1-2 defeat to South Korea in the final round cannot be overemphasized. Fernando Santos decided to rest most of the leaders and the motivation of the opposition was head and shoulders above the Portuguese. Nevertheless, regular defensive mistakes were alarming.
Their exit from the group is a credit to the Portuguese creative defensive midfield. The main role in this line is played by world-class Bruno Fernandes, a creative attacking midfielder at Manchester United. He is at the root of most of the chances and was involved in four of Portugal's six group-stage goals.
However, understandably, all eyes are on Cristiano Ronaldo, who has scored just one goal from the penalty spot in three games in Qatar (although there is a little controversy about that uncounted header which could be his second). The stats of the most famous celebrity in the world (according to Instagram) are not really impressive but CR7 is still a top player and a natural-born leader. However, in terms of the game impact, he is already overshadowed by Fernandes, who had two goals and two assists in the two games he played against Ghana and Uruguay. Young attacking stars Joao Felix and Rafael Leão have scored only once so far.
More recently, the football community has been discussing Cristiano Ronaldo's scandalous interview with Piers Morgan. The reaction was mixed but mostly negative: many decided that it was unacceptable for a footballer to put himself above his club – even for a star like Cristiano.
Don`t miss out 👉: Cristiano Ronaldo washes his hands and leaves the Red Devils' сamp while owners put the club up for sale
Then Ronaldo ended his relationship with Man Utd and became the only World Cup player without a contract. Immediately, rumours started to spread, saying that the CR7 would continue his career, with Newcastle and Chelsea, Bayern and Saudi Arabia's Al-Nasr all named. At the same time, Cristiano earned a penalty in the first round against Ghana and scored for the fifth Mundial of his career – a new record in his pocket.
Life seemed to be getting better. In the match against Uruguay, however, Ronaldo produced another unconvincing performance while the striker was also frustrated that FIFA had counted the goal to Bruno Fernandes instead of him. Although the captain argued that victory was more important, his facial expressions suggested otherwise – he wanted his name on the scoreboard…
And towards the end of the group stage, the fire of skepticism eventually sparked even brighter. An online poll carried out by leading Portuguese sports website Abola revealed that 70 per cent of Portuguese voters did not want national team captain Cristiano Ronaldo to be in the starting line-up for the match against Switzerland in the 1/8 finals of the World Cup in Qatar. He also has received poor marks from the experts. For example, the statistics portals gave Ronaldo a 6.37, only the 17th highest rating in the team.
Perhaps this rating might have been higher, as well as the forward's performance, if Fernando Santos had not replaced him during the second half of each game. At least, that's what Crish believes. El Bicho remained dissatisfied with the coach's decisions and told him about this immediately after leaving the pitch in the match against South Korea – the captain's protest came into the picture and unleashed another wave of negativity towards him.
"On the pitch, I didn't hear anything. I was too far, and this is why I only saw him arguing with a South Korean player, and nothing else." Santos said about this incident.

adds Portugal's William Carvalho.
"Have I already watched the footage? Yes. I didn't like it. Didn't like it at all. From there, it's things you sort out internally. It was sorted out this way, and now we think about the game tomorrow. Everyone is focused on the game."
And all these negative emotions are being hyped just against the backdrop of the all-important 1/8 match against Switzerland. It's not a convenient set of circumstances, though, the atmosphere surrounding Cristiano and his possible absence from the squad is unlikely to have any impact on the result – he is no longer the key link in the team as his time-honoured rival Lionel Messi in Argentina.
As practice shows, the Red-Green have everything to be confident in their abilities: a great balance of lines, a combination of experience and youthful flair. And all these synergise with a respected and battle-hardened coach on the sideline that now this squad perfectly. The time seems to have come when the main star of our generation will be more of a reinforcement than a vanguard of Portugal's triumph.
Switzerland News & Current Form:
The Swiss look less bright and star-studded at this World Cup, thus being far more pragmatic. Yes, they did not hold on to a draw against Brazil, conceding in the closing stages and losing 0-1. On the other hand, they achieved a superb minimum objective, beating their two opponents for the second play-off spot – Cameroon (1-0) and Serbia (3-2). In the game against the Serbs, the team under Murat Yakin have managed to make a comeback from 1-2. Thus, the Swiss have scored four goals in three games and refuted the talks of being an extremely passive defensive team. Although, of course, in terms of discipline and consistency of play, Switzerland looks superior to Portugal. And it could be really useful for the knockout stage, where playing from defensive solidity when relying on counter-attacks provide more chances to go further when there is a difference in class.
Yakin has a number of very strong and motivated players at his disposal. In particular, Xherdan Shaqiri, having scored in Qatar, has joined the elite company of Ronaldo and Messi, who also scored in the last three World Cups.
Granit Xhaka, the leader of Arsenal, is instrumental too, being habitually magnificent in midfield, both in destruction and creation. The Swiss also have a prolific fast-paced forward, Breel Embolo, who has already netted two goals in Qatar.
Now, Switzerland's tactical model is based on a strong central midfield in which Granit plays a key role. A high work rate core player of the English Premier League leaders seems to be pivotal for the lines, providing support in both defensive structures and attacking draws. The qualities of the Red Crosses' CDMs add up to his qualities while on the flanks there are fast players who regularly support the counter-attacking moves, demonstrating their excellent physical form and agility.
The closing game against Serbia was a bit out of the ordinary for the Swiss. The opponents managed to drag them into an exchange of mutual attacks, but even in this component Yakin's men showed a great level of clinical execution. Three goals speak for themselves.
Ex-Liverpool Shaqiri has proved to be a true evil genius for the Serbian team. The son of Kosovo Albanians, who went to the outskirts of Basel, "buried" the Serbian team at the 2018 World Cup in Russia, where the Swiss achieved a 2-1 victory in Kaliningrad, and in the new part of the confrontation already on Qatari soil he was involved in all three of Switzerland's goals. Good thing, though, this time Xherdan refrained from political provocations and did not display any Albanian eagles given the tensions in the Balkans region.
The Swiss team is traditionally underrated in major tournaments. The Portuguese look impressive with all these well-known names, but they have plenty of weaknesses too. And Yakin's coaching team have surely prepared their lads on how to exploit these vulnerable spots to have a chance for a devastating blow on one scathing counterattack.
Even Ignazio Cassis, the Swiss president, cheers his compatriots before the match:
"Good luck for the next phase of the tournament!" he said on his Twitter account.

adds Portugal's William Carvalho.
Portugal form guide: W-L-W-W-W-L
Switzerland form guide: W-W-L-W-L-W
Portugal vs Switzerland Head-To-Head Record:
| | | |
| --- | --- | --- |
| Portugal | Draw | Switzerland |
| 9 | 5 | 11 |
Portugal and Switzerland have a rich history of 25 matches. They have only played once at the World Cup – the Swiss won the group stage 2-1 in 1938 – and there have been eight other meetings in World Cup qualifying: four Portuguese wins, two draws and two Portuguese defeats. At the European Championships in 2008, the Swiss won with a Hakan Yakin double. The most recent encounters – a fresh UEFA Nations League encounter – saw a swap of victories: the Portuguese were dominant 4-0 at home (Ronaldo's double), and then losing 0-1 in reply a week later.
Recent matches:
June 15, 2008: Switzerland 2-0 Portugal (UEFA European Championship);
September 6, 2016: Switzerland 2-0 Portugal (FIFA World Cup);
October 10, 2017: Switzerland 0-2 Portugal (FIFA World Cup);
June 5, 2019: Switzerland 1-3 Portugal (UEFA Nations League);
June 5,2022: Switzerland 0-4 Portugal (UEFA Nations League);
June 12, 2022: Switzerland 1-0 Portugal (UEFA Nations League).
Portugal vs Switzerland Predicted XI:
Portugal's possible starting lineup (4-3-1-2): Costa, Dalot, Pepe, Dias, Cancelo, B. Silva, Neves, Carvalho, Fernandes, Felix, Ronaldo.
Switzerland's possible starting lineup (4-2-3-1): Kobel, Widmer, Akanji, Schar, Rodriguez, Freuler, Xhaka, Shaqiri, Sow, Vargas, Embolo.
Statistical preview of the match Portugal vs Switzerland:
Portugal is ranked 7th in FIFA ranking.
Portugal's First XI average age is 28.6 yrs.
Portugal have scored in each of their last 7 FIFA World Cup games.
Portugal have scored less than 2.5 goals in 5 of the last 6 FIFA World Cup games.
Switzerland is ranked 15th in FIFA ranking.
Switzerland's First XI average age is 28.7 yrs.
Switzerland have conceded in both halves in each of their last 3 away games against Portugal.
Switzerland have scored less than 2.5 goals in 7 of the last 8 FIFA World Cup games.
What has been said before the match:
Murat Yakin, the Swiss national team gaffer:
"We are aware that we are going into the game with a team that is well-prepared, that is mature. Being able to write history [Switzerland has a chance to reach the last eight of the World Cup for the first time since 1954] will not be decisive for us."
"We know our opponents and have shown that we can beat them. Then [if we win] maybe we can discuss history. You can't focus on what happened in sports. No one cares what happened anymore. Of course, expectations are growing but we fight with the players I have and the opportunities we have… If we focus too much on the opponent, we lose sight of ourselves."
"We are ready. We have a full squad, the players who were missing are back on board. We look forward to the game. It's a great opportunity to continue writing history. We are aware of the euphoria in Switzerland and want to give everyone another game."
Breel Embolo said:
"Cristiano Ronaldo is a true inspiration. It's crazy how much you can learn from him by watching him play. This is why I am delighted to be able to play against him".
Fernando Santos, the Swiss national team gaffer:
"Switzerland is tremendously difficult. It will be a duel between two very strong teams, a tough game, but one in which Portugal believes more. We truly think it's doable and we want to keep it that way. When you get to the last 16 we are getting closer and closer to being favourites… It's very good to feel that adrenaline. We want to win and we want it badly."
"They (Swiss) don't play together for two games or something like that, they've been playing together for a long time. Always tough from end to end, they are very organised, they know the game and you just have to look at the game with Serbia. Losing 2-1, they never lost spirit, they took the situation with cold blood."
"I expect a Switzerland that knows very well what they want. I don't think they are going to play defensively. It's a team that systematically takes possession, never has the temptation to play a long ball, they are not a vertiginous team, as Korea used to be. It's a team that looks to go out and use all their weapons. They are very cohesive, they know what they are doing on the pitch, but we have done some very good things and there are one or two other details that we haven't done so well. It's those details we've been thinking about, we've talked a lot about it. We need to eradicate them."
"I'm sure we'll face a Swiss team with a lot of possession and we are ready for that. There have been surprises (at this World Cup), that's a fact, we need to be focused from the first minute to the last so that things go our way, and not the other way. We know that we are up against a very tough opponent. The details will make all the difference. We need to be ready."

adds Portugal's William Carvalho.
Don`t miss out 👉: Morocco vs Spain: Preview and Prediction
Portugal vs Switzerland Prediction:
Despite the lack of flashy superstars, a cohesive Swiss band are ready to fight for the higher grounds, but it is worth acknowledging that they left too much energy behind in the group stage. The last game alone against the Serbs took their emotions away for the year ahead. Moreover, Murat Yakin's side, who have not been remarkable for such feats for a year, produced three goals in that game. Shortly saying, it looks like an overperformance for such a modest team, and probably we will see the "regression toward the mean" principle in action right in the next crucial meeting.
The Portuguese, on the other hand, have had their rest, got a familiar opponent and are ready to go into the quarter-finals. Being named favourites in a match obliges a team full of stars to go forward and seek their luck in attack, something that is more than acceptable for Switzerland. In their encounter with Brazil, La Nati proved that they can withstand pressure and stay focused for a long time, and don't forget that Yakin has the experienced Yann Sommer on the line, who has already distinguished himself this season with his goalkeeping performance of the year against Bayern Munich.
Additionally, in their last encounter in the Nations League, the Red Crosses were the victors, albeit by a narrow 1-0 scoreline. The Nati showed they know how to neutralise Fernando Santos' side and punish them for their defensive mistakes.
But let us not forget the devastating 4-0 defeat at the hand of the Portuguese the week before, neither can we forget Switzerland's poor record in the last eight of the World Cup – they have been unable to reach the quarter-finals since 1954, having lost in the first round of the play-offs on all four occasions since then, in 1994, 2006, 2014 and 2018.
With such inputs, more than likely there won't be many goals, with the Portuguese, who have a brighter, more subtle style of play, making it to the next round.
Parimatch News staff prediction:
We say: Portugal to progress further and the match total to be less than 4.5 – Yes.
Don`t miss out 👉: Kerala Blasters defeat Jamshedpur 1-0 to extend winning streak