Former Rangers captain Ferguson: "Ten game ban handed for racism row is laughable"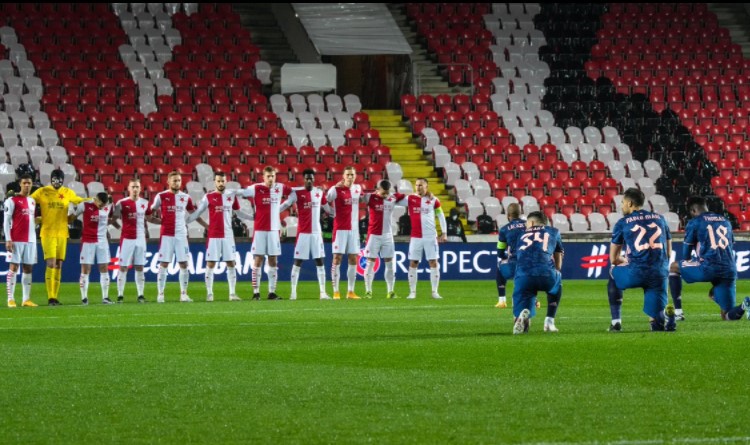 Ex-Arsenal Campbell believes the image of Alexandre Lacazette and the team taking a knee against Slavia Prague will be 'iconic for years to come'
Before the game in which Arsenal defeated Slavia in the return leg of the Europa League quarter-final (4-0), footballers gathered in support of the Black Lives Matter movement.
Don`t miss out 💥:  The Europa League quarter-finals digest. Ex-Arsenal Emery versus Arteta and Man Utd versus Roma in semis. Who is the favorite?
Arsenal players and the referee got down on one knee, but Slavia players did not support the gesture and remained standing. They stood near the centre circle, hugging each other. Slavia players did not take a knee before the first match against Arsenal either.
Mikel Arteta pledged his support to Alexandre Lacazette who took a knee in front of the Slavia Prague players, with his Arsenal team-mates doing the same behind the striker:
"They came to me, they wanted to take that initiative. We spoke with the club to make sure that we could follow the rules of UEFA and we can do it in the right way. We decided to take that approach, which I really like from the players, and I must say that UEFA was very supportive as well. The captains came to me and asked me to do that, and I just supported them like the club did."
It should be recalled that UEFA found Slavia defender Ondrej Kudela guilty in a case of racist abuse against Rangers player Glenn Kamara during the Europa League 1/8 finals match.
UEFA suspended the 34-year-old Czech for 10 matches under the organisation's auspices for racist behaviour.
And Ibrox legend Ferguson believes the punishment doesn't fit the crime:
"Ten games, for me it's laughable. I'll be honest with you, I think they had to make a statement here and I think they should have banned him for 12 months. Make a statement. Let people know this is not acceptable. When I heard the ban come through and it was 10 games, it's a joke, that's all I can say. It just makes me sick, I was expecting a far more severe punishment."
Kamara said last week he had been racially abused on social media "every day" since the incident. His team-mates have boycotted the platforms for a week in support.
Incidents of racism have flooded social media, every week we hear of new cases of players being insulted.
Don`t miss out 💥: Mourinho confirms Tottenham may temporarily boycott social networks because of racist abuse.