Leicester's Patson Daka scores poker in epic Europa League comeback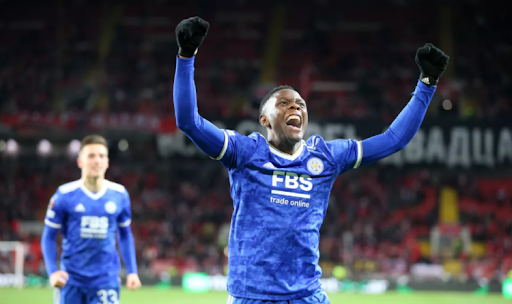 Sheer delight for Leicester's summer signing after his third goal of the night
Patson Daka scored a fantastic 4 coolly-taken goals in the Europa League, snatching the victory from Spartak Moscow! Five years ago he was playing in the African countryside, now he's on fire at Leicester City, having joined for 30 million euros this summer.
Five years ago Daka played in Kafue Celtic FC's second squad, a team from the small Zambian town with a 200,000 population. He is probably the most stellar pupil of that academy.
And yes, he trained pretty much like that back then:
The talent was spotted by scouts and soon, transiting through the second division of Austria, he found himself at English Leicester Сity, transferring for €30m (26220 Lakhs).
This is record money for the Austrian league, in comparison, Borussia Dortmund acquired Erling Haaland for €20m. These two players, by the way, played together – first in the Norwegian Molde FC, and then in the Austrian RB Salzburg.
Coach Brendan Rodgers was probably looking for an alternative to the aging Jamie Vardy and knew that the Zambian talent was exactly the right one for the job.
Patson is still just getting used to his new club: he rarely appears in the Premier League, having played merely 27 minutes in the second round, where Leicester lost badly to West Ham. But on Saturday the forward came on sub for 15 minutes against Man Utd – and managed to score in added time (4:2).
Don`t miss out 💥: Leicester City storm back to sink Man Utd 4-2 in thriller
The Zambian appears in the Europa League more regularly – in both games he was in the starting lineup. And here he bangs out 4 goals at once, they will definitely help him unfold. And notice how important were these goals, by the second half the Foxes were losing 2-0, the Man of the Match striker individually turned the game around.
What's even more impressive is that the Leicester prodigy scored a hat trick in just 9 minutes of the second half!
Goals: 1:0 – 11′ Sobolev, 2:0 – 44′ Larsson, 2:1 –45` Daka, 2:2 – 48` Daka, 2:3 – 54′ Daka, 2:4 – 78′ Daka, 3:4 – 86′ Sobolev.
Gary Lineker has already praised Daka on Twitter:
Don`t miss out 💥: Lionel Messi nets twice to snatch victory against RB Leipzig in tense UCL clash
Patson Dakas the first Leicester City player to score four goals in a single match in any competition since Derek Hines against Aston Villa in November 1958.
His nine-minute hat-trick is the fastest one in the UEL since the competition's rebrand in 2009/10.