Mourinho was ecstatic in his celebration run after Roma snatched a last-minute win in his 1,000th match as coach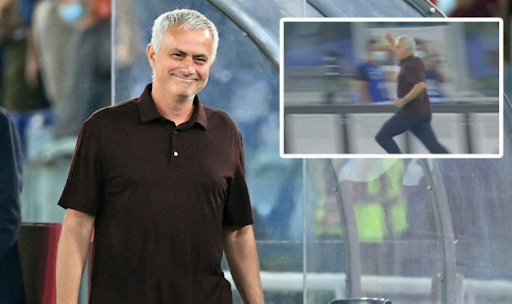 Jose Mourinho said he would remember this game until the last day of his life
El Sharaawy managed to score in added time to snatch victory against Sassuolo (2-1) and make a real feast for the new Portuguese head coach of AC Roma.
The third-tour match of the Italian Serie A could have ended in a draw, when after a series of ball bounces, the Italian attacker Stephan El Shaarawy gracefully directed the ball right into the far post, grabbing the late victory and bringing Jose Mourinho into a state of euphoria as he made an energetic run right over the whole pitch to celebrate with the players.
This match was the 1000th in the professional coaching career of the Portuguese specialist.
Don`t miss the story 👉: Italy set a new all-time unbeaten world record as they thrashed Lithuania in WC Qualifiers
Ex-Tottenham head coach shared his emotions after the match:
"During the week, I lied to myself, telling everyone this was not a special game. I was trying to convince myself it was not special. It was a special match. It was a match with a special number for me, which until the last day of my life I will always remember this was the 1,000th game. I was terrified the eternal memory would be of a defeat"

– confessed 'The Special One'.
"It was an incredible sensation. It could've been 6-6, 7-7, Sassuolo could've won 2-1 as well, Rui Patricio made a couple of incredible saves, we missed two open goals. It was an absolutely extraordinary match.
"I did not feel 58 years old today, I felt 10-12-14 years old, the age when you start to dream of a career in football. It was the run of a child. I apologised to Dionisi afterwards, because it was a fantastic match, they could easily have won just as well as we did. I cannot forget that the feelings Dionisi has now are the ones I felt many times. He is an excellent coach, has a great side and gives his teams a real identity."

– he reflected on his celebration run.
"This is a very, very good team. I knew that from the first day I started studying them, so these are three truly important points. Maybe someone up there decided I deserved this memory for my 1,000th match."
The experienced specialist has a total of 638 games won, 204 draws and 158 defeats.
Jose has worked at Benfica, Leiria, Porto, Chelsea, Inter, Real Madrid, Manchester United and Tottenham. During his career, he managed to win the national championships of Portugal, England, Italy, Spain, the Champions League with Europa League, national cups and supercups.
The former Serie A player will play in India, don`t miss out 💥: Chennaiyin signs Hungarian midfielder Vladimir Koman
Under Mourinho, Roma tops the table having won all three Serie A matches with a total score of 9:2.
In the next match, the Roman side will face Verona which is in 19th place.