Everton win their 1st away Merseyside derby in 20 years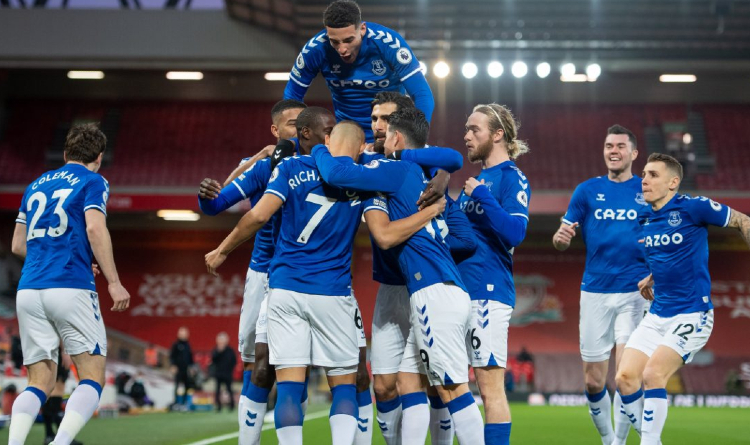 Jurgen Klopp side clashed with Carlos Ancelotti's team
Everton beat Liverpool 2-0 in the 25th round of the English Premier League. It was the Toffees' first away win in a Liverpool derby since 1999.
Richarlison opened the score with his perfect far-post finish. And Gylfi Sigurdsson was convincing on a shot from the spot at the end of the match. After this game, Liverpool are in sixth place with 40 points. Everton have the same amount of points and occupies seventh place in the table.
The winning goal by Brazilian striker:
Klopp said after the match:
"The first goal which we have to defend better gave the direction of the game. It was unnecessary. There were plenty of good football moments so we did well from a creative point of view but we had to chase the game and were not calm enough. Everton defended deep and full of passion but there were still moments where we were completely free in the box but we didn't finish"
"We could talk about this game for an hour in detail and you would realise what you were talking about would be 90% positive but 10% was not and we have to change 10% because it makes the difference result wise." he stated.
Speaking after the match, Everton`s head coach Ancelotti said:
"We are really happy, really pleased. After a long time Everton are able to win at Anfield, it is a good gift for our supporters. The performance was good, we were focussed, worked hard and when we had the opportunities we were clinical."
The match was also marred by another Liverpool injury, with captain Jordan Henderson appearing to suffer strain that could keep him out for some time, Klopp confirmed:
"It's in the region of his groin and abductor. It's not good. It's how it is."
Liverpool must await the results of a scan to determine the severity of the injury.
In fact, the situation is so bad that only 6 main squad players have not been on the treatment table for more than 3 weeks in this campaign: Curtis Jones, Mohamed Salah, Sadio Mane, Jorginho Wijnaldum, Roberto Firmino and Andy Robertson.
Don`t miss out 💥: Liverpool has managed to find a replacement for injured centre-backs, who are they?
Liverpool have lost four consecutive home league games for the first time since December 1923, while they are also the first reigning top-flight champion to lose four consecutive home league games since Everton in the 1928-29 season.
Roberto Firmino is the fifth Brazilian player to make 200 Premier League appearances, and second to do so for Liverpool, after Lucas Leiva (247).